Inspirational
Get Your Shit Together | Life and Death Planning: Low effort, high reward.
Alex K.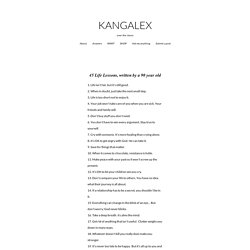 1. Life isn't fair, but it's still good. 2. When in doubt, just take the next small step.
Inspire - Focused on design, art, philosophy and architecture (boranikolic.com)
15 Things You Should Give Up To Be Happy | Purpose FairyPurpose Fairy
Here is a list of 15 things which, if you give up on them, will make your life a lot easier and much, much happier. We hold on to so many things that cause us a great deal of pain, stress and suffering – and instead of letting them all go, instead of allowing ourselves to be stress free and happy – we cling on to them. Not anymore. Starting today we will give up on all those things that no longer serve us, and we will embrace change. Ready? Here we go: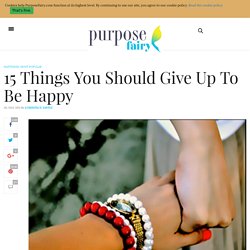 22 Killer Personal Development Resources You're Missing Out On
You've got the personal development itch once again. You know the feeling. Maybe you want to be more productive, finally tackle that goal of yours, or start waking up earlier. So you go to Google or your favorite personal development blogs. Maybe if you still haven't found what you're looking for you try searching for a Youtube video or ask your Facebook friends if they know of any good sites. And that's it.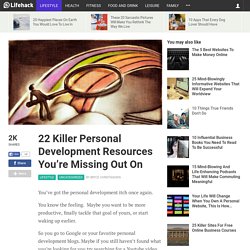 51 Email Share We're living in a time where nearly everyone is feeling overwhelmed with the changes and problems in the world. Some of us feel stuck, uninspired and fearful.
77 Creative Ways to Lighten Up In Tough Times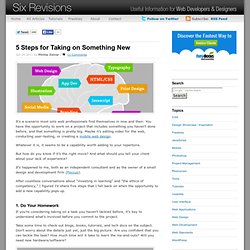 5 Steps for Taking on Something New
It's a scenario most solo web professionals find themselves in now and then: You have the opportunity to work on a project that includes something you haven't done before, and that something is pretty big. Maybe it's editing video for the web, conducting user-testing, or creating a mobile web design. Whatever it is, it seems to be a capability worth adding to your repertoire.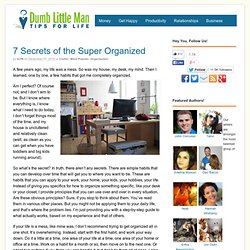 7 Secrets of the Super Organized
A few years ago, my life was a mess. So was my house, my desk, my mind. Then I learned, one by one, a few habits that got me completely organized. Am I perfect? Of course not, and I don't aim to be.
Do you have some personality trait, quirk or habit that you would like to change but have yet to succeed? Well I know the easiest and fastest way to change anything about yourself. That sounds way too good to be true, but I guess you'll have to keep reading if you want to know for sure. Step 1: Decide what you want to change
The Fastest Way to Change Something About Yourself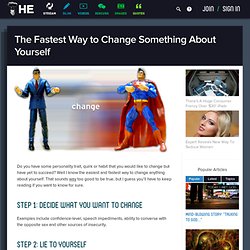 Fake it Till You Make it: 10 Ways to Feel Confident (Even When You Aren't)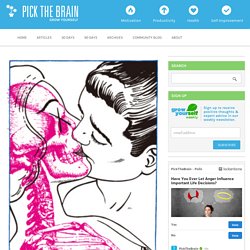 "Original Fake" Photo Credit: courtesy of MashKulture Is your self-confidence natural, or a daily struggle? Many people's confidence naturally wavers from day to day, leaving them too timid or confused at just the wrong time. Whether you are naturally confident or could use some better eye contact with your life, setting in place a few simple strategies goes a long way to stoke your inner confidence.
Post written by Leo Babauta. Your first thought as you look at this article will be, "I'll read this later." But don't. Let the urge to switch to a new task pass. Read this now. It'll take you two minutes.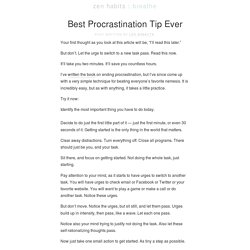 Best Procrastination Tip Ever
If you're in desperate need of some motivation, we're going to fix that problem, right here, right now. Prepare yourself.
Need Some Motivation Right Now? Read This IMMEDIATELY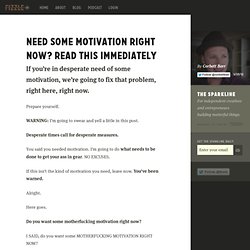 I was listening to Bob Proctor tell a story about Ben Hogan and his journey as a professional golfer. If you don't know the Ben Hogan story, you should check it out. It is unbelievable! You'll learn more in the video below.
Don't Wait for Permission to Succeed | Success Coach - Business Coach - Life Success
12 Tough Truths that Help You Grow
post written by: Marc Chernoff Email As you look back on your life, you will often realize that many of the times you thought you were being rejected from something good, you were in fact being redirected to something better. You can't control everything.
InfinityList – The Cinematic Action Sports Experience
The What-The-Hell Effect
What pizza and cookies can teach us about goal-setting. Goal-setting can be a handy way of improving performance, except when we fall foul of a nasty little side-effect. Take dieting as an example. Let's say you've set yourself a daily calorie limit. You manage to keep to this for a few days until one evening after work, your colleagues drag you out to a restaurant. Instead of your healthy meal at home you're faced with a restaurant menu.
Welcome to The Daily Love Mentoring Program!
Edit Article Edited by Gabrielle Delacroix, Lillian May, Krystle, Eric and 8 others Do you often find yourself wanting to do something, but never having the courage to just do it?
13 Tips on How to Overcome Passivity
Embrace Your Inner Adult
How To Kill The Root Of A Limiting Belief
Need a place to find the best self-improvement blog posts ever? One big list of inspiring geniuses? Well, here it is… my list of the best self-improvement posts ever: 1. - How to be Creative – Originally published in 2004 by Hugh Macleod at the Gaping Void. If you haven't read it, you're missing some of the best advice ever given freely over the internet. If you have read it, read it again…
The 26 Best Self-Improvement Posts Ever
how to be creative
50+ Personal Productivity Blogs You've Never Heard of Before (and about a dozen you probably have)
Fluent in 3 months – Language Hacking and Travel Tips — Unconventional language hacking tips from Benny the Irish polyglot; travelling the world to learn languages to fluency and beyond!
The Art of Manliness | Men's Interests and Lifestyle
99U - It's not about ideas. It's about making ideas happen.
My Super-Charged Life | Good Habits for a Great Life!
» The Beginner's Guide to Unschooling
Home - Desiring God
201 Ways to Arouse Your Creativity
Cute Overload :D
Richard St. John's 8 secrets of success
I Feel Unmotivated
Do Nothing for 2 Minutes
Unchained Dreams
HowStuffWorks - Learn How Everything Works!