Inspirational
The Fallback Question. For many people, the interesting career path that they feel most passionate about is one fraught with risk.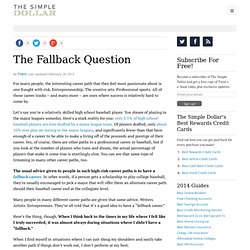 Entrepreneurship. The creative arts. Professional sports. All of those career tracks – and many more – are ones where success is relatively hard to come by. 20 Things I Should Have Known at 20. 1.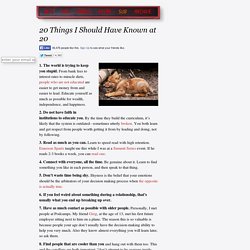 The world is trying to keep you stupid. From bank fees to interest rates to miracle diets, people who are not educated are easier to get money from and easier to lead. Educate yourself as much as possible for wealth, independence, and happiness. Man's Search for Meaning Quotes by Viktor E. Frankl. "The pessimist resembles a man who observes with fear and sadness that his wall calendar, from which he daily tears a sheet, grows thinner with each passing day.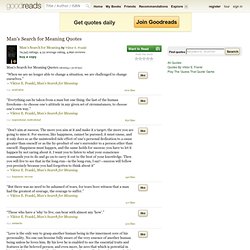 On the other hand, the person who attacks the problems of life actively is like a man who removes each successive leaf from his calendar and files it neatly and carefully away with its predecessors, after first having jotted down a few diary notes on the back. He can reflect with pride and joy on all the richness set down in these notes, on all the life he has already lived to the fullest. What will it matter to him if he notices that he is growing old?
Has he any reason to envy the young people whom he sees, or wax nostalgic over his own lost youth? What reasons has he to envy a young person? 10 Sentences That Can Change Your Life for The Better. The power of a single sentence is tremendous.A single sentence can either make your day or in the same time ruin somebody's day.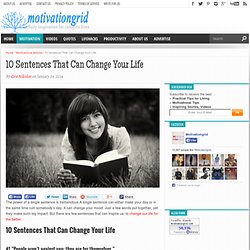 It can change your mood. Just a few words put together, yet they make such big impact. But there are few sentences that can inspire us to change our life for the better. #1 "People aren't against you; they are for themselves." How to Stay Competitive and Relevant While Unemployed | David DiGregorio. There are few things in life as demotivating as being unemployed.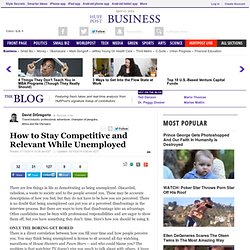 Discarded, valueless, a waste to society and to the people around you. These may be accurate descriptions of how you feel, but they do not have to be how you are perceived. There is no doubt that being unemployed can put you at a perceived disadvantage in the interview process. But there are ways to turn that disadvantage into an advantage. Other candidates may be busy with professional responsibilities and are eager to show them off, but you have something they don't: time. How To Accomplish More By Doing Less. Two people of equal skill work in the same office.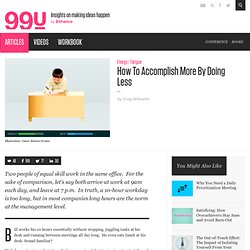 For the sake of comparison, let's say both arrive at work at 9am each day, and leave at 7 p.m. In truth, a 10-hour workday is too long, but in most companies long hours are the norm at the management level. What's the wisest thing anyone has ever told you? : AskReddit. What are promise cards? | because I said I would. Promise cards help you remember the importance of your commitments and goals.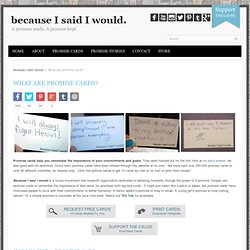 They were handed out for the first time at my dad's funeral. He was good with his promises. Since then, promise cards have been offered through this website at no cost. The Science of Procrastination - And How To Manage It. Get Your Shit Together | Life and Death Planning: Low effort, high reward. Alex K. 1.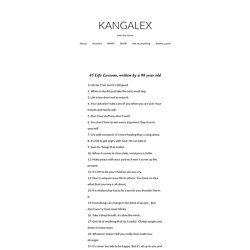 Life isn't fair, but it's still good. 2. When in doubt, just take the next small step. Inspire - Focused on design, art, philosophy and architecture (boranikolic.com) 15 Things You Should Give Up To Be Happy. Here is a list of 15 things which, if you give up on them, will make your life a lot easier and much, much happier.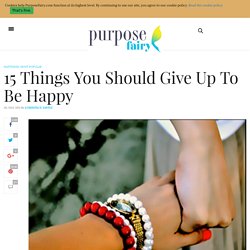 We hold on to so many things that cause us a great deal of pain, stress and suffering – and instead of letting them all go, instead of allowing ourselves to be stress free and happy – we cling on to them. Not anymore. Starting today we will give up on all those things that no longer serve us, and we will embrace change. Ready? Here we go: 22 Killer Personal Development Resources You're Missing Out On. You've got the personal development itch once again.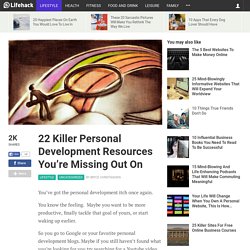 You know the feeling. Maybe you want to be more productive, finally tackle that goal of yours, or start waking up earlier. So you go to Google or your favorite personal development blogs. Maybe if you still haven't found what you're looking for you try searching for a Youtube video or ask your Facebook friends if they know of any good sites. And that's it. 77 Creative Ways to Lighten Up In Tough Times. 51 Email Share We're living in a time where nearly everyone is feeling overwhelmed with the changes and problems in the world. Some of us feel stuck, uninspired and fearful. 5 Steps for Taking on Something New. It's a scenario most solo web professionals find themselves in now and then: You have the opportunity to work on a project that includes something you haven't done before, and that something is pretty big.
Maybe it's editing video for the web, conducting user-testing, or creating a mobile web design. Whatever it is, it seems to be a capability worth adding to your repertoire. 7 Secrets of the Super Organized. A few years ago, my life was a mess. So was my house, my desk, my mind. Then I learned, one by one, a few habits that got me completely organized. Am I perfect? Of course not, and I don't aim to be. But I know where everything is, I know what I need to do today, I don't forget things most of the time, and my house is uncluttered and relatively clean (well, as clean as you can get when you have toddlers and big kids running around). The Fastest Way to Change Something About Yourself. Do you have some personality trait, quirk or habit that you would like to change but have yet to succeed? Well I know the easiest and fastest way to change anything about yourself. That sounds way too good to be true, but I guess you'll have to keep reading if you want to know for sure.
Step 1: Decide what you want to change. Fake it Till You Make it: 10 Ways to Feel Confident (Even When You Aren't) "Original Fake" Photo Credit: courtesy of MashKulture Is your self-confidence natural, or a daily struggle? Many people's confidence naturally wavers from day to day, leaving them too timid or confused at just the wrong time. Whether you are naturally confident or could use some better eye contact with your life, setting in place a few simple strategies goes a long way to stoke your inner confidence. Best Procrastination Tip Ever. Need Some Motivation Right Now? Read This IMMEDIATELY. Don't Wait for Permission to Succeed | Success Coach - Business Coach - Life Success. 12 Tough Truths that Help You Grow. InfinityList – The Cinematic Action Sports Experience. The What-The-Hell Effect. Welcome to The Daily Love Mentoring Program!
13 Tips on How to Overcome Passivity. How To Kill The Root Of A Limiting Belief. The 26 Best Self-Improvement Posts Ever. How to be creative. 50+ Personal Productivity Blogs You've Never Heard of Before (and about a dozen you probably have) Fluent in 3 months – Language Hacking and Travel Tips — Unconventional language hacking tips from Benny the Irish polyglot; travelling the world to learn languages to fluency and beyond! The Art of Manliness | Men's Interests and Lifestyle. 99U - It's not about ideas. It's about making ideas happen. My Super-Charged Life | Good Habits for a Great Life!
» The Beginner's Guide to Unschooling. Home - Desiring God. 201 Ways to Arouse Your Creativity. Cute Overload :D. Richard St. John's 8 secrets of success. I Feel Unmotivated. Do Nothing for 2 Minutes. Unchained Dreams. HowStuffWorks - Learn How Everything Works!
---