Primitive
Primitive Camping Information for Campground Locator & Source of Camping Information- A camping search engine for outdoor enthusiast to find State, National, & privately owned parks and fulfill all of your camping needs.
Tent Camping Checklist - What to Take on a Camping Trip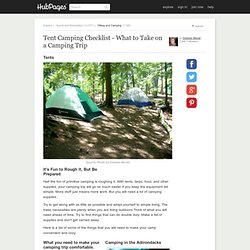 While RV camping may seem comfy and convenient, tent camping is for those hearty souls who want to dance in tune with nature. Tent camping requires you to pare down on equipment, food, clothing and the extraneous junk of modern life. Here is a list of essentials to make your tent camping experience comfortable and rewarding. General Equipment Tent (with screens and windows), poles, stakes and a mat for outside the door Sleeping bags, air mattress and pump or camp pads Lantern, fuel and extra mantels Flashlights and extra batteries Ground cover and tarps Rope, cord, twine, or clothesline Multi-purpose tool or knife Ax – if you are allowed to cut wood for fires First aid kit Old towels and rags Insect repellant (dryer sheets work well) Rain gear (poncho) Toilet paper Biodegradable soap Small folding shovel Clothing that can be layered Sunblock Kitchen
Welcome to Primitive Camping.org! | Primitive Camping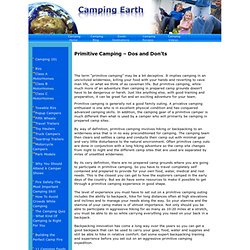 Primitive Camping – Dos and Don'ts
The term "primitive camping" may be a bit deceptive. It implies camping in an uncivilized wilderness, killing your food with your hands and reverting to cave man life, or what we think of as caveman life. But primitive camping, while much more of an adventure than camping in prepared camp grounds doesn't have to be dangerous or harsh. Just like anything else, with good training and preparation, it can be great fun and an exciting adventure for your team. Primitive camping is generally not a good family outing. A privative camping enthusiast is one who is in excellent physical condition and has conquered advanced camping skills.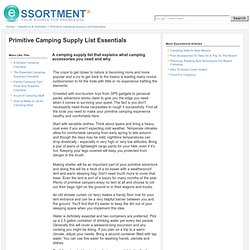 The craze to get closer to nature is becoming more and more popular and a cry to get back to the basics is leading many novice outdoorsmen to hit the trails with little or no experience battling the elements. Crowded with eco-tourism toys from GPS gadgets to personal packs, adventure stores claim to give you the edge you need when it comes to surviving your quest. The fact is you don't necessarily need those necessities to rough it successfully. Find all the tools you need to make your primitive camping experience healthy and comfortably here.
Primitive Camping Supply List Essentials