Personality Disorders
Get flash to fully experience Pearltrees
Personality disorders are long-term patterns of thoughts and behaviors that cause serious problems with relationships and work. People with personality disorders have difficulty dealing with everyday stresses and problems. They often have stormy relationships with other people. The exact cause of personality disorders is unknown.
Based upon the International Personality Item Pool (IPIP) Our personality test consists of 50 questions and takes about 5 to 7 minutes to complete. Answer as many questions as you can to get the most accurate score possible. Your answers are held in strictest confidence and are not shared with anyone.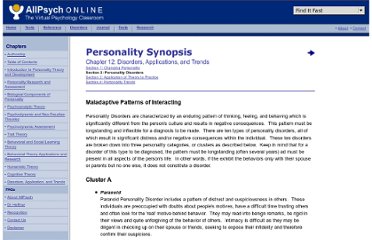 Section 1: Changing Personality Section 2: Personality Disorders Section 3: Application of Theory to Practice Section 4: Personality Trends
Histrionic personality disorder ( HPD ) is defined by the American Psychiatric Association as a personality disorder characterized by a pattern of excessive emotionality and attention-seeking , including an excessive need for approval and inappropriately seductive behavior, usually beginning in early adulthood. These individuals are lively, dramatic, vivacious, enthusiastic, and flirtatious. HPD affects four times as many women as men. [ 1 ] It has a prevalence of 2–3% in the general population, and 10–15% in inpatient and outpatient mental health institutions. [ 2 ]
Antisocial personality disorder ( ASPD ) is described by the American Psychiatric Association 's Diagnostic and Statistical Manual , fourth edition (DSM-IV-TR), as an Axis II personality disorder characterized by "... a pervasive pattern of disregard for, and violation of, the rights of others that begins in childhood or early adolescence and continues into adulthood." [ 1 ] They have an "impoverished sense moral sense or conscience" and may have a "history of crime, legal problems, impulsive and aggressive behaviour." The antisocial personality disorder falls under the dramatic/erratic cluster of personality disorders. [ 2 ] The World Health Organization 's International Statistical Classification of Diseases and Related Health Problems ' , tenth edition (ICD-10), defines a conceptually similar disorder to antisocial personality disorder called ( F 60.2 ) Dissocial personality disorder . [ 3 ]
Schizotypal personality disorder is a personality disorder characterized by a need for social isolation , anxiety in social situations, odd behavior and thinking, and often unconventional beliefs. People with this disorder feel extreme discomfort with maintaining close relationships with people, and therefore they often do not. People who have this disorder may display peculiar manners of talking and dressing and often have difficulty in forming relationships. In some cases, they may react oddly in conversations, not respond or talk to themselves. [ 1 ] They frequently misinterpret situations as being strange or having unusual meaning for them; paranormal and superstitious beliefs are not uncommon. People with this disorder seek medical attention for things such as anxiety, depression, or other symptoms.
Schizoid personality disorder ( SPD ) is a personality disorder characterized by a lack of interest in social relationships, a tendency towards a solitary lifestyle, secretiveness, emotional coldness and apathy . Affected individuals may simultaneously demonstrate a rich, elaborate and exclusively internal fantasy world , [ 1 ] although this is often more suggestive of schizotypal personality disorder . SPD is not the same as schizophrenia , although they share such similar characteristics as detachment or blunted affect . There is, however, increased prevalence of the disorder in families with schizophrenia. [ 2 ]
Dependent personality disorder (DPD), formerly known as asthenic personality disorder , is a personality disorder that is characterized by a pervasive psychological dependence on other people. This personality disorder is a long-term (chronic) condition in which people depend on others to meet their emotional and physical needs, with only a minority achieving normal levels of independence. The difference between a 'dependent personality' and a 'dependent personality disorder' is somewhat subjective, which makes diagnosis sensitive to cultural influences such as gender role expectations. [ edit ] Characteristics
Narcissistic personality disorder ( NPD ) is a personality disorder [ 1 ] in which the individual is described as being excessively preoccupied with issues of personal adequacy, power , prestige and vanity . This condition affects one percent of the population. [ 2 ] [ 3 ] First formulated in 1968, it was historically called megalomania , and is severe egocentrism . [ edit ] History The use of the term "narcissism" to describe excessive vanity and self-centeredness predates by many years the modern medical classification of narcissistic personality disorder. The condition was named after a mythological Greek youth named Narcissus who became infatuated with his own reflection in a lake.
Paranoid personality disorder is a mental disorder characterized by paranoia and a pervasive, long-standing suspiciousness and generalized mistrust of others. Individuals with this personality disorder may be hypersensitive, easily feel slighted, and habitually relate to the world by vigilant scanning of the environment for clues or suggestions that may validate their fears or biases. Paranoid individuals are eager observers. They think they are in danger and look for signs and threats of that danger, potentially not appreciating other evidence. [ 1 ]