Pain Management
I have spinal stenosis due to arthritis in my lower spine. I'm not a whiner/comlainer but this often hurts quite badly. My insurance does't allow for specialists so I have to learn what I can on the Internet. Sep 14
Secure online pain management services — ReliefInsite.com
PainEdu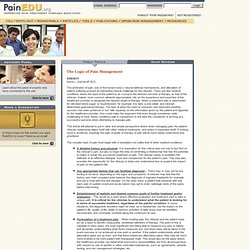 The Logic of Pain Management
Osteoarthritis Lifestyle and Managing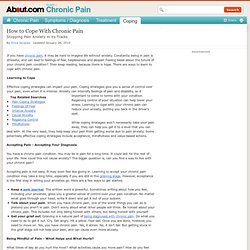 If you have chronic pain, it may be hard to imagine life without anxiety.
Cope With Chronic Pain - How to Cope With Chronic Pain
Managing Pain – Chronic Pain Management Information for Patients & Caregivers
painACTION helping people with chronic pain better manage their lives.
Referred pain
Referred pain, also called reflective pain,[1] is pain perceived at a location other than the site of the painful stimulus.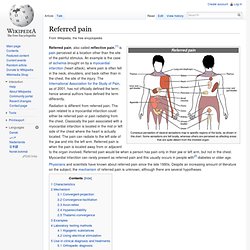 Improving chronic pain management through treatment and education | PainEDU.org
American Pain Foundation