Pain Management
I have spinal stenosis due to arthritis in my lower spine. I'm not a whiner/comlainer but this often hurts quite badly. My insurance does't allow for specialists so I have to learn what I can on the Internet.
Secure online pain management services — ReliefInsite.com. PainEdu. The Logic of Pain Management 5/29/2013Kevin L.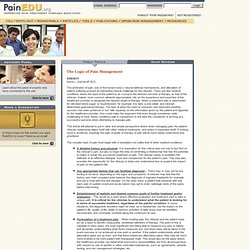 Zacharoff, M.D. The arbitration of pain, one of the human body's natural defense mechanisms, and alleviation of patient suffering present an interesting clinical challenge for the clinician. Osteoarthritis Lifestyle and Managing. Pain Management. Cope With Chronic Pain - How to Cope With Chronic Pain. If you have chronic pain, it may be hard to imagine life without anxiety.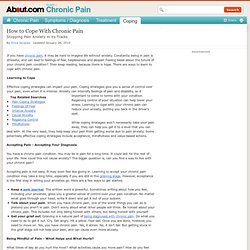 Constantly being in pain is stressful, and can lead to feelings of fear, helplessness and despair. Feeling bleak about the future of your chronic pain condition? Then keep reading, because there is hope. Managing Pain – Chronic Pain Management Information for Patients & Caregivers. PainACTION helping people with chronic pain better manage their lives. Referred pain. Referred pain, also called reflective pain,[1] is pain perceived at a location other than the site of the painful stimulus.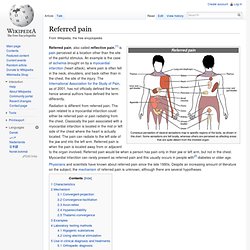 An example is the case of ischemia brought on by a myocardial infarction (heart attack), where pain is often felt in the neck, shoulders, and back rather than in the chest, the site of the injury. The International Association for the Study of Pain, as of 2001, has not officially defined the term; hence several authors have defined the term differently. Radiation is different from referred pain. Welcome | American Pain Society. Improving chronic pain management through treatment and education | PainEDU.org. Secure online pain management services — ReliefInsite.com. American Pain Foundation.
---