Camping
Just basic go out and have fun for a temporary off-the-grid experience. I prefer primative camping. Sep 13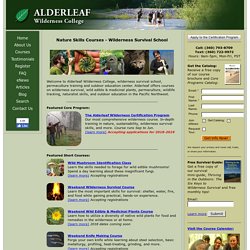 Welcome to Alderleaf Wilderness College, wilderness survival school, permaculture training and outdoor education center. Alderleaf offers courses on wilderness survival, wild edible & medicinal plants, permaculture, wildlife tracking, and outdoor education in the Pacific Northwest. Led by a staff of skilled professionals, our nature and survival courses provide you with valuable skills...(read more) New!
Wilderness Survival School | Alderleaf Wilderness College - Survival Courses
Campground, Campsite, Park, Cabins & RV Rental Info – Go Camping America
Camping
Camping is an outdoor recreational activity. The participants (known as campers) leave urban areas, their home region, or civilization and enjoy nature while spending one or several nights outdoors, usually at a campsite. Camping may involve the use of a tent, caravan, motorhome, a primitive structure, or no shelter at all.