Avoidant
Avoidant Personality Disorder Treatment - Psych Central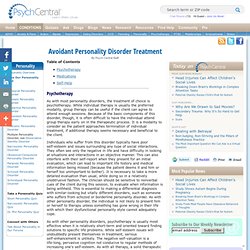 By Psych Central StaffTable of Contents
In formulating guidelines for the treatment of avoidant personality disorder, it is important to bear in mind that this disorder shares many similarities with the Axis I disorder social phobia, as well as with agoraphobia. Avoidant personality disorder also shares characteristics with other Axis II disorders, particularly dependent personality disorder.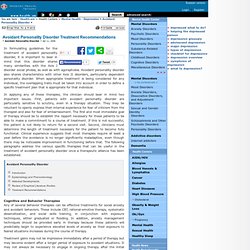 Avoidant Personality Disorder Treatment Recommendations -Avoidant Personality Disorder-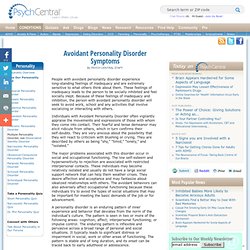 People with avoidant personality disorder experience a long-standing feeling of inadequacy and are extremely sensitive to what others think about them.
Avoidant Personality Disorder - Psych Central
Prevalence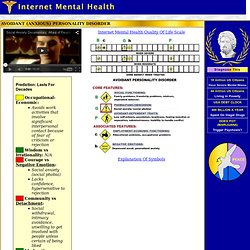 Avoidant Personality Disorder
Avoidant Personality Disorder Home ( AvPD )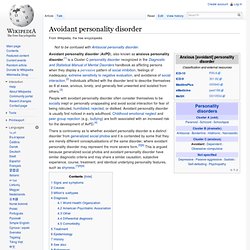 Avoidant personality disorder
Avoidant personality disorder (AvPD), also known as anxious personality disorder,[1] is a Cluster C personality disorder recognized in the Diagnostic and Statistical Manual of Mental Disorders handbook as afflicting persons when they display a pervasive pattern of social inhibition, feelings of inadequacy, extreme sensitivity to negative evaluation, and avoidance of social interaction.[2] Individuals afflicted with the disorder tend to describe themselves as ill at ease, anxious, lonely, and generally feel unwanted and isolated from others.[3]
Avoidant personality disorder - PubMed Health