Programming
What is HTML5? (Infographic) JavaScript. JavaScript® (often shortened to JS) is a lightweight, interpreted, object-oriented language with first-class functions, most known as the scripting language for Web pages, but used in many non-browser environments as well such as node.js or Apache CouchDB.
It is a prototype-based, multi-paradigm scripting language that is dynamic, and supports object-oriented, imperative, and functional programming styles. The JavaScript standard is ECMAScript. As of 2012, all modern browsers fully support ECMAScript 5.1. Older browsers support at least ECMAScript 3. What are the key differences between JavaScript and ActionScript 3. Extensions.
Modify and extend Mozilla applications Add-ons add new functionality to Gecko-based applications such as Firefox, SeaMonkey and Thunderbird.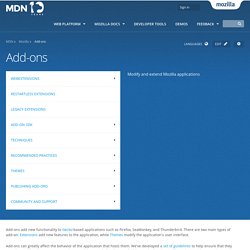 There are two main types of add-on: Extensions add new features to the application, while Themes modify the application's user interface. For both extensions and themes, Mozilla operates a repository at addons.mozilla.org, also known as AMO. Extension Frequently Asked Questions. This is quick set of answers to the most common issues with extension development.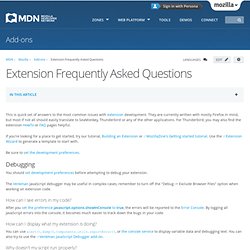 They are currently written with mostly Firefox in mind, but most if not all should easily translate to SeaMonkey, Thunderbird or any of the other applications. For Thunderbird, you may also find the extension HowTo or FAQ pages helpful. If you're looking for a place to get started, try our tutorial, Building an Extension or MozillaZine's Getting started tutorial. Building an Extension. Introduction This tutorial will take you through the steps required to build a very basic extension - one which adds a status bar panel to the Firefox browser containing the text "Hello, World!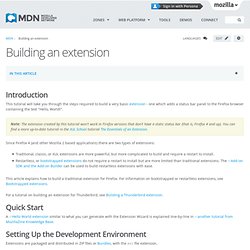 ". Note: The extension created by this tutorial won't work in Firefox versions that don't have a static status bar (that is, Firefox 4 and up). You can find a more up-to-date tutorial in the XUL School tutorial The Essentials of an Extension. Since Firefox 4 (and other Mozilla 2 based applications) there are two types of extensions:
---