Fractal: Discussion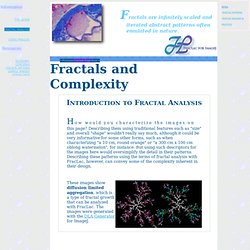 Fractals and Complexity
Fractals and Complexity
m e t a m o r p h o p t i c s
The Mandelbrot set, one of the most famous examples of mathematical visualization.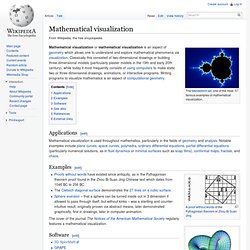 Mathematical visualization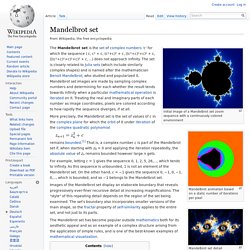 Initial image of a Mandelbrot set zoom sequence with a continuously coloured environment
Fractals, in Layman's Terms
The Elegant Universe: Part 3 PBS Airdate: November 4, 2003 NARRATOR: Now, on NOVA, take a thrill ride into a world stranger than science fiction, where you play the game by breaking some rules, where a new view of the universe pushes you beyond the limits of your wildest imagination.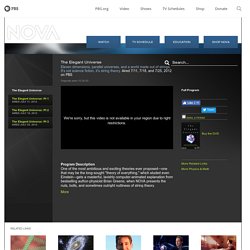 Fractal Repository
June 2010
In Fractal Finance, Part I we saw that fractals can be useful in describing complex, seemingly chaotic patterns in nature. We also saw how Wall Street took advantage of the same advances in information technology that made the study of fractals possible starting in the 1980s, to come up with computer-driven black-box trading schemes.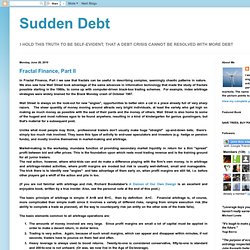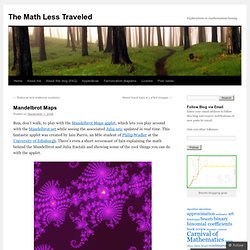 Mandelbrot Maps | The Math Less Traveled
Run, don't walk, to play with the Mandelbrot Maps applet, which lets you play around with the Mandelbrot set while seeing the associated Julia sets updated in real time.
Interesting numbers --- zero --- one --- complex --- root 2 --- golden ratio --- e --- pi --- googol --- infinity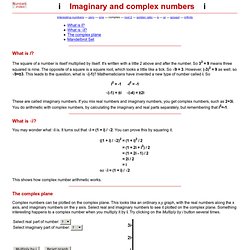 Interesting numbers - Imaginary and complex numbers
September 2006
Unveiling the Mandelbrot set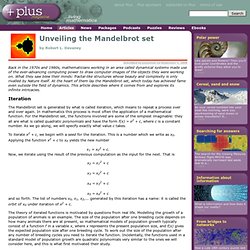 A Global Geometric Framework for Nonlinear Dimensionality Reduction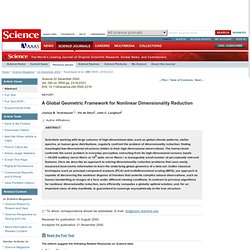 Scientists working with large volumes of high-dimensional data, such as global climate patterns, stellar spectra, or human gene distributions, regularly confront the problem of dimensionality reduction: finding meaningful low-dimensional structures hidden in their high-dimensional observations.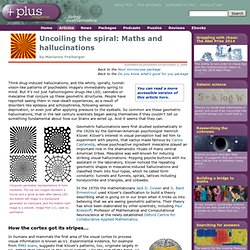 December 2009 Think drug-induced hallucinations, and the whirly, spirally, tunnel-vision-like patterns of psychedelic imagery immediately spring to mind.
Fractal: Law of law of genre