ActionScript Tutorials
In this tutorial you'll learn how to separate an image's three different color channels to create an RGB shift effect. I'll also show you some graphics tricks to mimic an old CRT display. Final Result Preview
Create a Retro CRT Distortion Effect Using RGB Shifting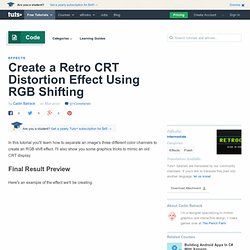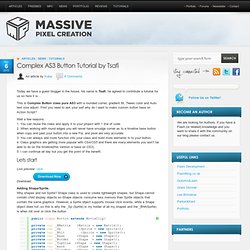 Complex AS3 Button Tutorial by Tsafi | MassivePixelCreation Blog
public class Button extends MovieClip{ private var _BMatrix :Matrix = new Matrix(); private var _Sp :Sprite = new Sprite();
Tutorial: Understanding Classes in AS3 Part 1
A reader named Ryan (no relation) recently requested that we create a post to help him and other beginners understand Classes.
AS3 Tutorials - A compilation of the best ActionScript 3.0 Tutorials available online
Org: AS3 Tutorials Part I (Understanding Sprites) - free Flash CS3 tutorial
Planetarium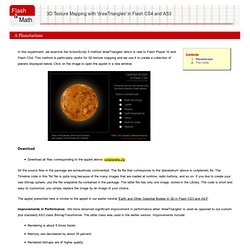 In this experiment, we examine the ActionScript 3 method 'drawTriangles' which is new to Flash Player 10 and Flash CS4.
Flash MX, MX2004, Flash 8, Flash 9, Flash 10, CS3, CS4, CS5, AS3 tutorials
By Rimp | Flash CS3 | Actionscript 3.0 | Intermediate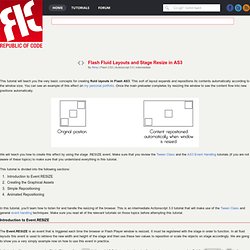 Flash Fluid Layouts and Stage Resize in AS3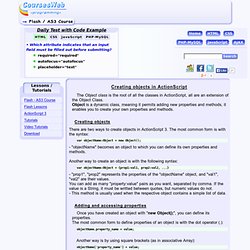 Creating objects in ActionScript
The Object class is the root of all the classes in ActionScript, all are an extension of the Object Class.Object is a dynamic class, meaning it permits adding new properties and methods, it enables you to create your own properties and methods. Creating objects There are two ways to create objects in ActionScript 3.
Creating a Drop Down Menu for your website is perhaps the most requested and hotly searched item for designers across the web. In this tutorial we will take a look at how to build a Flash Actionscript 3.0 Drop Down Menu which is easy to add drop down sections to, and pretty simple to setup. The beauty of this technique is that once you have built on Menu you can simply take it and do a few color changes, or Menu/ Text changes and you have a brand new Drop Down Menu. No video appearing? Click here to download the Quicktime player for free!
Hi-Res Flash Tutorials :: Free Adobe Photoshop, Flash, Dreamweaver, Illustrator, Fireworks, Bridge, and Golive Video Tutorials :: Welcome to Tutvid.com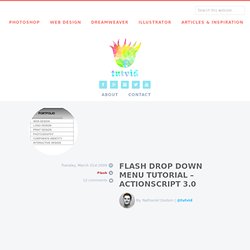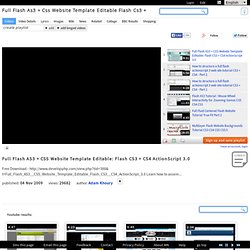 ( ) is a style sheet language used for describing the presentation semantics (the look and formatting) of a document written in a markup language . Its most common application is to style web pages written in HTML and XHTML , but the language can also be applied to any kind of XML document, including plain XML , SVG and XUL . CSS is designed primarily to enable the separation of document content (written in HTML or a similar markup language) from document presentation, including elements such as the layout , colors , and fonts . [ 1 ] This separation can improve content accessibility , provide more flexibility and control in the specification of presentation characteristics, enable multiple pages to share formatting, and reduce complexity and repetition in the structural content (such as by allowing for tableless web design ).
Full Flash As3 + Css Website Template Editable Flash Cs3 + Cs4 Actionscript 30
Implement AS3 Library into Flash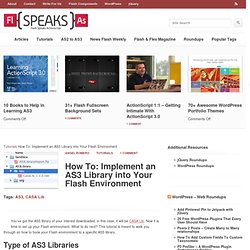 You've got the AS3 library of your interest downloaded, in this case, it will be CASA Lib. Now it is time to set up your Flash environment. What to do next?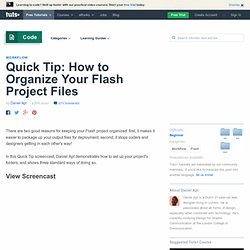 In this series, we're taking a look at not only the structure of the WordPress database, but stra... In this series, we're taking a look at not only the structure of the WordPress database, but strategies that make it easy to perform migrations from development to staging, staging to production, or any of the aforementioned permutations. Most of the articles and the tutorials that we provide are obviously long form posts; however, for the remaining two articles in this series, we're going to be looking at two screencasts that walk us through exactly how to use the WP Migrate DB plugin. In this article, we review how to move content from the production environment to the development environment.
Organize Flash Projects Activetuts+
Flash Dynamic Content
will easily show you how to make your work vivid and interesting as if being able for communication and full of wish to react to every your motion. Flash Dynamic Content Tutorials will help you to fill atmosphere of a certain unity with your creation and to be able to pass this filling to others.
FlashDevelop Activetuts+
Two common misconceptions about Flash Professional: first, you have to buy it in order to make Flash apps and games; second, it's a decent tool for writing code. Totally untrue. In this article, we'll see how to use the free Windows application FlashDevelop to work on Flash projects -- both with and without Flash Professional. What's So Great About FlashDevelop?
FlashDevelop an introduction
Who cares if you can shave a few milliseconds off the time it takes you to write a line of code? How hard is it to add an import statement yourself? What's wrong with writing an event handler function on your own?
We're making some changes at Activetuts+. From now on, our tutorials will be using class-based code, instead of timeline code, wherever possible. This Quick Tip explains what you'll need to know.
How to use a Document Class in Flash with AS3
AS3 External Classes
Include and Use External Actionscript File Code in Your Flash Timeline. Flash and ActionScript 3
You can embed this video on your blog or web page by copying the video embed code above and pasting it into the source code of your page. Adjust the width and height to specify the size you would like it to display. Include and Use External Actionscript File Code in Your Flash Timeline.Embed Source - http://www.youtube.com/watch?
Flash ActionScript 3.0 Video Tutorial Index
Menu and Navigation Tutorials
ActionScript 3 Punctuation by ~MrBadger on deviantART
Adobe Flash help & tutorials - Process of Writing and Editing ActionScript 2.0 in Flash
ActionScript 3.0 Cookbook excerpts: From custom classes to the rendering model
About ActionScript Classes
senocular.com
Top 8 Resources for Learning ActionScript 3 | Warm Forest Flash Blog
School of Flash
Flash & Math
Tweens in Flash CS3 + AS3
Learn ActionScript 3 by Following this Simple Avoider Game Tutorial — Michael James Williams
True-fit dynamic webite