Web Design Stuff
Unleash the power of HTML 5 Canvas for gaming - Eternal Coding. HTML 5 browsers and HTML 5 for Windows 8 Metro are now serious candidates for developing modern games.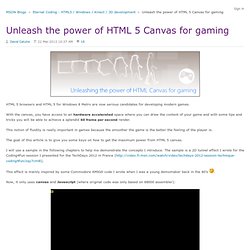 With the canvas, you have access to an hardware accelerated space where you can draw the content of your game and with some tips and tricks you will be able to achieve a splendid 60 frame per second render. This notion of fluidity is really important in games because the smoother the game is the better the feeling of the player is.
The goal of this article is to give you some keys on how to get the maximum power from HTML 5 canvas. I will use a sample in the following chapters to help me demonstrate the concepts I introduce. The sample is a 2D tunnel effect I wrote for the Coding4Fun session I presented for the TechDays 2012 in France ( Adobe FormsCentral. The State Of HTML5 Video. LongTail Video | Home of the JW Player. Setup Wizard. Website creation.
Web Analytics. Free WordPress Themes: 2011 Edition - Smashing Magazine. Advertisement It's interesting to look back at our previous1 WordPress2 themes3 round-ups4.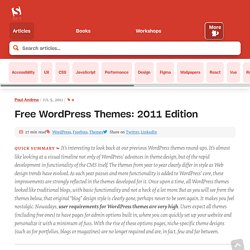 It's almost like looking at a visual timeline not only of WordPress' advances in theme design, but of the rapid development in functionality of the CMS itself. The themes from year to year clearly differ in style as Web design trends have evolved. My Forms.
---