DIY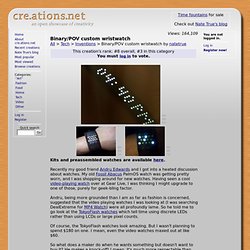 Views: 161,315 Binary/POV custom wristwatch All > Tech > Inventions > Binary/POV custom wristwatch by natetrue Kits and preassembled watches are available here. Recently my good friend Andru Edwards and I got into a heated discussion about watches.
Creation: Binary/POV custom wristwatch
uWatch - A DIY Programmable Scientific Calculator Watch
Understanding Motor and Gearbox Design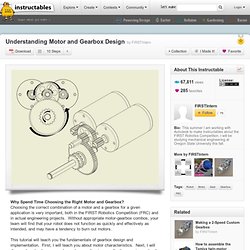 There are several important characteristics of motors that provide information about a motor and its capabilities. They are the motor's output torque, its current draw, its output speed, its power, and its efficiency, each of which I will discuss in turn. These characteristics are interdependent and can all be derived from four values: the motor's stall torque, stall current, free current, and free speed.
Manfrotto ML840H Maxima-84 Hybrid LED Panel ML840H B&H Photo
Ion iPics 2 Go Scanner For iPhone 4/4S IPICS2GO B
Woodcarving Illustrated Message Board
Pyrography Online Messageboard
ryanpourcillie.wordpress.com
Velleity Depot - Gonna Make It, Someday...