DIY
Get flash to fully experience Pearltrees
Views: 152,311 Binary/POV custom wristwatch All > Tech > Inventions > Binary/POV custom wristwatch by natetrue Kits and preassembled watches are available here . Recently my good friend Andru Edwards and I got into a heated discussion about watches.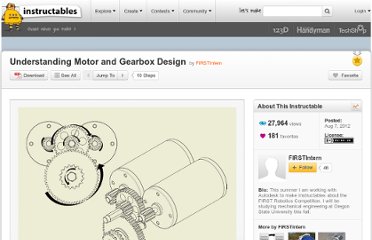 There are several important characteristics of motors that provide information about a motor and its capabilities. They are the motor's output torque, its current draw, its output speed, its power, and its efficiency, each of which I will discuss in turn. These characteristics are interdependent and can all be derived from four values: the motor's stall torque, stall current, free current, and free speed.
The Manfrotto Maxima-84 Hybrid On-Camera LED Light is a constant video light that transforms into a flash unit for still photography. A push button on the back activates flash mode; an included sync cable connects and syncs the light to your camera; and upon your snapping a photo, a flash goes off at 4 times the brightness of the max output in video mode, which is 670 lux at 3 ft. when the light's 0-100% dimmer is set to 100%. The native color temperature in video mode is 5600K daylight color.
The iPics 2 Go Scanner For iPhone 4/4S from Ion Audio lets you scan photos, slides, and negatives using your iPhone's built-in camera. The top of the scanner includes a dock for your iPhone that positions the lens at the optimal height and angle for capturing the images, ensuring consistent, high-quality results each time. The built-in LED light provides even lighting and prevents hotspots, glare, and flash burn. The scanner converts your 35mm negatives & mounted slides as well as 4x6" & 3x5" images into digital files and saves them on your iPhone. Thanks to its AA battery power, you can literally scan your images anywhere, even if you don't have access to a power outlet.
Velleity Depot - Gonna Make It, Someday...