DIY
DIY Clothes. Origami. Gift Ideas. Creation: Binary/POV custom wristwatch. Views: 164,109 Binary/POV custom wristwatch All > Tech > Inventions > Binary/POV custom wristwatch by natetrue Kits and preassembled watches are available here.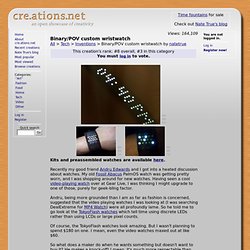 Recently my good friend Andru Edwards and I got into a heated discussion about watches. uWatch - A DIY Programmable Scientific Calculator Watch. Understanding Motor and Gearbox Design. There are several important characteristics of motors that provide information about a motor and its capabilities.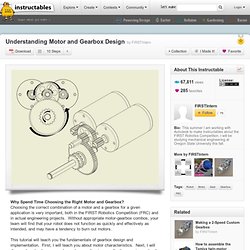 They are the motor's output torque, its current draw, its output speed, its power, and its efficiency, each of which I will discuss in turn. These characteristics are interdependent and can all be derived from four values: the motor's stall torque, stall current, free current, and free speed. Manfrotto ML840H Maxima-84 Hybrid LED Panel ML840H B&H Photo. The Manfrotto Maxima-84 Hybrid On-Camera LED Light is a constant video light that transforms into a flash unit for still photography.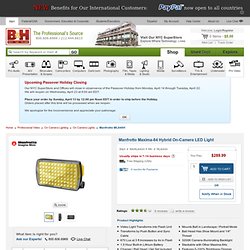 A push button on the back activates flash mode; an included sync cable connects and syncs the light to your camera; and upon your snapping a photo, a flash goes off at 4 times the brightness of the max output in video mode, which is 670 lux at 3 ft. when the light's 0-100% dimmer is set to 100%. The native color temperature in video mode is 5600K daylight color. Rocketry. DIY. DIY Drones. Woodcarving Illustrated Message Board. Pyrography Online Messageboard. Ryanpourcillie.wordpress.com. Project Ideas.
DIY Resources
3DP. Ideas. Velleity Depot - Gonna Make It, Someday...
---