Social sites
LinkedIn Quick Tip: How to Use "Company Follow" - CIO.com - Busi. What LinkedIn's "Company Follow" Is: LinkedIn announced today a new feature, similar to Facebook's fan pages, that lets you "follow" companies on the professional networking site and keep track of their key developments, potential business opportunities and job leads.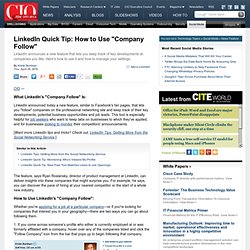 This tool is especially helpful for job seekers who want to keep tabs on businesses to which they've applied, and for businesses looking to monitor their competitors' announcements. [Want more LinkedIn tips and tricks? Check out, LinkedIn Tips: Getting More from the Social Networking Service.] Turn your LinkedIn Profile into a Resume | Resume Builder. Home. Hellotxt -- Organize your life online...
Flook : Cards from people you follow.
---