Comic characters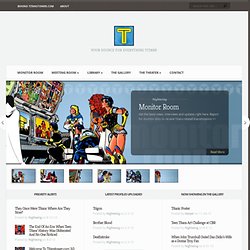 Will Pfeifer and Kenneth Rocafort Bring Us New Teen Titans Newsarama reports: "The current Teen Titans comic may be ending later this month, but the title won't be gone for long. In July, writer Will Pfeifer and artist Kenneth Rocafort will relaunch Teen Titans... Read More Ravager Targets ARROW
titanstower.com
The Green Lantern Corps Message Board - Powered by vBulletin
Liberty Meadows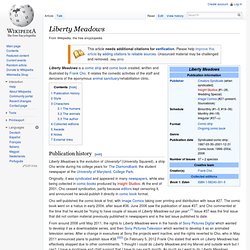 Liberty Meadows is a comic strip and comic book created, written and illustrated by Frank Cho. It relates the comedic activities of the staff and denizens of the eponymous animal sanctuary/rehabilitation clinic. Publication history[edit] Liberty Meadows is the evolution of University² (University Squared), a strip Cho wrote during his college years for The Diamondback, the student newspaper at the University of Maryland, College Park. Originally, it was syndicated and appeared in many newspapers, while also being collected in comic books produced by Insight Studios. At the end of 2001, Cho ceased syndication, partly because editors kept censoring it, and announced he would publish it directly in comic book format.
I just got my new Sketchbook from the printers. It's a full color jungle themed sketchbook called "Jungle Queens". It collects all my jungle themed art from the start of my career to now. This sketchbook will debut this weekend at the San Jose Super-Con. I've only printed 1000 of these, so get'em while they last. It's published by Brand Studio Press and will be up on their website soon for internet sales.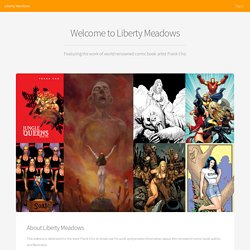 Welcome to Frank Cho's Liberty Meadows Internet Sanctuary
One of the articles I've had in mind for a long time is a look at "The Quiet Darkness", a story from LSHv4 #21-24 (in the Five Years Later era of the Legion). This is that article. The plot, first: two young girls, Lori and Aria, are on the run on Zuun; a lot of dangerous people are chasing them, including (it seems) Lobo. They want to turn Aria over to Darkseid, who is working with Aria's father, Dr. Francis Campbell, on something called the Gemini Matrix. The Gemini Matrix has something to do with Aria and her twin brother Coda, who's in a tank in Aria's father's lab.
Legion Abstract: Legion of Super-Heroes analysis and commentary