Asterix
List of Asterix volumes. This is a list of all Asterix volumes, including the 34 official albums and various tie-ins.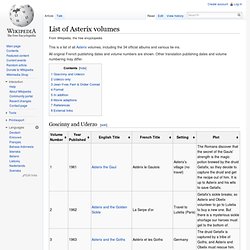 All original French publishing dates and volume numbers are shown. Other translation publishing dates and volume numbering may differ. Goscinny and Uderzo[edit] Uderzo only[edit] After the death of Goscinny, Uderzo continued the series by himself, writing his own stories on subjects such as feminism and aliens, with travels to India and Atlantis.
ASTERIX - The official website. Interview: Anthea Bell, the translator who makes Asterix funny in English. MOST readers will have heard of Goscinny and Uderzo, the French writer and illustrator team whose Asterix books have sold 325 million copies.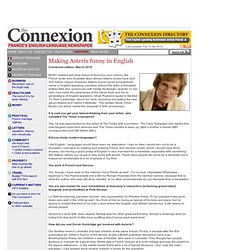 However, Asterix would not be a household name in English-speaking countries without the skills of translator Anthea Bell who (previously with Derek Hockridge, recently on her own) has made the adventures of the Gauls fresh and fun to generations of English-speakers. Oliver Rowland spoke to Ms Bell, 73, from Cambridge, about her work, including translating the new album Asterix and Obelix's Birthday - The Golden Book (Orion Books Ltd) which marks the character's 50th anniversary. It is said you get your lateral-thinking from your father, who compiled The Times crossword?
Yes, he was approached by the editor of The Times with a problem - The Daily Telegraph had started this new-fangled craze from America and The Times needed to keep up. Asterix. Asterix or The Adventures of Asterix (French: Astérix or Astérix le Gaulois, IPA: [asteʁiks lə ɡolwa]) is a series of French comics written by René Goscinny and illustrated by Albert Uderzo (Uderzo took over the writing after the death of Goscinny in 1977).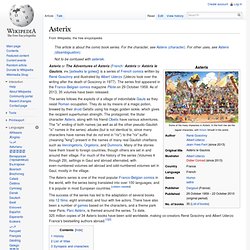 The series first appeared in the Franco-Belgian comics magazine Pilote on 29 October 1959. As of 2013, 35 volumes have been released. The Asterix series is one of the most popular Franco-Belgian comics in the world, with the series being translated into over 100 languages, and it is popular in most European countries. [citation needed] The success of the series has led to the adaptation of several books into 12 films: eight animated, and four with live actors.
---