Windows
The 32 Totally Essential (and Free) Apps for Every New PC - Page 1. You have to admit, Windows is a pretty barebones operating system, feature-wise.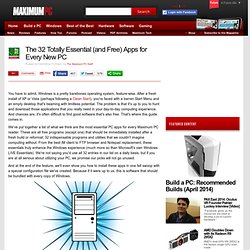 After a fresh install of XP or Vista (perhaps following a Clean Start), you're faced with a barren Start Menu and an empty desktop that's beaming with limitless potential. The problem is that it's up to you to hunt and download those applications that you really need in your day-to-day computing experience. And chances are, it's often difficult to find good software that's also free. That's where this guide comes in. The 50 Best Ways to Disable Built-in Windows Features You Don't Want. Over the years, we've written about loads of ways to disable features, tweak things that don't work the way you want, and remove other things entirely.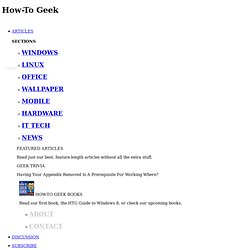 Here's the list of the 50 best ways to do just that. Just in case you missed some of our recent roundup articles, here's a couple of roundups of our very best articles for you to check out: If you've already been through those, keep reading for how to disable loads of Windows features you might not want. How to Install Windows from a USB Flash Drive. If you have a damaged CDROM drive and want to install Windows on your computer or laptop, then I recommend that you use Novicorp WinToFlash, which allows you to boot Windows operating systems from a USB flash drive.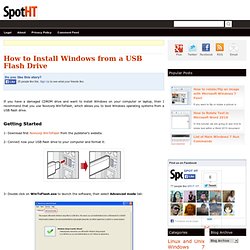 Getting Started 1- Download first Novicorp WinToFlash from the publisher's website. Use a USB Key to Install Windows 7—Even on a Netbook. Everyone's excited about Windows 7, so am i.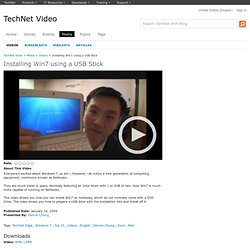 However, i do notice a new generation of computing equipment, commonly known as Netbooks. They are much lower in specs. Normally featuring an Intel Atom with 1 or 2GB of ram. Now Win7 is much more capable of running on Netbooks. This video shows you how you can install Win7 on netbooks, which do not normally come with a DVD Drive. Software - What are the essential tools you always have handy when attempting to fix someone's PC problem. Tweak Windows 7 Administration, Performance, And Security Settings. Sunrise Seven is a Windows 7 tweaker that allows you to customize a plentiful of Windows native functions and tools.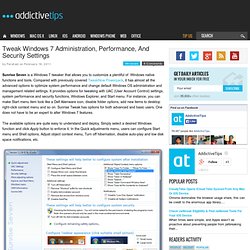 Compared with previously covered TweakNow Powerpack, it has almost all the advanced options to optimize system performance and change default Windows OS administration and management related settings. It provides options for tweaking with UAC (User Account Control) settings, system performance and security functions, Windows Explorer, and Start menu. For instance, you can make Start menu item look like a Dell Alienware icon, disable folder options, add new items to desktop right-click context menu and so on.
Sunrise Tweak has options for both advanced and basic users. Increase The FileSystem Memory Cache Size In Windows 7. File operations on Windows NT based systems make use of a limited pool of kernel buffers which.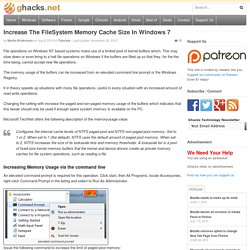 This may slow down or even bring to a halt file operations on Windows if the buffers are filled up so that they, for the the time being, cannot accept new file operations. The memory usage of the buffers can be increased from an elevated command line prompt or the Windows Registry. It in theory speeds up situations with many file operations, useful in every situation with an increased amount of read write operations.
Changing the setting with increase the paged and non-paged memory usage of the buffers which indicates that this tweak should only be used if enough spare system memory is available on the PC. Microsoft TechNet offers the following description of the memoryusage value: How to Manually Repair Windows 7 Boot Loader Problems. If you're having boot problems on your Windows PC, it's often helpful to repair the MBR (Master Boot Record) to restore the Windows 7 boot loader—and you can do it easily from the Windows installation disc. This is generally most useful if you've broken something and there's a boot loader error, or if you have made the mistake of installing an older version of Windows on the same PC that already has Windows 7 which wipes out the boot loader. Note: If your PC starts booting into Windows but fails, you should probably try using Safe Mode instead. Fix a Windows 7 System That Randomly Freezes. Of all the hassles that can plague a PC user (and, trust me, there are many), few are as infuriating as random lockups.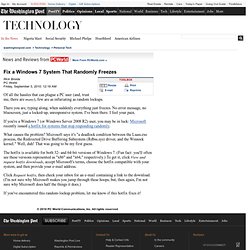 There you are, typing along, when suddenly everything just freezes. No error message, no bluescreen, just a locked-up, unresponsive system. I've been there. I feel your pain. 19 Tips Every Windows 7 User Needs to Know. Your OS drives your whole PC experience, so it's your job as an enthusiast to keep it in a high state of tune Twist cap carefully.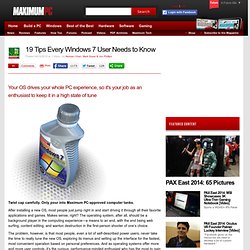 Only pour into Maximum PC-approved computer tanks. After installing a new OS, most people just jump right in and start driving it through all their favorite applications and games. Top Freeware Network Tools for Windows 7. If you have the right working tools for network operations, you can get a lot of information that can help you control or monitor the network.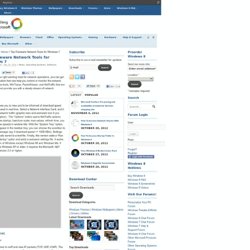 Here are three tools, WinTracer, PacketViewer, and NetTraffic that are easy to use and provide you with a steady stream of network information. NetTraffic allows you to view and to be informed of download speed and upload speed in real time. How To Dual Boot Ubuntu 11.04 With Windows 7. Many Windows users who use Linux based operating systems for practice rely on VMware or VirtualBox for creating virtual machines. However, the problem with virtual machines is that many applications do not run due to compatibility issues.
A better alternative can be to dual boot Linux operating system like Ubuntu with Windows. In this post we will tell you how to dual boot Ubuntu 11.04 with Windows 7. 7 Essential multimedia tools and their free alternatives :: 10,000 Words. Why spend money on expensive multimedia tools when you can use comparable alternatives for free? They may not be an exact replacement, but how can you argue with the price? PHOTO EDITING: PhotoshopFree: Splashup. The Best Of: Windows Software. On this page you will find the best Windows software for all your needs. Over 95% of listed apps are free. We've taken the effort to categorize the apps and picked only those we believe to be the best ones and which will most likely be useful to you.
Expect great all-around protection against viruses and trojans. Lightweight and solid. Good ratings. Advanced Windows 7 Troubleshooting Videos - Windows 7 News. A few days ago I was able to announce that some of my Windows troubleshooting and how-to videos will be appearing on the official Microsoft Support website, and that I'll be making a whole additional series of videos for them over the next couple of months.
It's not been too long though since I gave some talks around the UK on . Shortly after giving the talks I made the presentation into a webcast and put it online. In the webcast I talk about the tools that are available in Windows 7 to help you diagnose, troubleshoot and repair problems. I look at some of these tools in depth and examine some tips and tricks to help you get the very best out of them. The webcast covers everything from the very basic and easy to use automated troubleshooters, right through to the advanced system diagnostics tools that are buried deep in the operating system's administrative tools.
25+ Best Free Tools To Customize Windows 7. Posted January 11, 2011 – 10:07 pm in: Freeware , Windows 7 Advertisements Back in November last year, we listed over 55 free tweaking tools available for Windows 7 . Just like tweaking tools, there are tens of good utilities available to customize the default look and feel of Windows 7. In this article, we have covered the best free tools available to customize Windows 7 . . 19 Tips Every Windows 7 User Needs to Know. The 50 Best How-To Geek Windows Articles of 2010. 3 Ways To Speed Up The Windows 7 Shutdown Process. Windows Optimizer 7plus Updated, Now With 64-bit, Unicode Support. How to Create an Integrated x86/x64 Windows 7 Install DVD.
How To Shrink & Extend Volumes Or Partitions in Windows 7. How Do You Fix a Windows 7 Authorization Failure? Hack Attack: Turn your $60 router into a $600 router. Geek Info. How To Fix The Windows 7 Activation Countdown After Installing The SP1 Update. How To Remove Services In Windows.
---