Windows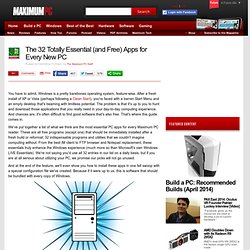 You have to admit, Windows is a pretty barebones operating system, feature-wise.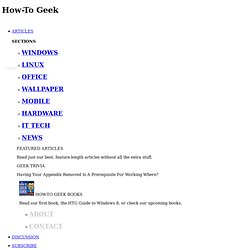 Over the years, we've written about loads of ways to disable features, tweak things that don't work the way you want, and remove other things entirely.
If you have a damaged CDROM drive and want to install Windows on your computer or laptop, then I recommend that you use Novicorp WinToFlash, which allows you to boot Windows operating systems from a USB flash drive. Getting Started 1- Download first Novicorp WinToFlash from the publisher's website.
How to Install Windows from a USB Flash Drive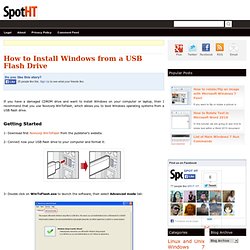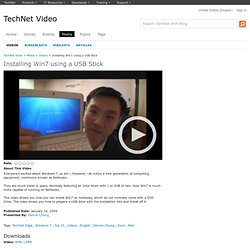 Use a USB Key to Install Windows 7—Even on a Netbook
Everyone's excited about Windows 7, so am i. However, i do notice a new generation of computing equipment, commonly known as Netbooks.
Tweak Windows 7 Administration, Performance, And Security Settings
Sunrise Seven is a Windows 7 tweaker that allows you to customize a plentiful of Windows native functions and tools.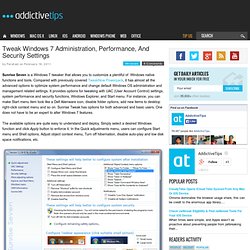 File operations on Windows NT based systems make use of a limited pool of kernel buffers which. This may slow down or even bring to a halt file operations on Windows if the buffers are filled up so that they, for the the time being, cannot accept new file operations.
Increase The FileSystem Memory Cache Size In Windows 7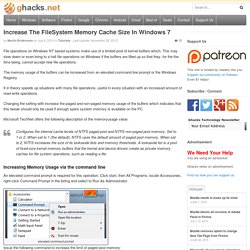 If you're having boot problems on your Windows PC, it's often helpful to repair the MBR (Master Boot Record) to restore the Windows 7 boot loader—and you can do it easily from the Windows installation disc. This is generally most useful if you've broken something and there's a boot loader error, or if you have made the mistake of installing an older version of Windows on the same PC that already has Windows 7 which wipes out the boot loader. Note: If your PC starts booting into Windows but fails, you should probably try using Safe Mode instead. How to Manually Repair Windows 7 Boot Loader Problems
Of all the hassles that can plague a PC user (and, trust me, there are many), few are as infuriating as random lockups.
Fix a Windows 7 System That Randomly Freezes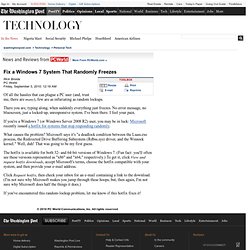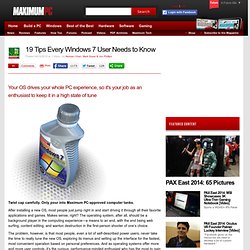 Your OS drives your whole PC experience, so it's your job as an enthusiast to keep it in a high state of tune
Top Freeware Network Tools for Windows 7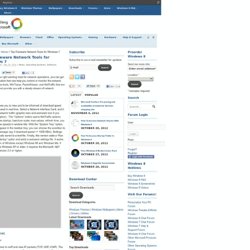 If you have the right working tools for network operations, you can get a lot of information that can help you control or monitor the network. Here are three tools, WinTracer, PacketViewer, and NetTraffic that are easy to use and provide you with a steady stream of network information. NetTraffic allows you to view and to be informed of download speed and upload speed in real time.
How To Dual Boot Ubuntu 11.04 With Windows 7
Many Windows users who use Linux based operating systems for practice rely on VMware or VirtualBox for creating virtual machines.
Why spend money on expensive multimedia tools when you can use comparable alternatives for free? They may not be an exact replacement, but how can you argue with the price? PHOTO EDITING: PhotoshopFree: Splashup
On this page you will find the best Windows software for all your needs. Over 95% of listed apps are free.
A few days ago I was able to announce that some of my Windows troubleshooting and how-to videos will be appearing on the official Microsoft Support website, and that I'll be making a whole additional series of videos for them over the next couple of months. It's not been too long though since I gave some talks around the UK on .
Advanced Windows 7 Troubleshooting Videos - Windows 7 News
Posted January 11, 2011 – 10:07 pm in: Freeware , Windows 7 Advertisements
19 Tips Every Windows 7 User Needs to Know | Maximum PC
3 Ways To Speed Up The Windows 7 Shutdown Process
Windows Optimizer 7plus Updated, Now With 64-bit, Unicode Support
How to Create an Integrated x86/x64 Windows 7 Install DVD
How To Shrink & Extend Volumes Or Partitions in Windows 7
How Do You Fix a Windows 7 Authorization Failure?
Geek Info
How To Fix The Windows 7 Activation Countdown After Installing The SP1 Update
How To Remove Services In Windows