Asian Studies
Nancy Pine | Join the Conversation About Chinese and American Education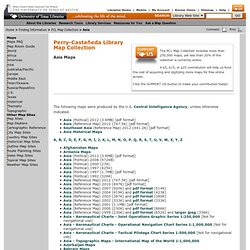 Asia Maps
Asia Maps The PCL Map Collection includes more than 250,000 maps, yet less than 20% of the collection is currently online. A $5, $15, or $25 contribution will help us fund the cost of acquiring and digitizing more maps for free online access. Click the SUPPORT US button to make your contribution today! The following maps were produced by the U.S. Central Intelligence Agency, unless otherwise indicated.
In December of last year I made a statement that startled the students enrolled in my Chinese economic development course: that prices overall in China were high relative to prices of goods in the United States. They were surprised because the consumption choices of American college students studying abroad in China often do not go far beyond that of an inexpensive bowl of noodles, a few Qingdao beers on a Friday night, and a bagful of knock-off brand name clothing from the Silk Market. But the rising Chinese consumer, whose consumption habits require much more than food and clothing, faces a very different basket of consumer goods, and most of those goods are sold at high prices. To illustrate, here's a quick look at the prices of housing, airfare, medicine, and cars in China. The cozy 100 square foot classroom in which I made the above statement is located 15 kilometers from Beijing's central business district, and if sold on the real estate market today it would list at 80,000 USD.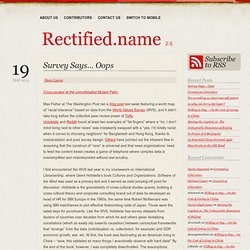 Rectified.name 正名
The Center for East Asian Studies (CEAS) is the focal point connecting East Asia to the University of Wisconsin-Madison. One of the UW-Madison's eight federally funded National Resource Centers, CEAS is dedicated to all aspects of research, education and outreach related to China, Japan, Korea, Taiwan, and Mongolia. CEAS encourages and supports the cross-disciplinary and interdisciplinary study of East Asia. Our center helps to coordinate the community for the study of East Asia on campus, across the UW system, and throughout the state of Wisconsin. Finally, We work to disseminate knowledge about East Asia to better the education and cultural literacy of UW students as well as the general public.
Center for East Asian Studies at UW-Madison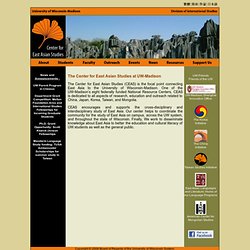 East Asian History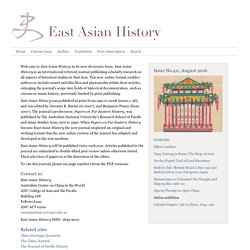 Welcome to East Asian History in its new electronic form. East Asian History is an international refereed journal publishing scholarly research on all aspects of historical studies in East Asia. This new online format enables authors to include sound and film files and photomedia within their articles, enlarging the journal's scope into fields of historical documentation, such as cinema or music history, previously limited by print publishing. This online form of East Asian History is a collaboration between The Australian Centre on China in the World at the Australian National University and the Leiden University Institute of Area Studies at Leiden University in The Netherlands, and is jointly edited by Remco Breuker (Leiden) and Benjamin Penny (ANU). The editorial board comprises three scholars from each university: Geremie R. Barmé (ANU), Katarzyna Cwiertka (Leiden), Roald Maliangkay (ANU), Ivo Smits (Leiden), Tessa Morris-Suzuki (ANU) and Barend ter Haar (Leiden).
Welcome to the CEFC
The French Centre for Research on Contemporary China (CEFC) is a publicly funded research institute, part of the network of the 27 French research centres abroad supported by the French Ministry of Foreign Affairs and the CNRS. The CEFC's mission is to explore the political, economic, social and cultural developments in the contemporary Chinese world (China, Taiwan, Hong Kong, Macao, etc.). The CEFC organises frequent seminars and conferences. It also publishes a quarterly, China Perspectives , and its French edition, Perspectives chinoises .