Scribus
Scribus Tutorials - Where to Find Scribus Tutorials for Learning to Use This Free Desktop Publishing Software
Scribus is a free desktop publishing application that's been compared to InDesign, much like The GIMP has been compared to Photoshop and OpenOffice compared to Microsoft Office. It's free and powerful. However, if you've never used professional page layout applications, it can be a bit overwhelming when you first open it up and try to create something. Scribus tutorials may not be quite as plentiful as those for InDesign or QuarkXPress but they are out there. I've rounded up some tutorials and a Scribus manual that I think you may find useful in getting up and running quickly with Scribus.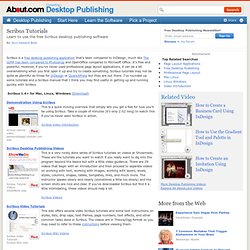 View Pages Side by Side ? [SOLVED]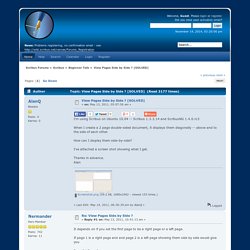 Dear Nermander First of all, I apologise. My criticism was harsh and wrong -- it was born of frustration rather than disrespect -- and I spoke from inexperience. My point was this:
Colors affect us in countless ways—mentally and physically, consciously and subconsciously. Psychologists have suggested that color impression can account for 60% of the acceptance or rejection of a product or service. Good color choices should never be neglected in web design. A bad color combination can have the same negative effect as poor copy and slow load times. In this infographic, we will briefly discuss color coordination and how you can use this to your advantage when designing your site. Special thanks to @speckyboy, @smashingmag and @onextrapixel.
The Art of Color Coordination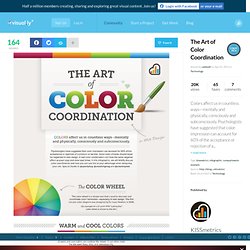 Scribus Tutorials - Where to Find Scribus Tutorials for Learning to Use This Free Desktop Publishing Software
portal.unesco.org/pv_obj_cache/pv_obj_id_FB089C44BB937407BF645C435C6FD314E70C1600/filename/scribusTutorial.pdf
Scribus Desktop Publishing - video tutorials for scribus, texteffects, desktoppublishing, publishing, office_skills, open, opensource, windows, http, linux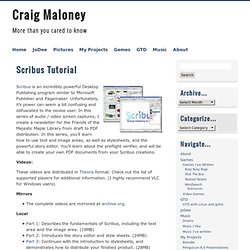 Scribus is an incredibly powerful Desktop Publishing program similar to Microsoft Publisher and Pagemaker.
Video Tutorials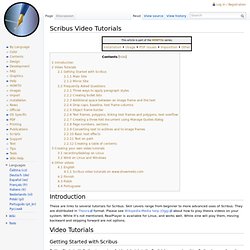 These are links to several tutorials for Scribus. Skill Levels range from beginner to more advanced uses of Scribus. They are distributed in Theora format.