Cycling
Technique: Cadence Matters. By Joe Beer | Wednesday, May 14, 2008 11.00pm Learning what cadence works best for you can significantly improve your efficiency Robert Smith Photography Cycling is a simple sport really.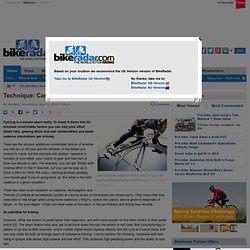 To break it down into its simplest controllable factors you can vary your effort (heart rate), gearing (front and rear combination) and pedal cadence (revolutions per minute). There are the obvious additional controllable factors of whether you ride on- or off-road and the hilliness of the terrain you choose to cover, but the principle still applies - speed is a function of your effort, your choice of gear and how fast or slow you decide to spin. For example, you can get 30mph with minimal effort in 53x17 downhill, but you can be way up in Zone 3 (86% to 100% HR max), crawling at 9mph grinding your lowest gear if you're going back up.
Cycling Weekly | Cycling news, cycle routes, equipment and forums. British Cycling / Home. Bicycle Touring Pro - How To Plan Your Next Bicycle Touring Adventure. Enter your name and email address in the box below to receive my free bicycle touring starter guide, "How To Become A Bicycle Touring Pro" and learn how to travel the world on a bicycle.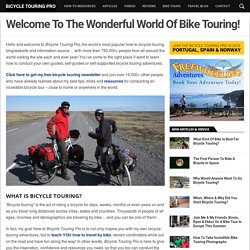 Hello and welcome to Bicycle Touring Pro, the world's most popular how-to bicycle touring website and information source! You've come to the right place if you are looking to learn how to conduct your own guided, self-guided or self-supported bicycle touring adventures. What Exactly is Bicycle Touring? "Bicycle touring" is the act of riding a bicycle for days, weeks, months or even years on end as you travel long distances across cities, states and countries. Thousands of people of all ages, incomes and demographics are traveling by bike… and you can be one of them! Welcome to the Cycletourer Website. Through this site we hope to share some of the great times my wife and I have had cycle touring, and give some help and information to those who might consider cycle touring as an alternative type of holiday.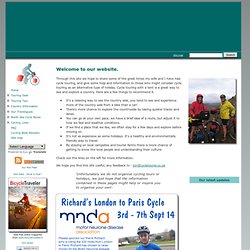 Cycle touring with a tent is a great way to see and explore a country. Here are a few things to recommend it. It's a relaxing way to see the country side, you tend to see and experience more of the country side from a bike than a car! Home - KOGA. Sustrans | Join the movement. North Sea Cycle Route. The North Sea Cycle Route is a 6,000km chain of exciting experiences waiting for the cycling tourist.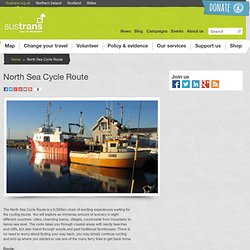 You will explore an immense amount of scenery in eight different countries: cities, charming towns, villages, countryside from mountains to below sea level. The route takes you through coastal areas with sandy beaches and cliffs, but also inland through woods and past traditional farmhouses. There is no need to worry about finding your way back, you may simply continue cycling and end up where you started or use one of the many ferry links to get back home.
CTC Homepage - CTC the UK's national cyclists' organisation. Rouleur - Home. Rouleur is the celebrated cycling magazine that brings together leading writers and photographers to convey the essence and imagery of road racing.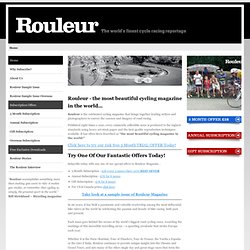 Published eight times a year, every eminently collectible issue is produced to the highest standards using heavy art-stock paper and the best quality reproduction techniques available. It has often been described as "the most beautiful cycling magazine in the world!" Subscribe today with any one of our special offers to Rouleur Magazine... 3 Month Subscription - £18 every 2 issues (Save 10%) BEST OFFERAnnual Subscription - £78 for 8 issuesGift Subscription - £78 for 8 issuesFor US & Canada prices click here. Rapha.
---