TV
Get flash to fully experience Pearltrees
How to Make It in America was an American comedy-drama television series created by Ian Edelman, which premiered on HBO on February 14, 2010. It follows two enterprising twentysomethings hustling their way through New York City 's fashion scene, determined to achieve their version of the American Dream . Trying to make a name for themselves in the city's competitive fashion scene, Ben Epstein and his friend and business partner Cam Calderon use their street knowledge and connections to make their way up. With the help of their well-connected friend Domingo and Cam's cousin Rene, who has ambitions of his own—a new energy drink called Rasta-Monsta—the burgeoning entrepreneurs set out to make it big. On December 20, 2011, HBO announced the cancellation of the show.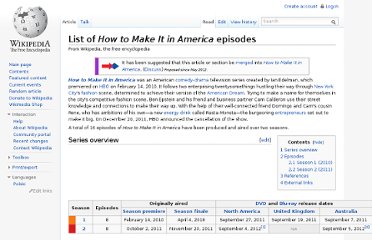 Eastbound & Down [ 2 ] is an American comedy television series broadcast on HBO , starring Danny McBride as Kenny Powers , a former professional baseball pitcher, who after an up and down career in the major leagues is forced to return to his hometown middle-school in Shelby, North Carolina , as a substitute physical education teacher. [ 3 ] Producers Will Ferrell and Adam McKay received an order for six episodes for the first season from HBO. [ 4 ] The series was produced by Will Ferrell's production company, Gary Sanchez Productions . The show premiered February 15, 2009, at 10:30 p.m. [ 5 ] Its second season, consisting of seven episodes, began on September 26, 2010.
Curb Your Enthusiasm is an American comedy television series produced and broadcast by HBO , which premiered on October 15, 2000. As of 2012, it has completed 80 episodes over eight seasons. The series was created by Seinfeld co-creator Larry David , who stars as a fictionalized version of himself. The series follows David in his life as a semiretired television writer and producer in Los Angeles and later New York City .
South Park is an American animated television series created by Trey Parker and Matt Stone for Comedy Central . The series originated from a pair of animated shorts titled The Spirit of Christmas , and the first episode of South Park originally aired on August 13, 1997 on Comedy Central . As of November 7, 2012 ( 2012-11-07 ) [update] , a total of 237 episodes have aired, concluding the sixteenth season. Comedy Central renewed South Park through 2016, bringing the show to 20 seasons. [ 1 ] In 2013, Parker and Stone decided to cut the number of episodes per season from 14 to 10, and set the premiere date for season 17 as September 25, 2013. [ 2 ] Intended for mature audiences, the show has become famous for its crude language and dark , surreal humor that lampoons a wide range of topics .
Parks and Recreation is an American television series created by Greg Daniels and Michael Schur . It has been billed as a companion piece to Daniels' other comedy, The Office . [ 1 ] Produced and broadcast by NBC , Parks and Recreation is filmed in the same mockumentary style as The Office and follows Leslie Knope ( Amy Poehler ), a mid-level bureaucrat in the Parks and Recreation Department in Pawnee, Indiana . Inspired by local nurse Ann Perkins ( Rashida Jones ), Leslie vows to turn a vacant lot with a large pit into a beautiful park.
30 Rock is an American comedy television series that ran on NBC from October 11, 2006, to January 31, 2013. Created by Tina Fey , the series follows the lives of the head writer of TGS with Tracy Jordan (TGS), Liz Lemon (Tina Fey), the other staff members of TGS , and their network executive , Jack Donaghy ( Alec Baldwin ). A total of 138 episodes of 30 Rock were produced and aired over seven seasons.
Family Guy is an American animated television sitcom created by Seth MacFarlane for the Fox Broadcasting Company . Since its debut on January 31, 1999, the show has broadcast 204 episodes and began airing its eleventh season on September 30, 2012. The series centers on the dysfunctional Griffin family , which consists of father Peter (MacFarlane), mother Lois ( Alex Borstein ), daughter Meg ( Mila Kunis ; Lacey Chabert , 1999; Rachael MacFarlane , pilot), son Chris ( Seth Green ), baby Stewie (MacFarlane) and Brian (MacFarlane), the family dog. The show is set in the fictional town of Quahog, Rhode Island , and lampoons American culture , often in the form of cutaway gags , and tangential vignettes .