Studies
Abstract Given the increasing importance of technology in library and information science ( LIS ), new graduates' proficiency with technology is likely an important factor affecting their ability to find satisfactory work.
Comparisons of Information Technology Education in MLIS Programs | Fortney | Library Student Journal
Dear Aspiring Librarians (On MLIS Program Rankings)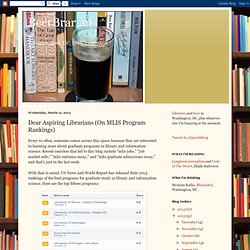 Every so often, someone comes across this space because they are interested in learning more about graduate programs in library and information science.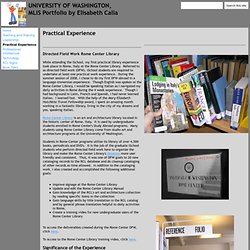 Practical Experience - UNIVERSITY OF WASHINGTON, MLIS Portfolio by Elisabeth Calla
Directed Field Work Rome Center Library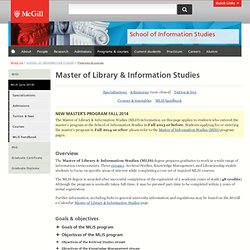 Masters of Library & Information Studies | School of Information Studies
Overview
The Department offers graduate students the opportunity to enhance their knowledge related to specific areas of inquiry in the field of education through our M.A. degrees (thesis or non-thesis options), including our MATL leading to teacher certification, Ph.D. in Educational Studies, and graduate certificates.
Integrated Studies in Education | Future Graduate Students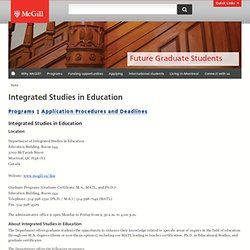 Disease on plants usually starts out at a low level, a small number of plants affected and a small amount of plant tissue affected, and it becomes of concern to us only when its incidence and severity increases with time. When we look at some examples of plant disease epidemics from the published literature, we not only notice that the incidence or severity starts near zero and then increases dramatically, but we also can discern some distinct patterns of development with time. For example, in Phytophthora blight of pepper seedlings ( Phytophthora capsici ) and Fusarium kernel rot ( Fusarium moniliforme, currently F. verticilloides ) of maize, disease progress is roughly linear (allowing for some minor deviations that we can consider random error).
Disease Progress
Master of Library and Information Science — TISS Admissions Website
Intake: 15 The Master of Library and Information Science (MLISc) programme, which is being offered by the Centre for Library and Information Management Studies of the Sir Dorabji Tata Memorial Library, comprises of 20 core courses including 1 internship programme, 2 electives and a dissertation for 66 credits in four semesters.
Intake: 41
M.A. in Education (Elementary) — TISS Admissions Website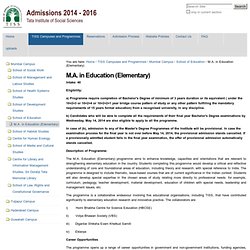 To apply for a job with the British Council, please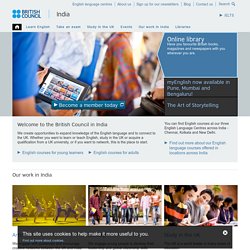 Job Opportunities - About us - British Council - India
About | Hiring Librarians
I started this blog when I was a frustrated job-hunting librarian. One of my favorite job-hunting resources is Alison Green's Ask A Manager blog. She gives great advice, not just because she's a smart lady with a lot of common sense, but because she has worked as a hiring manager and is able to provide insight into the great mystery of how they think.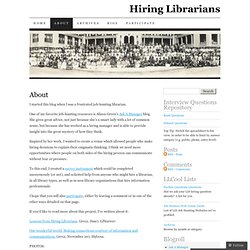 Recent library school graduates or soon-to-be graduates' Journal
Foxylibrarian.com
Applicants may enter the MLIS program in September, January, or May.
Admissions, Applications & Fees > MLIS > Prospective Students > Faculty of Information & Media Studies
PhytoImages Home
Genome Packaging in Prokaryotes | Learn Science at Scitable
Abbott, A.