Studies
Comparisons of Information Technology Education in MLIS Programs | Fortney | Library Student Journal. Abstract Given the increasing importance of technology in library and information science (LIS), new graduates' proficiency with technology is likely an important factor affecting their ability to find satisfactory work.
This article investigates technology skills required by library jobs and compares them to LIS educational standards and practices. A review of LIS curricula reveals that several programs require little or no technological skill. Nothing in the accreditation process seems likely to change this situation, despite prevalent commentary that change is required. The literature on technological competency required by job openings is then reviewed, which results in recommendations that students tailor their educational experiences to their specific career goals and focus on adaptability and LIS fundamentals to increase the likelihood of a successful job search. Dear Aspiring Librarians (On MLIS Program Rankings) Every so often, someone comes across this space because they are interested in learning more about graduate programs in library and information science.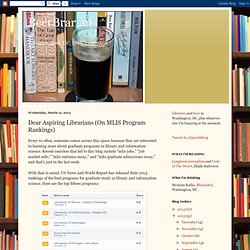 Recent searches that led to this blog include "mlis jobs," "job market mlis," "mlis entrance essay," and "mlis graduate admissions essay," and that's just in the last week. With that in mind, US News and World Report has released their 2013 rankings of the best programs for graduate study in library and information science.
Here are the top fifteen programs: I'm number ten! Practical Experience - UNIVERSITY OF WASHINGTON, MLIS Portfolio by Elisabeth Calla. Directed Field Work Rome Center Library While attending the iSchool, my first practical library experience took place in Rome, Italy at the Rome Center Library.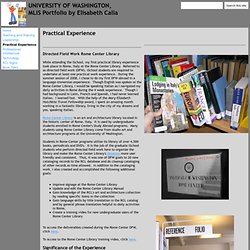 Referred to as directed field work (DFW), iSchool students are required to undertake at least one practical work experience. During the summer session of 2008, I chose to do my first DFW abroad in a language-immersion experience. Though English was spoken at the Rome Center Library, I would be speaking Italian as I navigated my daily activities in Rome during the 4 week experience. Masters of Library & Information Studies | School of Information Studies. Specializations Admissions (now closed) Tuition & fees Courses & timetables MLIS handbook The Master of Library & Information Studies (MLIS) information on this page applies to students who entered the master's program at the School of Information Studies in Fall 2013 or before.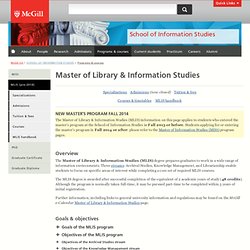 Students applying for or entering the master's program in Fall 2014 or after: please refer to the Master of Information Studies (MISt) program pages. Overview. Integrated Studies in Education | Future Graduate Students. The Department offers graduate students the opportunity to enhance their knowledge related to specific areas of inquiry in the field of education through our M.A. degrees (thesis or non-thesis options), including our MATL leading to teacher certification, Ph.D. in Educational Studies, and graduate certificates.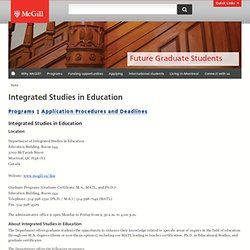 The Department offers the following programs: Three graduate certificates (15 credits): Graduate Certificate in Educational Leadership 1Graduate Certificate in Educational Leadership 2Graduate Certificate in Teaching English as a Second Language. Disease Progress. Disease on plants usually starts out at a low level, a small number of plants affected and a small amount of plant tissue affected, and it becomes of concern to us only when its incidence and severity increases with time.
When we look at some examples of plant disease epidemics from the published literature, we not only notice that the incidence or severity starts near zero and then increases dramatically, but we also can discern some distinct patterns of development with time. For example, in Phytophthora blight of pepper seedlings (Phytophthora capsici) and Fusarium kernel rot (Fusarium moniliforme, currently F. verticilloides) of maize, disease progress is roughly linear (allowing for some minor deviations that we can consider random error). Master of Library and Information Science — TISS Admissions Website. Intake: 15 Eligibility: a) Programme require completion of Bachelor's Degree of minimum of 3 years duration or its equivalent ( under the 10+2+3 or 10+2+4 or 10+2+2+1 year bridge course pattern of study or any other pattern fulfilling the mandatory requirements of 15 years formal education) from a recognised university, in any discipline. b) Candidates who will be able to complete all the requirements of their final year Bachelor's Degree examinations by Saturday, June 14, 2014 are also eligible to apply to all the programme.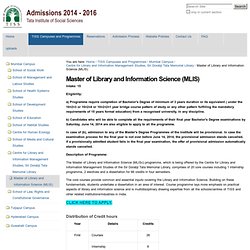 In case of (b), admission to any of the Master's Degree Programmes of the Institute will be provisional. M.A. in Education (Elementary) — TISS Admissions Website. Intake: 40 Eligibility: a) Programme require completion of Bachelor's Degree of minimum of 3 years duration or its equivalent ( under the 10+2+3 or 10+2+4 or 10+2+2+1 year bridge course pattern of study or any other pattern fulfilling the mandatory requirements of 15 years formal education) from a recognised university, in any discipline.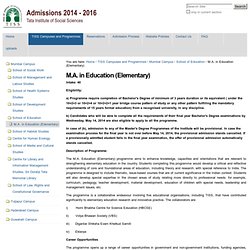 Job Opportunities - About us - British Council - India. To apply for a job with the British Council, please Download the role profile, job application form, Behaviours and Guidance on completing application form.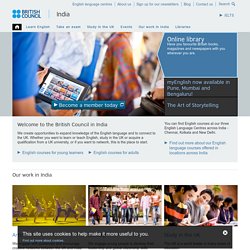 After you have downloaded and read the role profile, fill in the job application form. If you are unable to see the latest posts advertised please follow the instructions below. You can try any of the 3 options: About. I started this blog when I was a frustrated job-hunting librarian.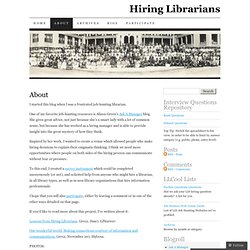 One of my favorite job-hunting resources is Alison Green's Ask A Manager blog. She gives great advice, not just because she's a smart lady with a lot of common sense, but because she has worked as a hiring manager and is able to provide insight into the great mystery of how they think. Recent library school graduates or soon-to-be graduates' Journal. Special Libraries Association. Foxylibrarian.com. Admissions, Applications & Fees > MLIS > Prospective Students > Faculty of Information & Media Studies. Applicants may enter the MLIS program in September, January, or May. For information on academic qualifications, please see the MLIS Admission Criteria page. We consider applications as they arrive and attempt to accommodate your requested start date, so the earlier you apply, the earlier you may receive a decision on your application.
Earlier applications are considered first, so you are strongly encouraged to apply as early as possible. No application will be considered until it is complete. PhytoImages Home. Genome Packaging in Prokaryotes | Learn Science at Scitable. Abbott, A. Lyme disease: Uphill struggle. Nature 439, 524–525 (2006) doi:10.1038/439524a (link to article) Ahnert, S. E., et al.
---