Computer efficiency
Shortcuts
Keyboard shortcuts for Windows. This article lists keyboard shortcuts that you can use with Windows.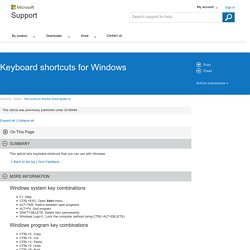 Windows system key combinations F1: HelpCTRL+ESC: Open Start menuALT+TAB: Switch between open programsALT+F4: Quit programSHIFT+DELETE: Delete item permanentlyWindows Logo+L: Lock the computer (without using CTRL+ALT+DELETE) Windows program key combinations CTRL+C: CopyCTRL+X: CutCTRL+V: PasteCTRL+Z: UndoCTRL+B: BoldCTRL+U: UnderlineCTRL+I: Italic. Reader keyboard shortcuts.
Keyboard shortcuts. This is a list of keyboard shortcuts in Mozilla Firefox.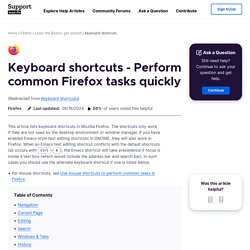 If you have enabled Emacs-style text editing shortcuts in GNOME, they will also work in Firefox. When an Emacs text editing shortcut conflicts with the default shortcuts (as occurs with Ctrl+K), the Emacs shortcut will take preference if focus is inside a text box (which would include the location bar and search bar). In such cases you should use the alternate keyboard shortcut if one is listed below. Office keyboard shortcuts - Help and How-to - Microsoft Office O. The Master List of New Windows 7 Shortcuts - Windows - Lifehacke. My favorite: Win+arrow combinations that allow minimizing/maximizing / docking / changing monitors.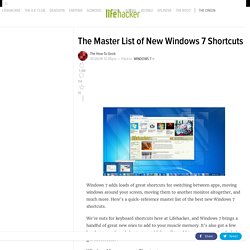 Alt+Up to parent directory since Backspace no longer accomplishes this. Win+P to change monitors is good as now I can give general suggestions to people trying to hook a laptop to a projector instead of the vendor specific Fn+F1-F12 Ctrl+shift+E I believe this came with Vista, in explorer it will expand out the folders view to show where you are.
Systems
175 Windows 7 Tweaks, Tips, and How-To Articles - the How-To Gee. Windows 7 is being officially released on October 22nd, which also happens to be today.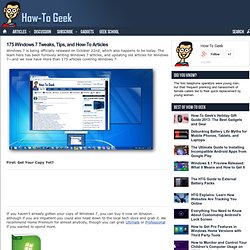 The team here has been furiously writing Windows 7 articles, and updating old articles for Windows 7—and we now have more than 175 articles covering Windows 7. First: Get Your Copy Yet? If you haven't already gotten your copy of Windows 7, you can buy it now on Amazon… although if you are impatient you could also head down to the local tech store and grab it. We recommend Home Premium for almost anybody, though you can grab Ultimate or Professional if you wanted to spend more.
---