PG03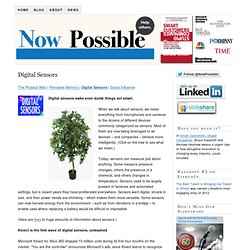 The Physical Web | Pervasive Memory | Digital Sensors | Social Influence Digital sensors make even dumb things act smart. When we talk about sensors, we mean everything from microphones and cameras to the dozens of different devices commonly categorized as sensors. Most of them are now being leveraged to let devices – and companies – behave more intelligently. (Click on the tree to see what we mean.) Today, sensors can measure just about anything.
Digital Sensors | Now Possible
Twine Lets Everyone Turn Their Home Into a High-Tech Sensor Array | Wifi Walker
Posted by admin on Jan 4, 2012 in Wireless Gadget | 0 comments Supermechanical's Twine is usually hardly out of a fundraising stage, and a intriguing small tool managed to lift over $500,000 in affianced donations. Considering that frontmen John Kestner and David Carr were usually seeking for $35,000 during a start of their Kickstarter run, that's a towering box of direct outweighing initial supply. If anything, that usually shows a interest of "do-it-yourself programming that does a tangible formula for you."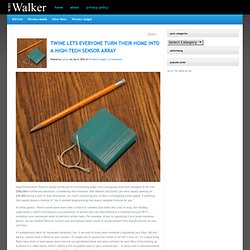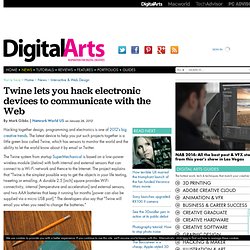 Hacking together design, programming and electronics is one of 2012's big creative trends. The latest device to help you put such projects together is a little green box called Twine, which has sensors to monitor the world and the ability to let the world know about it by email or Twitter. The Twine system from startup SuperMechanical is based on a low-power wireless module (below) with both internal and external sensors that can connect to a Wi-Fi network and thence to the Internet.
Twine lets you hack electronic devices to communicate with the Web
Thanks to cloud computing and cheap sensors, a 2.5-inch rubber block is moving the lofty vision of the Internet of Things a big step closer to reality. A pair of MIT Media Lab alums have come up with a do-it-yourself kit for making smart environments. David Carr and John Kestner, partners in the industrial design firm Supermechanical, have developed a small, durable, inexpensive remote sensor node, and an easy-to-use web app that turns data from the sensor node into timely information. The system, dubbed Twine, lets you tie everyday objects into your digital life.
'Twine' seeks to tie up the smart environment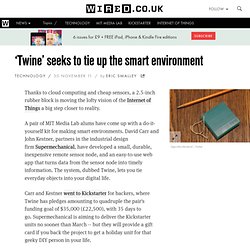 Code Babies | Publishing the ABC's of the Web for Babies
Coding For Kids
The Kickstarter is over, but if you missed out on backing us, not to worry. You can still join the thousands of other awesome Twine owners by pre-ordering on Supermechanical. It's the next best thing to being an original backer! Follow us on Facebook or Twitter. Want to hook up things to the Web?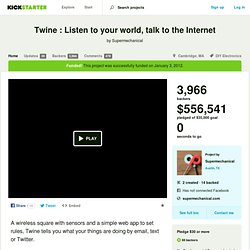 Special Features: 3D Printer Build Week: Wrap-up (2:36)02.17.123D Printer Build Week: Wrap-up02/17/12 (2:36)Final thoughts on our week with MakerGear's Mosaic 3D Printer kit. Special Features: CNET TV Bloopers 2013 (4:22)12.19.13CNET TV Bloopers 201312/19/13 (4:22)It's the cream of the 2013 blooper crop, featuring some of your favorite CNET TV faces. Special Features: The best 15 games of 2013 (5:23)12.18.13The best 15 games of 201312/18/13 (5:23)CNET's gaming expert Jeff Bakalar rounds up his picks for the best 15 games of 2013. Special Features: Alex Winter gives The 404 Show a Bitcoin... (3:10)12.13.13Alex Winter gives The 404 Show a Bitcoin crash course12/13/13 (3:10)Alex Winter, director of the upcoming documentary "Deep Web: The Untold Story of Bitcoin and the Silk Road," returns to The 404 Show to talk about the truth behind the Internet's invisi...
Barbie's wardrobe goes high-tech at toy fair | CNET TV | Video Product Reviews, CNET Podcasts, Tech Shows, Live CNET Video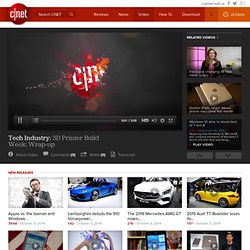 students-love-technology.jpg (600×2098)