Miscellaneous | Categorize Later
Wp-content/uploads/HTML5Doctor-sectioning-flowchart.pdf#useful. Fireclick Index. Social Media Monitoring Tools for Business by Sysomos. TweetBacks WordPress plugin. WebShare's Sample Size Estimation Tool - Plan your landing page test by calculating your necessary sample size.
The Web Analyst's Code of Ethics - Web Analytics Association. The Digital Analytics Association exists to help organizations illuminate and overcome the challenges of data acquisition, exploration, deduction and application.
The DAA is a not-for-profit, volunteer-powered association, and strives to help individuals become more valuable through education, community, research and advocacy. The science of analysis using data to understand historical patterns with an eye to improving performance and predicting the future. Www.webanalyticsassociation.org/resource/resmgr/PDF_standards/WebAnalyticsDefinitionsVol1.pdf. Designing for the Mobile Web: Special Considerations. By Shanshan Ma Published: January 17, 2011 "In comparing the design of mobile Web sites with the design of Web sites for computers, I realized that complex context is another important factor that differentiates the two platforms."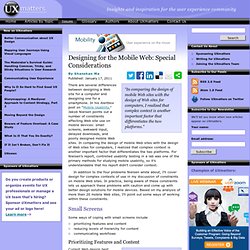 There are several differences between designing a Web site for a computer and designing one for a smartphone. In his Alertbox post on "Mobile Usability," Jakob Nielsen points out a number of constraints affecting Web site use on mobile devices: small screens, awkward input, delayed downloads, and poorly designed mobile Web sites.
Heatmaps, Visitor Movies, Web Analytics | Customer Experience Analytics by ClickTale. Crazy Egg - build heatmaps and track clicks. GazeHawk - Eye Tracking For Everyone - Usability Services & Software. MomentFeed. LinkedIn Launches New Analytics For Company Pages | B2C Marketing Insider. LinkedIn has always been the job seekers platform.
Looking for a job, look no further than LinkedIn. While they have added features to enhance their "stay power" with Twitter updates, the LinkedIn sharing tool, the ability to upgrade to place your resume high atop of a pile, to our updates and groups, their focus has always been to be a professional site where users can come and be professional and build a platform that was conducive to connecting with people to gain employment or build a business. Their new analytics for company pages have turned the tables a bit so that a company can see where their presence is being recognized. LinkedIn's New Analytics for Company Pages. Features - Mixpanel | Real-time Web Analytics, Funnel Analysis. URI Valet - Check Server Headers - Test Landing Page Load Times. Elementary Concepts in Statistics.
In this introduction, we will briefly discuss those elementary statistical concepts that provide the necessary foundations for more specialized expertise in any area of statistical data analysis.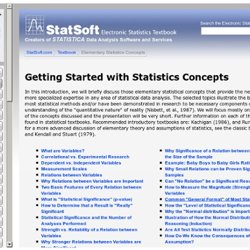 The selected topics illustrate the basic assumptions of most statistical methods and/or have been demonstrated in research to be necessary components of our general understanding of the "quantitative nature" of reality (Nisbett, et al., 1987). We will focus mostly on the functional aspects of the concepts discussed and the presentation will be very short. Further information on each of the concepts can be found in statistical textbooks. Recommended introductory textbooks are: Kachigan (1986), and Runyon and Haber (1976); for a more advanced discussion of elementary theory and assumptions of statistics, see the classic books by Hays (1988), and Kendall and Stuart (1979).
CEM4Mobile - CEM4Mobile Analytics. Customer Experience Management for Mobile Operators and Service Providers CEM4Mobile Analytics is the Customer Experience Management solution for companies providing Mobile Content and Value Added Services for individual or business users.
CEM4Mobile Analytics offers business critical information for decision-makers who are eager to excel in the crucial area of customer experience. CEM4Mobile Analytics concentrates on end-users and their behaviour with wireless devices. DeviceAtlas | DeviceAtlas. The Free Statistics Calculators Website - Home. Welcome to version 3.0 of the Free Statistics Calculators website!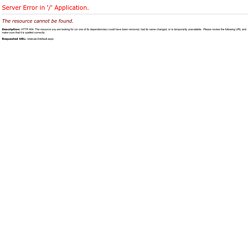 These statistics calculators are free to be used by anyone in the research community at large. They are offered humbly in the hope that they will contribute in some small way to the advancement of science and the betterment of mankind. I hope you find them useful! The statistics calculators are organized into the 29 categories shown below. Web Analytics Solution Profiler (WASP) Twitalyzer: Serious Analytics for Social Relationships. Social Media Monitoring and Analysis with Alterian SM2 (Formerly Techrigy)
Do you know the process your customers take to buy and connect with you?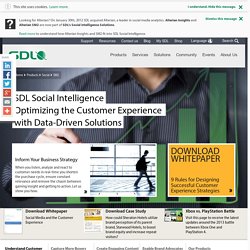 Their journey is often filled with many steps, stops and starts. What you do to help them along the way makes all the difference in gaining a competitive foothold. Taking action to improve the experiences your customers have within that journey can convert them from shoppers to customers, and then to advocates. Social Media Monitoring and Engagement – Radian6. PostRank™ Analytics. Analyze Words. Topsy - Real-time search for the social web. The Standard for Online and Internet Influence.
---