Experimentation & Testing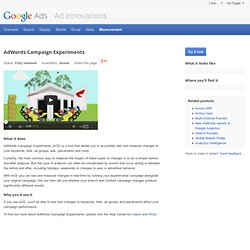 Status: Vollständig veröffentlicht Funktion Die AdWords-Kampagnentests (AdWords Campaign Experiments - ACE) sind ein Tool, mit dem Änderungen an Keywords, Geboten, Anzeigengruppen und Placements präzise getestet und ausgewertet werden können. Die Auswirkungen solcher Änderungen werden in der Regel mit einem einfachen Vorher-Nachher-Vergleich ermittelt. Diese Art von Analyse kann jedoch oft durch Ereignisse erschwert werden, die zwischen dem "Vorher" und dem "Nachher" bzw. währenddessen stattfinden. Hierbei kann es sich beispielsweise um Feiertage, Wochenenden oder Änderungen im Verhalten von Endnutzern oder Inserenten handeln.
Ad Innovations
AdWords Campaign Experiments - AdWords Help
Free Personalization and On-site Behavioral Targeting + Segmentation | BTBuckets
A/B and multivariate testing Test content on-site, in email, and in display ads. Facilitate fast and accurate design selection with A/B testing. Allow for testing many elements and variations with smaller traffic requirements and fewer combinations with multivariate testing. Reveal the combination of elements that leads to the greatest lift in conversion via in-depth reporting. Convert winning test scenarios with a single click to standard content for all audience segments thanks to "push winner" functionality.
Website Optimization & Tracking | Multivariate A/B Testing | Website Testing | Adobe Powered by Omniture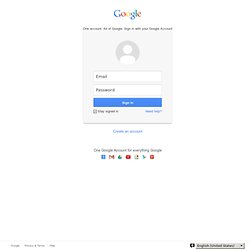 Website Optimizer has been integrated with Google Analytics as Content Experiments. To use Content Experiments, sign in to Analytics, open Standard Reporting, and in the Content section, click Experiments. On August 1, 2012, Website Optimizer will no longer be available as a standalone product. From that date forward, you can use Content Experiments to test your site content. Read more Website Optimizer, Google's free website testing and optimization tool, allows you to increase the value of your existing websites and traffic without spending a cent.
Guide to Website Optimizer