Experimentation & Testing
Ad Innovations. Status: Fully released Availability: Global Share this page: What it does AdWords Campaign Experiments (ACE) is a tool that allows you to accurately test and measure changes to your keywords, bids, ad groups, ads, placements and more.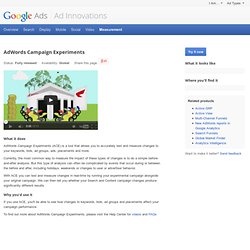 Currently, the most common way to measure the impact of these types of changes is to do a simple before-and-after analysis. But this type of analysis can often be complicated by events that occur during or between the before and after, including holidays, weekends or changes to user or advertiser behavior. With ACE you can test and measure changes in real-time by running your experimental campaign alongside your original campaign. AdWords Campaign Experiments - AdWords Help. Optimizely: A/B Testing you'll actually use. Free Personalization and On-site Behavioral Targeting + Segmentation | BTBuckets. Website Optimization & Tracking | Multivariate A/B Testing | Website Testing | Adobe Powered by Omniture. The Adobe USA site has been optimized for users within the United States.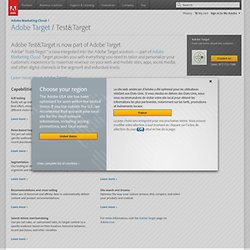 If you live outside the U.S., we recommend that you visit your local site for the most relevant information, including pricing, promotions, and local events. United States. Autonomy Optimost - Revenue Optimization, Segmentation and Targeting, Ad and Keyword Optimization. Website Optimizer. Guide to Website Optimizer. Multivariate Testing, A/B Testing and Landing Page Optimization by SiteSpect.
---