Power Pivot
Configure Excel Services 2010 for data refresh « Howard @ MSFT selling BI. October 2010. PowerPivot Workbook has 2 kinds of data sources, one is from its Pivot table cache, and the other is from PowerPivot Analysis Cubs.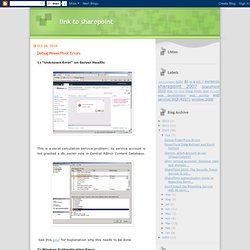 Then what about Data Refresh? PowerPivot Data Refresh is to refresh Analysis Cubs from external data sources, and as part of this refresh process, the workbook is updated as well. The credential used for data refresh can be: Unattended account, embedded window credential, or SSS Notice, there is no window authentication listed above, which means the logon user credential is never used for data refresh. How to: Install PowerPivot for SharePoint on an Existing SharePoint Server. The SharePoint server must have been installed using the Server Farm installation option in SharePoint setup.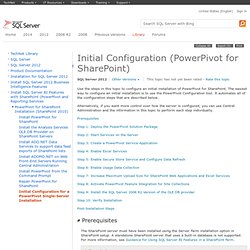 A standalone SharePoint server that uses a built-in database is not supported. For more information, see Guidance for Using SQL Server BI Features in a SharePoint Farm. PowerPivot for SharePoint must be installed. At a minimum, the farm solution must be deployed. Could not load type 'Microsoft.AnalysisServices.SharePoint.Integration.ReportGalleryView'. « PowerPivotGeek. By Lee Graber (leegr@microsoft.com), on January 20th, 2010 A number of people have hit this issue and so it deserves a quick walkthrough of why it (unfortunately) can happen and how you fix it.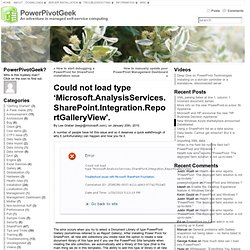 The error occurs when you try to select a Document Library of type PowerPivot Gallery (sometimes referred to as Report Gallery). The data connection uses Windows Authentication and user credentials could not be delegated « PowerPivotGeek. By Lee Graber (leegr@microsoft.com), on February 8th, 2010 This is one of the two main errors that users could see from Excel Services when using PowerPivot.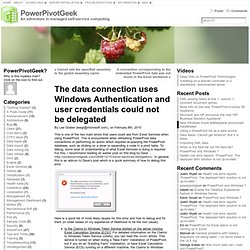 This is encountered when refreshing PowerPivot data connections or performing an action which requires re-querying the PowerPivot database, such as clicking on a slicer or expanding a node in a pivot table. To debug, some level of understanding of what Excel Services is doing is required. For this, I recommend reading an earlier post on this blog by Dave … In general, this is an add-on to Dave's post which is a quick summary of how to debug this error. PowerPivot SharePoint Integration Install Bug - All things SQL Server Related....
I have recently been doing a lot of work with PowerPivot, and installing it at customers site.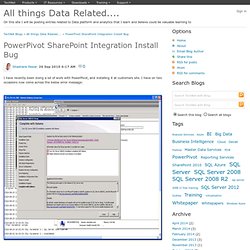 I have on two occasions now come across the below error message: Error: Your SQL Server 2008 R2 installation completed with failures. Existing Farm Install (RTM) « PowerPivotGeek. The final version of the PowerPivot for SharePoint – Existing Farm Installation Guide has now been posted on Microsoft's download site.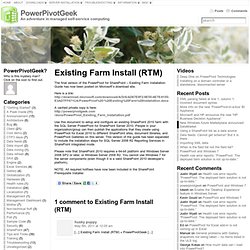 Here is a link: A cached private copy is here: Use this document to setup and configure an existing SharePoint 2010 farm with the SQL Server PowerPivot for SharePoint Server 2010. Modifying the SharePoint v4.master page for the PowerPivot Gallery « PowerPivotGeek. By powerpivotgeek (dwickert@hotmail.com), on June 17th, 2010 Attempting to use a modified version of the SharePoint v4.master page is a great way to style our SharePoint site.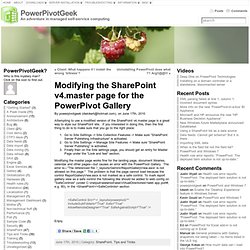 If you interested in doing this, then the first thing to do is to make sure that you go to the right place: Go to Site Settings -> Site Collection Features -> Make sure "SharePoint Server Publishing Infrastructure" is activated. Go to Site Settings -> Manage Site Features -> Make sure "SharePoint Server Publishing" is activated.Finally then on the Site settings page, you should get an entry for Master Page under the "Look and feel" section. Excel Services delegation « PowerPivotGeek.
By powerpivotgeek (dwickert@microsoft.com), on December 11th, 2009 I am inspired by a recent post from a colleague about the various issues that can come up with Excel Services delegation (see a Denny Lee's blog here: and I wanted to take it a bit further (and maybe a bit 'geekie'-er) First, why is this a problem?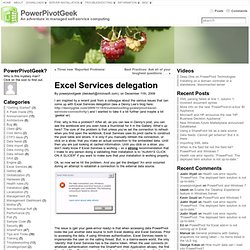 After all, as you can see in Denny's post, you can see the workbook and you even have a thumbnail for it in the Gallery. How to: Install PowerPivot for SharePoint and Reporting Services. [This documentation is for preview only, and is subject to change in later releases.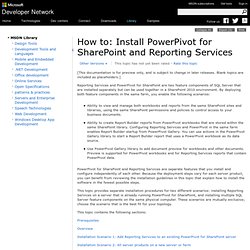 Blank topics are included as placeholders.] Reporting Services and PowerPivot for SharePoint are two feature components of SQL Server that are installed separately but can be used together in a SharePoint 2010 environment. By deploying both feature components in the same farm, you enable the following scenarios: Ability to view and manage both workbooks and reports from the same SharePoint sites and libraries, using the same SharePoint permissions and policies to control access to your business documents.
Ability to create Report Builder reports from PowerPivot workbooks that are stored within the same SharePoint library.
---