Nature & Scenery
Space
Scenery. Landscapes. Captured: New York City from Above. Posted Jul 13, 2010 Share This Gallery inShare126 A look at New York City from the air.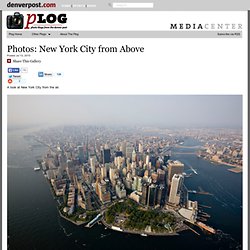 Office and residential buildings stand in the financial district of Manhattan in this aerial photograph taken over New York, U.S., on Wednesday, July 7, 2010. This I call Perfect Shot. Machu Picchu Peru - Travel by 360 Panorama QTVR Photo. Copyright @ Hans Nyberg - panoramas.dk · www.qtvr.dk · www.360-foto.dk · www.virtualdenmark.dk · Privacy Policy I panoramas.dk is hosted by: VRWAY Important info about Copyright: All panoramas featured at panoramas.dk are copyright the individual photographers.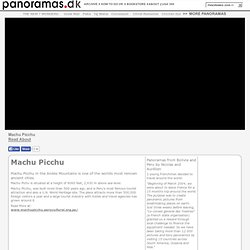 Linking directly to the movies Quicktime or Flash is strictly forbidden. If you which to use any of the panoramas for any purpose, commercial or editorial you are requested to contact the photographer who has the copyright and is listed on all fullscreen pages. Sliding Rock in North Carolina. Every summer, there are large number of tourist in Sliding rock, where is located one of most beautiful and unique natural mountain waterfall.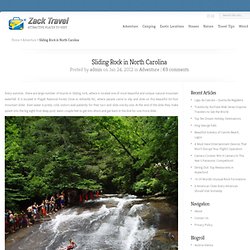 It is located in Pisgah National Forest Close to Asheville NC, where people came to slip and slide on this beautiful 60-foot mountain slider. Even water is pretty cold, visitors wait patiently for their turn and slide one-by-one. The 50 Most Beautiful Natural Waterfalls in the World. The word "waterfall" is pretty self-explanatory: a mass of flowing water rapidly dropping over a steep cliff.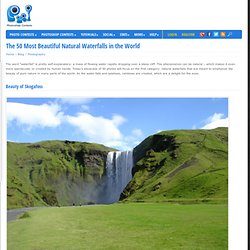 This phenomenon can be natural – which makes it even more spectacular, or created by human hands. Today's showcase of 50 photos will focus on the first category: natural waterfalls that are meant to emphasize the beauty of pure nature in many parts of the world. As the water falls and splahses, rainbows are created, which are a delight for the eyes. 48208_0_1208x1005.jpg 1208×1005 pixels. Free-scenery-wallpaper-1280x800-1004082.jpg 1280×800 pixels.
---