Pinterest
There's one thing you should know before we open up this can of worms: I have 795 pins on Pinterest. Probably by the end of writing this article, I'll have 895. As you can see, my wish list of Pinterest features hasn't caused me to slam down my laptop screen in disgust. That being said, I would change a few things. And based on Pinterest's new profile, the company already has.
10 Features Missing From Pinterest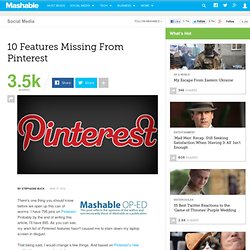 This post originally appeared on the American Express OPEN Forum, where Mashable regularly contributes articles about leveraging social media and technology in small business. We've all been hearing a lot about Pinterest lately, so you're probably wondering whether you should take the plunge and create a profile for your company. We say you go for it, especially if women are your target consumers — 70% of pinners are female. Pinterest has a highly engaged audience — a reported 3.3 million users logging more than 421 million pageviews — so there's plenty of opportunity for brands to flesh out pinboards and catch pinners' eyes. First, let's go through a quick explanation of how it works. Pinterest is a visual social discovery network.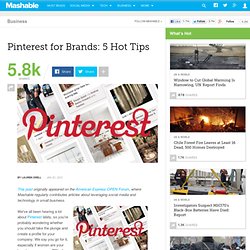 Four Unique Ways to Use Pinterest
You've likely heard about Pinterest by now; it's the hot new social bookmarking service that allows users to curate interesting content they find anywhere on the Internet by "pinning" the content to their profile on Pinterest. Traffic on Pinterest increased 429 percent from September 2011 to December 2011, and now boasts over 7.21 million unique visitors per month. Pinterest is something similar to Delicious, though with a heavy social layer; users connect via Facebook or Twitter and can create folders (or visual "boards") dedicated to specific categories of topics.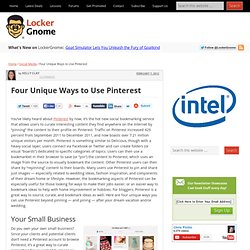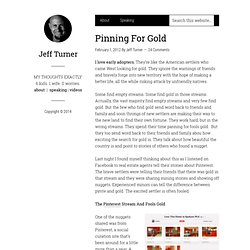 I love early adopters. They're like the American settlers who came West looking for gold. They ignore the warnings of friends and bravely forge into new territory with the hope of making a better life, all the while risking attack by unfriendly natives.
Pinning For Gold
Pinterest just revealed an advertising methodology that they are testing, have you seen it? This week Pinterest confirmed the look & feel of their new advertising method. Lots of bloggers reported on it, but I haven't seen any thoughtful commentary yet.
Marketing On Pinterest For Small Business Owners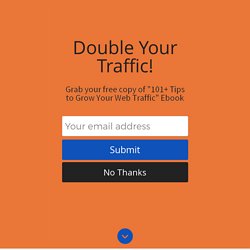 Image centric social networks are rapidly gaining market share due to their high engagement levels. Everyone apparently loves an enticing photo. Pinterest has become the social media network to watch after growing over 4,000% in the last 6 months. At an average of 88.3 minutes per visitor it ranks third on engagement behind Facebook and Tumblr and well ahead of LinkedIn (16 minutes) and Google Plus (5.1 minutes).
7 Ways to Use Pinterest to Promote Your Business - Plus Infographic
7 skutecznych sposobów promocji marki na Pinterest — Blog Enzo
Though most of my time is spent helping companies create and communicate clear and compelling visions to grow their businesses exponentially, my conversations with C-level executives often turn to the topic of social media. Many executives in the C-Suite are looking for advice regarding which social media outposts, such as Facebook and Twitter, they should consider for their companies and brands. I always start by asking them where their customers and potential customers are currently engaged. The Rise of Pinterest It appears there is a new outpost that is capturing the attention of leading brands… Pinterest. The Lands' End Canvas brand sees Pinterest as, "the intersection of style and social, and…a natural visual platform to showcase the brands' image and product."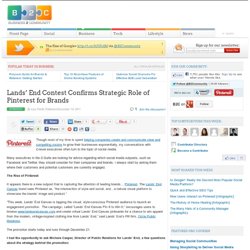 Lands' End Contest Confirms Strategic Role of Pinterest for Brands