Occupy - Articles
Get flash to fully experience Pearltrees
PORTLAND - Part camper, part sleeping bag with a hint of food cart flare. The "Bootstrap home" could be described as many things, except for one, if you ask designer Sarah Cloutier. Cloutier is a senior at the Pacific Northwest College of Art. She said the idea of the small mailbox-shaped camper with a sink, stove, storage and sleeping space, was inspired by her desire to help the homeless. "This is definitely not just my senior project," she said.
The ruling elite has created social institutions that have subdued young Americans and broken their spirit of resistance. Bruce E. Levine AlterNet Traditionally, young people have energized democratic movements. So it is a major coup for the ruling elite to have created societal institutions that have subdued young Americans and broken their spirit of resistance to domination.
In a recent San Francisco Chronicle piece, " Occupy movement must move toward the center ," Tony Fels, associate professor of history at the University of San Francisco, writes that the Occupy "movement has reached a tactical dead end." Demonstrators don't have nicely packaged sound bites; there's no go-to spokesperson; Occupy DC is one of the last camps standing. But the movement is far from dead. Here in California, the movement is exploding.
The media's latest attempt to undercut the message of Occupy movements all across the globe is by touting the "cost" of these protests. Many sources are reporting that Occupy movements are costing cities hundreds of thousands of dollars in police overtime because apparently it takes an entire precinct to make sure that 50 people don't sleep through the night. When an internal city memorandum stated that Occupy Vancouver had cost its city nearly a million dollars in taxpayer money, the organizers did something brilliant: they broke down the cost of what they were doing for the city of Vancouver. Citing a recent press release from Occupy Vancouver , member Eric Hamilton-Smith noted, "…over 37,000 meals were served, $672,000 of primary medical care was provided, and 30 people were housed for 37 days at a time when beds at primary shelters were not available."
A CROWD GATHERED in the dark at city hall on the night of Saturday, November 19, braving the cold to hold a candlelight vigil marking one week since Mayor Sam Adams and the Portland Police Bureau evicted Occupy Portland's five-week-old encampment. But a few blocks away, a second five-week-old tent city remained: The residents of Right 2 Dream Too (R2D2) say they expect to continue occupying a vacant lot on NW 4th and Burnside for a full year. An unlikely friend is aiding their mission: city bureaucracy.
August 2011: Mayor Dyer drops charges in homeless-feeding arrests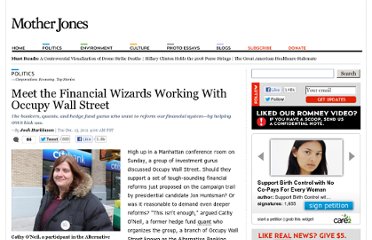 Cathy O'Neil, a participant in the Alternative Banking Group Josh Harkinson High up in a Manhattan conference room on Sunday, a group of investment gurus discussed Occupy Wall Street. Should they support a set of tough-sounding financial reforms just proposed on the campaign trail by presidential candidate Jon Huntsman? Or was it reasonable to demand even deeper reforms?
In her book, The End of America: A Letter of Warning to a Young Patriot , Naomi Wolf provides historical documention of the rise of Fascism. Wolf outlines 10 steps necessary for a fascistic group (or government) to destroy the democratic character of a nation-state and subvert the social/political liberty previously exercised by its citizens. These ten steps, each of which has been taken at the time of this writing, are:
Photo Credit: Michael @ NW Lens via Flickr December 9, 2011 | Like this article?
November 23, 2011 | Like this article? Join our email list: Stay up to date with the latest headlines via email.
Yasha Levine was forced to surrender his freedom, as well as his shoe laces…for his own protection I finally got home Thursday afternoon after spending two nights in jail, and have had a hard time getting my bearings. On top of severe dehydration and sleep deprivation, I've got one hell of pounding migraine.
Published in The Nation . I was honored to be invited to speak at Occupy Wall Street on Thursday night. Since amplification is (disgracefully) banned, and everything I said had to be repeated by hundreds of people so others could hear (a.k.a. "the human microphone"), what I actually said at Liberty Plaza had to be very short.
Once upon a time, when major news events were chronicled strictly by professionals and printed on paper or transmitted through the air by the few for the masses, protesters were prime makers of history. Back then, when citizen multitudes took to the streets without weapons to declare themselves opposed , it was the very definition of news — vivid, important, often consequential. In the 1960s in America they marched for civil rights and against the Vietnam War; in the '70s, they rose up in Iran and Portugal; in the '80s, they spoke out against nuclear weapons in the U.S. and Europe, against Israeli occupation of the West Bank and Gaza, against communist tyranny in Tiananmen Square and Eastern Europe. Protest was the natural continuation of politics by other means. And then came the End of History, summed up by Francis Fukuyama's influential 1989 essay declaring that mankind had arrived at the "end point of ... ideological evolution" in globally triumphant "Western liberalism."
12/14/11 news By Marc Beja Occupy Wall Street protesters demand proof they broke the law Photo credit: Supporters (L) cheer OWS demonstrators attempting to cross the Brooklyn Bridge. (Getty) Hundreds of Occupy Wall Street protesters are in court this week to face charges stemming from an October rally at the Brooklyn Bridge that resulted in more than 700 arrests. Despite being offered plea deals to have the charges dismissed if they stay out of trouble for six months, more than 40% of the protesters that faced a judge Wednesday rejected the offer, pleading not guilty and demanding officials prove they broke the law.