Snacks & Treats
Living Eventfully: tiramisu. Mmmmm. one of the most popular desserts known to modern man. i am happy to report that its just as delicious when its homemade as it is at a 5 star restaurant!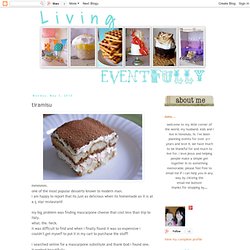 My big problem was finding mascarpone cheese that cost less than trip to italy. what. the. heck. it was difficult to find and when i finally found it was so expensive i couldn't get myself to put it in my cart to purchase the stuff! I searched online for a mascarpone substitute and thank God i found one. it worked beautifully. i incorporated two recipes to build this decadent dessert. it must chill overnight in the fridge to allow for the flavors to meld together, so make sure you give yourself the time to do so. enjoy! Cake Batter Truffles | Snappy Gourmet. Spring is here, or at least it's kind of here.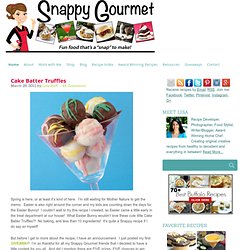 I'm still waiting for Mother Nature to get the memo. Easter is also right around the corner and my kids are counting down the days for the Easter Bunny! I couldn't wait to try this recipe I created, so Easter came a little early in the treat department at our house! Traditional Toffee | Premeditated Leftovers. The French Chocolate mousse. If you are in France, no matter which region, no matter where you eat, you will most likely be offered the divine French dessert Mousse au Chocolat.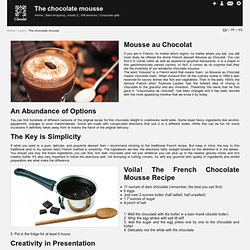 You can find it in corner cafés as well as expensive gourmet restaurants. It is a staple in this gastronomically versed country. In fact, it comes as no surprise that they are the inventors of our wonderful chocolate mousse.The word "mousse" is a French word that means foam, so Mousse au Chocolat means chocolate foam. Healthy Fresh Popsicle Recipes. Plamen Petkov Thai Iced Coffee Antioxidant-packed java may help ward off diabetes and some forms of cancer--and keep your mind sharp.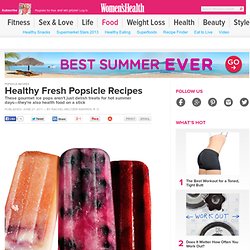 Adding cardamom to the grinds while brewing gives this cool dessert a spicy kick. 1/4 cup sugar 1/4 cup water 1/4 tsp almond extract.
---