Recovered Pearls
Brave Girls Club - a little bird told me. Every day we feature a different songbird and artist on our emails and want to invite all our Brave Girl friends to participate!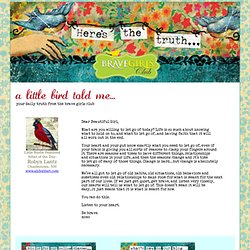 If you have original artwork of any songbird that you'd be willing to share, please email us a high res photo along with your name and where you're from, along with your photo (if you don't mind) and a link to your blog or website so we can feature you as our 'little birdie artist of the day'! The images that work best are those that feature a single songbird that is clearly visible from the background. The finished images we use are 180 pixels wide but, we are happy to crop and resize as needed. We are happy to report that we have received a LOT of birdie art and we LOVE IT! NatureMill Automatic Compost Bin | Composter.
Recipe Sites - Gojee - Food on the Table - Punchfork. Mental_floss Blog » What Happened to Marie Antoinette's Children? The tragic tale of Marie Antoinette's death during the French Revolution is the stuff of legend.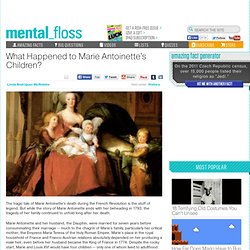 But while the story of Marie Antoinette ends with her beheading in 1793, the tragedy of her family continued to unfold long after her death. Marie Antoinette and her husband, the Dauphin, were married for seven years before consummating their marriage -- much to the chagrin of Marie's family, particularly her critical mother, the Empress Maria Teresa of the Holy Roman Empire. Marie's place in the royal household of France and Franco-Austrian relations absolutely depended on her producing a male heir, even before her husband became the King of France in 1774.
---