FOOD!!
Hot Pizza Dip Recipe
Maple Bacon Cupcake Recipe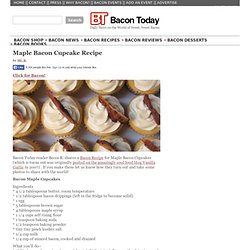 Click for Bacon! Bacon Today reader Becca R. shares a Bacon Recipe for Maple Bacon Cupcakes (which is turns out was originally posted on the amazingly cool food blog Vanilla Garlic in 2007) . If you make these let us know how they turn out and take some photos to share with the world! Bacon Maple Cupcakes Ingredients * 4 1/2 tablespoons butter, room temperature * 1/2 tablespoon bacon drippings (left in the fridge to become solid) * 1 egg * 5 tablespoons brown sugar * 4 tablespoons maple syrup * 1 1/4 cups self rising flour * 1 teaspoon baking soda * 1/2 teaspoon baking powder * tiny tiny pinch kosher salt * 1/4 cup milk * 1/4 cup of minced bacon, cooked and drained What you'll do– * 1) Cook some bacon in a fry pan (about 6 thick strips).