Wearables
All My Seams: Shoulder Pad Tute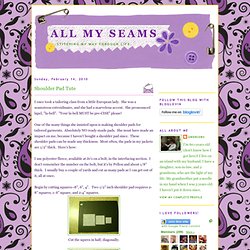 I once took a tailoring class from a little European lady. She was a seamstress extroidinaire, and she had a marvelous accent.
Kimono Dress
Apr. 2011 20 There are tons of different takes on a kimono style dress. I'm personally in love with Mod Cloth's version: So in prep for the hot summer ahead (maybe I can will it to get here faster), I went ahead and made my own. I was super shocked by how easy it was. I used a t-shirt to get the curve in the shoulder the way I wanted it, and not for anything else.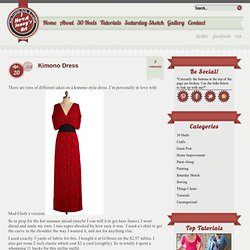 Hurray, something you can make for a guy! I'm always on this difficult quest. Though bow ties aren't for every guy, luckily, I have many fun guy friends that they are perfect for. I think these are fairly easy, a beginner's project, and they are quite rewarding.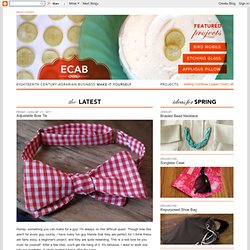 Adjustable Bow Tie
These are the detailed instructions for sewing any of my Adjustable Bow Ties cut & sew fabric designs, available only from Spoonflower. For less than the cost of just one name-brand bow tie, you can get a bunch of ties printed on fabric that you can easily sew with just a few basic sewing skills. This is an easy, beginner-level project… I swear you can do it even if you've never sewn anything!
Adjustable Bow Ties (Updated Tutorial)