Wearables
Bottoms. Tops. Undies, robe, slip. All My Seams: Shoulder Pad Tute. I once took a tailoring class from a little European lady.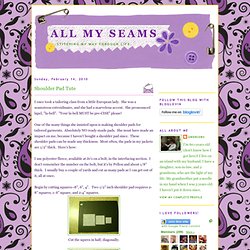 She was a seamstress extroidinaire, and she had a marvelous accent. She pronounced lapel, "la-bell". "Your la-bell MUST be pre-CISE" please! One of the many things she insisted upon is making shoulder pads for tailored garments. Absolutely NO ready-made pads. Kimono Dress. Apr. 2011 20 There are tons of different takes on a kimono style dress.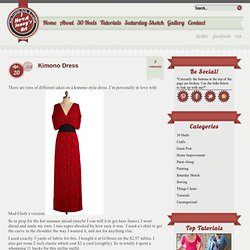 I'm personally in love with Mod Cloth's version: So in prep for the hot summer ahead (maybe I can will it to get here faster), I went ahead and made my own. I was super shocked by how easy it was. I used a t-shirt to get the curve in the shoulder the way I wanted it, and not for anything else.
Aprons.
---