Projects
DIY Fabric Weights. Some fabrics can't be pinned, so cutting out can be a disaster unless you have some nifty pattern weights.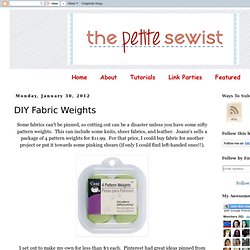 This can include some knits, sheer fabrics, and leather. Joann's sells a package of 4 pattern weights for $11.99. For that price, I could buy fabric for another project or put it towards some pinking shears (if only I could find left-handed ones!!). I set out to make my own for less than $3 each. Pinterest had great ideas pinned from other sewers, so the tutorial below is not my idea, but it's a good one!
Quilt-ish. Wallet-ish (& other in-purse items) Household. Wearables. Small bags + pouches. Jewelry. Flowers. Make a Big Ironing Board. Magical 3-in-1 Cat Bed. Simon and Pixel, my two wonderful kitties, are convinced that my worktable is the very best spot for napping.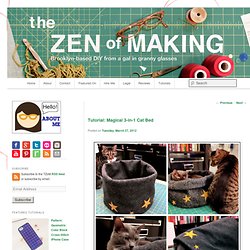 So, to give them a comfy place where they can still be close, yet well out of harm's way, I designed this simple, compact 3-in-1 cat bed for my desk. Even my furry snobs—who prefer cardboard boxes and freshly washed laundry to plush cushions any day—couldn't wait to snuggle in.
---