Writing DBQs
Teaching With Documents. Skip Navigation.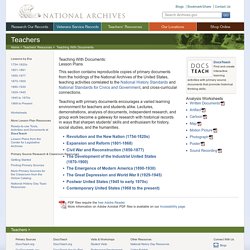 Teachers Home > Teachers' Resources > Teaching With Documents. How to Write a DBQ Essay: 8 steps. Edit Article Prewriting for your DBQ Essay Edited by Teresa, Lillian May, Maluniu, Chris Hadley and 26 others.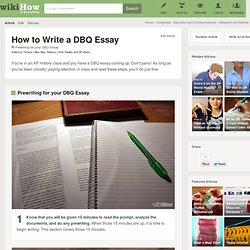 Written+Document.
Essay Contruction
Writing Han Roman DBQ.pdf (application/pdf Object) Bedford.va.k12us. M | extending education. How to Write a DBQ Essay. How do I answer a DBQ question?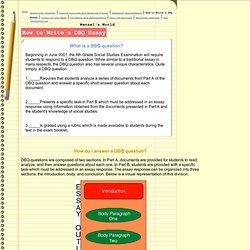 DBQ questions are composed of two sections. In Part A, documents are provided for students to read, analyze, and then answer questions about each one. How to Write an Essay/DBQ. A DBQ is a document-based question.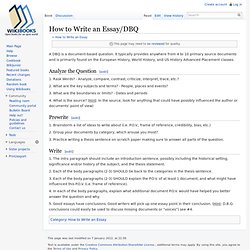 It typically provides anywhere from 4 to 10 primary source documents and is primarily found on the European History, World History, and US History Advanced Placement classes. Analyze the Question[edit] 1. Rask Words? How to Write a DBQ. How to Write a DBQ Essay. DBQ%20Essay%20Outline%20-%20Sample. DBQ Global History. Question Historical Context: Imperialism has been interpreted from a variety of viewpoints.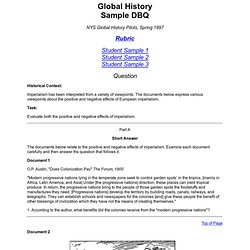 How to Write a DBQ. How to....write a DBQ Essay - MrMaroney. Step One: Read the Question · What is the question asking?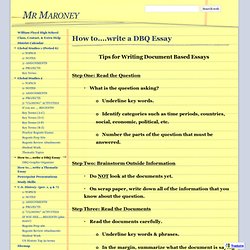 O Underline key words. o Identify categories such as time periods, countries, social, economic, political, etc. o Number the parts of the question that must be answered. Step Two: Brainstorm Outside Information. 20090603book2. How to Write an Essay/DBQ. How_To_Do_An_AHAP_DBQ. How to Write a DBQ Essay. AP European History Essay Writing for Document Based Questions (DBQs) Advanced Placement. Your History Site Writing DBQs. 11th Grade U.S.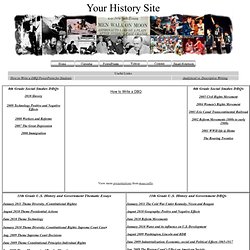 History and Government Thematic Essays August 2010 Theme Presidential Actions June 2010 Theme Technology Aug. 2009 Theme Supreme Court Decisions June 2009 Theme Constitutional Principles Individual Rights. How to Write a DBQ Essay: 8 steps. HowTo_DBQEssay. How to Write a DBQ. The purpose of the DBQ (Document Based Question) is not to test your knowledge of the subject, but rather to evaluate your ability to practice the historian's craft.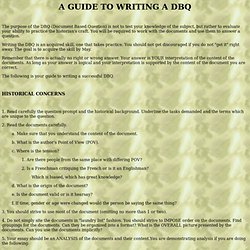 You will be required to work with the documents and use them to answer a question. Writing the DBQ is an acquired skill, one that takes practice. How to Nail the DBQ. Teacher Wall: Modified DBQ Examples from 2010 Dallas I SI History I Strand. The image below is what we used for our example of a Modified DBQ.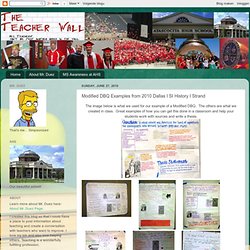 The others are what we created in class. Great examples of how you can get this done in a classroom and help your students work with sources and write a thesis. click on each image above to make them larger. We had a good time on Thursday working with primary/secondary sources and also with "Modified DBQs. " There were some great examples of how you could work on this with your students.
---