Writing DBQs
Skip Navigation. Teachers Home > Teachers' Resources > Teaching With Documents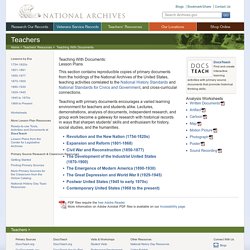 How to Write a DBQ Essay: 8 steps
Edit Steps EditMethod 1 of 3: Prewriting for your DBQ Essay 1Know that you will be given 15 minutes to read the prompt, analyze the documents, and do any prewriting.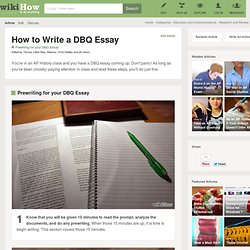 Written+Document
Writing Han Roman DBQ.pdf (application/pdf Object)
bedford.va.k12us
M | extending education
How do I answer a DBQ question? DBQ questions are composed of two sections. In Part A, documents are provided for students to read, analyze, and then answer questions about each one.
How to Write a DBQ Essay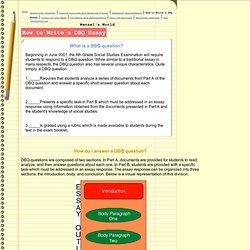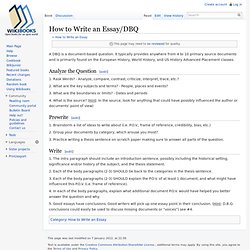 How to Write an Essay/DBQ
A DBQ is a document-based question.
How to Write a DBQ
How to Write a DBQ Essay
DBQ%20Essay%20Outline%20-%20Sample
Question Historical Context: Imperialism has been interpreted from a variety of viewpoints.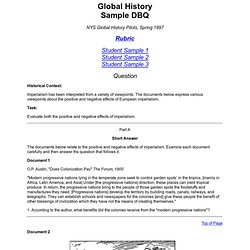 DBQ Global History
How to Write a DBQ
Step One: Read the Question · What is the question asking?
How to....write a DBQ Essay - MrMaroney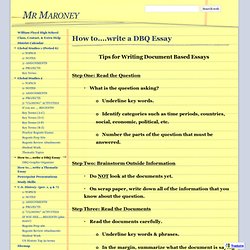 20090603book2
How to Write an Essay/DBQ
How_To_Do_An_AHAP_DBQ
How to Write a DBQ Essay
AP European History Essay Writing for Document Based Questions (DBQs) Advanced Placement
11th Grade U.S. History and Government Thematic Essays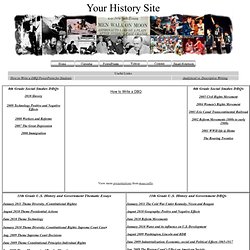 Your History Site Writing DBQs
How to Write a DBQ Essay: 8 steps
HowTo_DBQEssay
How to Write a DBQ
The purpose of the DBQ (Document Based Question) is not to test your knowledge of the subject, but rather to evaluate your ability to practice the historian's craft. You will be required to work with the documents and use them to answer a question. Writing the DBQ is an acquired skill, one that takes practice.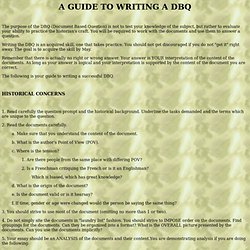 How to Nail the DBQ
The image below is what we used for our example of a Modified DBQ. The others are what we created in class.
Teacher Wall: Modified DBQ Examples from 2010 Dallas I SI History I Strand