Geography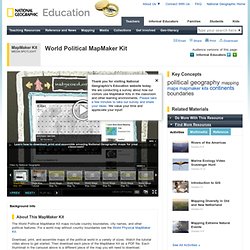 World Political MapMaker Kit
About This MapMaker Kit The World Political MapMaker Kit maps include country boundaries, city names, and other political features. For a world map without country boundaries see the World Physical MapMaker Kit . Download, print, and assemble maps of the political world in a variety of sizes.
World Physical MapMaker Kit
Ash plumes reached a height of 19 km during the climactic eruption at Mount Pinatubo , Philippines in 1991. A volcano is an opening, or rupture , in a planet's surface or crust , which allows hot magma , volcanic ash and gases to escape from the magma chamber below the surface. Volcanoes are generally found where tectonic plates are diverging or converging .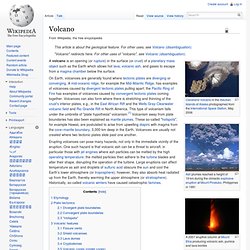 Convergent boundary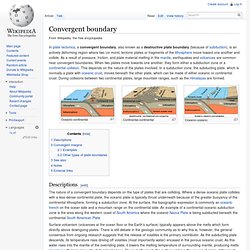 In plate tectonics , a convergent boundary , also known as a destructive plate boundary (because of subduction ), is an actively deforming region where two (or more) tectonic plates or fragments of lithosphere move toward one another and collide.
Tectonic Plates
The edges of these plates, where they move against each other, are sites of intense geologic activity, such as earthquakes, volcanoes, and mountain building. Plate tectonics is a relatively new theory and it wasn't until the 1960's that Geologists, with the help of ocean surveys , began to understand what goes on beneath our feet. Where is the Evidence for Plate Tectonics?
Convergent Boundaries Places where plates crash or crunch together are called convergent boundaries. Plates only move a few centimeters each year, so collisions are very slow and last millions of years.
Earth Floor: Plate Tectonics