Healthy Eating<3
BBC NI - Schools - It's Up To You! - Home Page. Join, login, find out more | Tesco Diets. WeightWatchers.co.uk: Food & Recipes. Healthy Eating Plan Basics. Eating healthily isn't complicated once you know the basics.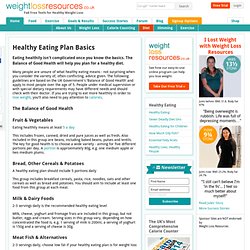 The Balance of Good Health will help you plan for a healthy diet. Many people are unsure of what healthy eating means - not surprising when you consider the variety of, often conflicting, advice given. Health | Healthy Eating | Age Concern is now Age UK. Healthy Eating Guide | Cancer Recovery Foundation - UK. "There is not a single diet that will suit every person with cancer, but the Basic healthy guidelines will help…" Cancer treatment places a high demand on the body and can change the way the body uses food.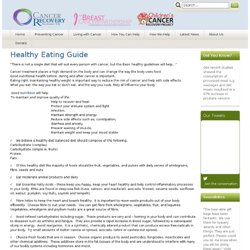 Good nutritional health before, during and after cancer is important. Eating right, maintaining healthy weight is important way to reduce the risk of cancer and help with side effects. What you eat, the way you eat or don't eat, and the way you cook, they all influence your body. √ We believe a healthy diet balanced diet should compose of the following. Healthy eating. A healthy diet can help reduce your risk of developing coronary heart disease and stop you gaining weight - reducing your risk of diabetes and high blood pressure.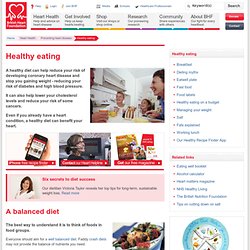 It can also help lower your cholesterol levels and reduce your risk of some cancers. Even if you already have a heart condition, a healthy diet can benefit your heart. Six secrets to diet success Our dietitian Victoria Taylor reveals her top tips for long-term, sustainable weight loss. Read more. Easy Tips for Planning a Healthy Diet & Sticking to It. Healthy eating tip 1: Set yourself up for success To set yourself up for success, think about planning a healthy diet as a number of small, manageable steps rather than one big drastic change.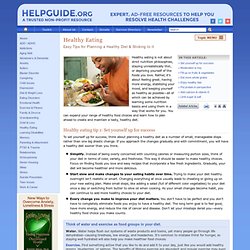 If you approach the changes gradually and with commitment, you will have a healthy diet sooner than you think. Simplify. Healthy eating - information from Bupa on healthy eating. The amount and type of food you eat has a major influence on your health.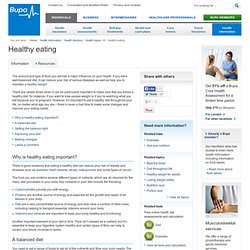 If you eat a well-balanced diet, it can reduce your risk of various diseases as well as help you to maintain a healthy weight. There are certain times when it can be particularly important to make sure that you follow a healthy diet, for instance, if you want to lose excess weight or if you're watching what you eat because you're pregnant. However, it's important to eat a healthy diet throughout your life, no matter what age you are – there's never a bad time to make some changes and improve your eating habits. Why is healthy eating important? There is good evidence that eating a healthy diet can reduce your risk of obesity and illnesses such as diabetes, heart disease, stroke, osteoporosis and some types of cancer.
---