The Beauty Department
Get flash to fully experience Pearltrees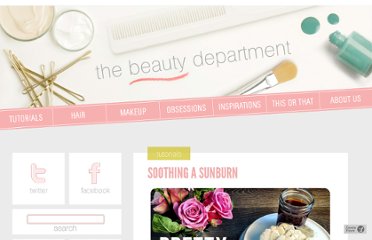 photos/post/graphics: Kristin Ess Let's start this post off by saying you should always try and avoid being in the sun without proper protection in the first place. See HERE . But sometimes you just can't plan for it and you can unexpectedly find your skin baked beyond belief-especially if there's an overcast.
post/photos/design: Kristin Ess Lately I've noticed lots of emails coming in with requests for shoulder-length hair tutorials. And while this tutorial is nothing different than the braided bun from last week , I wanted to show you just how do-able these tutorials are even if you don't have long hair.
photos + post design by Kristin Ess Who doesn't love a soft, faded floral pattern? You can basically do this mani in any color combo you want– we chose a spring-y palette. Here's how you get the look: YOU WILL NEED: Nail polish remover, 4 small paint brushes, a plate or something to put your polish drops on, a white nail polish + 3 of your favorite polish colors that look good together. Place a dot of each color on your plate.
photos + post by amy nadine, graphic design by eunice chun Don't you just want to cry when you drop your brand new compact and the powder shatters into a million little pieces? But wait! Don't throw it out and call your losses. You can absolutely put humpty dumpty back together again! And while you're at it, grab your old cream shadow, blush or liner that has dried out, cracked or shrunk and bring it back to life too.
photos, graphic design, post by Kristin Ess Some people are more skilled at nail art than others and some can't wear crazy funky nail art to the office. So here's a simple look that anyone can do no matter your skill level or work environment.
photos + post by amy nadine, graphic design by eunice chun Dry + cracked lips ruin how lipstick looks. And because of recycled air, flying, dehydration and just life, unfortunately all of us are victims!
photos/post/graphic design: Kristin Ess It seemed many of you were fans of the "Robin's Egg" & "Gold Leaf" color combos, so we thought we'd do one more nail art combining turquoise with gold. In this tutorial we'll teach you how to make your nails look like turquoise stones, but instead of using black as the accent color (which would make it quite literal) we're using gold for a slightly softer and more glamorous look. Here are the 6 simple steps: Start by painting your base with a nice shade of turquoise.
photos/post/graphic design by Kristin Ess A lot of you have mentioned that some of the polishes that we've posted in the past are too expensive when you're living on a budget. Well, this sparkly DIY glitter polish tutorial should help you out. Here we go:
photos+post: Kristin Ess model: Nora Wyman This may seem like a simple task to some of you, but I find that a lot of people struggle with hiding a bobby pin. The best way to conceal your weapon is to slide the pin back up into the hair in the opposite direction that the hair is going (see image example).
photos + post by Kristin Ess First of all, sorry for the lack of posts this week. By now you know that Lady Conrad has a brand new book called THE FAME GAME . We joined her on her book tour and that busy schedule left little time for much else. But we're back and bringing you the ombre stain mani! We've seen lots of ombre techniques in the past, but this one is pretty cool because it's done on your bare nails and has more of a stain effect than looking like actual nail polish.
Few things smell better than coconut and rose so let's combine them, shall we? In this Kitchen Beautician DIY, we're making a "Spring Time Scrub" to help you exfoliate and get your skin super soft for the coming summer months. Bathing suit season is just around the corner and nobody wants to be the ashy girl! Here's my new favorite way to get rid of dry skin caused by winter dryness:
post + photos by Kristin Ess We found yet another use for those lovely DIY nail stickers . Here's how we created a plaid party:
photos + post by Kristin Ess Sometimes you've gotta get a little country! Nothing screams sweet southern style more than gingham, so let's make that into a mani, shall we?! Start by painting the nails white.