Utilities
Description Pinterest is a tool to help you discover and plan things you want to do. When you find something that looks interesting, just Pin it! Pins are visual bookmarks that you organize and share the way you want. With Pinterest you can: • Plan projects—home remodels, car restorations, garden redesigns and other DIYs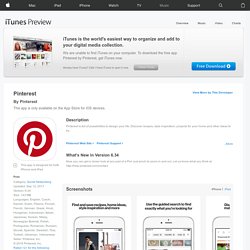 Description Pearltrees is a free, visual and collaborative library that lets you organize web pages, files, photos and notes to retrieve and share them anywhere easily. Leverage Pearltrees' community to discover amazing stuff related to your interests and enrich your account.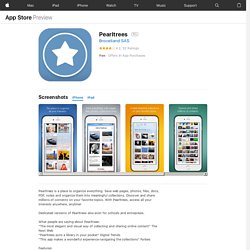 WinZip
Description "Trying to open a zip file on your mobile phone? Good luck -- unless you happen to have this handy tool installed.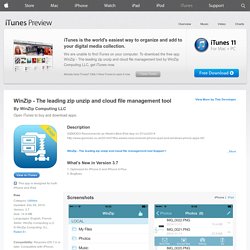 Description Dragon Dictation is an easy-to-use voice recognition application powered by Dragon® NaturallySpeaking® that allows you to easily speak and instantly see your text or email messages. In fact, it's up to five (5) times faster than typing on the keyboard.
Dragon Dictation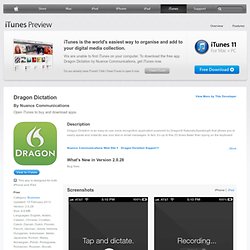 FileBrowser - Access files on remote computers
Description FileBrowser is like having Windows Explorer or Mac Finder on your iPad/iPhone to access network folders on Macs, Windows, Linux, and NAS drives and now Box, Dropbox and SkyDrive are also supported AT HOME: Stream movies and music over WiFi direct to your iPad/iPhone.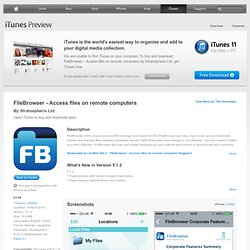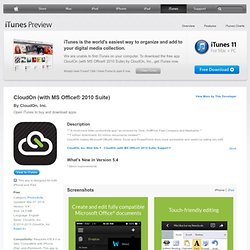 Description ** "a must-have killer productivity app" as covered by Time, HuffPost, Fast Company and Mashable. ** Unleash your productivity.
Description Dropbox lets you bring all your photos, docs, and videos anywhere and share them easily. Access any file you save to your Dropbox from all your computers, iPhone, iPad and even the Dropbox website!
Dropbox