Energy
Which fuels are used for generating electricity in America. The Energy Story - Chapter 1: Energy - What Is It? Energy causes things to happen around us.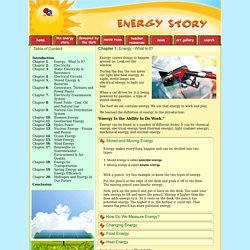 Look out the window. During the day, the sun gives out light and heat energy. At night, street lamps use electrical energy to light our way. When a car drives by, it is being powered by gasoline, a type of stored energy. The food we eat contains energy.
Thrml enrgy
Water Waves: Surface Disturbances Due to Energy Transfer | Science Fair Project Idea. Water waves behave in a similar manner to waves moving through a rope.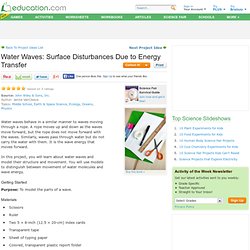 A rope moves up and down as the waves move forward, but the rope does not move forward with the waves. Similarly, waves pass through water but do not carry the water with them. Kinetic and Potential Energy. Energy trnasformation. Energy transfer.
---