Education
Edudemic | Education Technology, Teacher Tools, Apps and More. SpecialEducationAdvisor.com: Special Education Laws, Special Education Right, and IEP Goal Ideas. Court cases. Important Court Cases in Special Education There are many court cases that helped define our current educational landscape.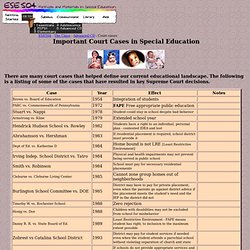 The following is a listing of some of the cases that have resulted in key Supreme Court decisions. Provisions for Assessment in PL94-142 1. Tests are to be selected and administered so as to be racially and culturally nondiscriminatory.
Wikipedia
Special Education Site. Behavior Disorders and Social Emotional Issues. Behavioral and emotional disorders fall under the rubric of "Emotional Disturbance," "Emotional Support," "Severely Emotionally Challenged," or other state designations.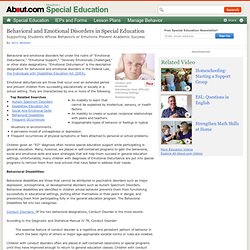 "Emotional Disturbance" is the descriptive designation for behavioral and emotional disorders in the Federal Law, the Individuals with Disabilities Education Act (IDEA). Emotional disturbances are those that occur over an extended period and prevent children from succeeding educationally or socially in a school setting. They are characterized by one or more of the following: An inability to learn that cannot be explained by intellectual, sensory, or health factors. An inability to create or sustain reciprocal relationships with peers and teachers. Maximilian Van London: February 2010. Marcus Farnsworth has made quite a name for himself, recently winning the Wigmore Hall International Song Competition.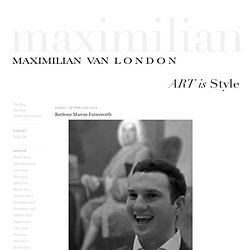 He studies with Glenville Hargreaves and Audrey Hyland on the opera course at the Royal Academy of Music.On Friday Evening Marcus gave a unique Schumann recital at the National Portrait Gallery accompanied by James Cheung, himself a distinguished chamber musician and song accompanist. The programme included 6 Gedichte und Requiem by Lenau, and the Eichendorff Liederkreis. Marcus has a fantastic understanding for the song repertoire, underlined by a beautiful colour and tone. Just as much, the National Portrait Gallery was a fantastic venue for such an evening! Mr. Fuhrig's Assistive Technology  - Home.
What The Fastest Growing EdTech Companies Have In Common. "Viral adoption" seems to be part of just about every edtech business plan we at EdSurge have had the privilege to hear this year.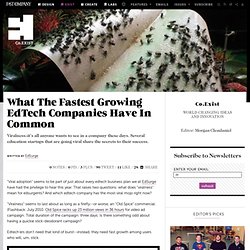 That raises two questions: what does "viralness" mean for edsurgents? And which edtech company has the most viral mojo right now? How to Get the Most Out of Tech Tools for Teaching. This week on MediaShift, we're exploring the moving target that is teaching journalism.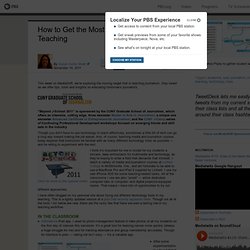 Stay tuned as we offer tips, tools and insights on educating tomorrow's journalists. "Beyond J-School 2011" is sponsored by the CUNY Graduate School of Journalism, which offers an intensive, cutting edge, three semester Master of Arts in Journalism; a unique one semester Advanced Certificate in Entrepreneurial Journalism; and the CUNY J-Camp series of Continuing Professional Development workshops focused on emerging trends and skill sets in the industry. Though you don't have to use technology to teach effectively, sometimes a little bit of tech can go a long way toward making the job easier. And, of course, teaching media and journalism courses today requires that instructors be familiar with as many different technology tools as possible — and be willing to experiment with the rest.
PRAXIS II Test Introduction | Free Praxis II Test Practice Questions. Praxis. Cubeecraft.com - Print, cut and fold your own papercraft toys! 10 Creepy Plants. We spend a lot of time here at Cracked pointing out horrors of nature that slither on the land and lurch through the sea.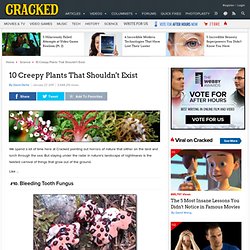 But staying under the radar in nature's landscape of nightmares is the twisted carnival of things that grow out of the ground. Like ... Bleeding Tooth Fungus The bleeding tooth fungus looks kind of like a wad of chewing gum that leaks blood like a rejected prop from The Shining. SCESC. Wolfram|Alpha: Computational Knowledge Engine. EdResourcesOhio.org » Home.
---