Web design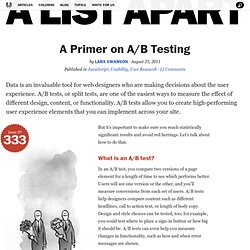 Data is an invaluable tool for web designers who are making decisions about the user experience.
A Primer on A/B Testing
Quick and Dirty Remote User Testing
Reports of studies funded by AARP
Articles & Slides – Older Adults - Redish and Associates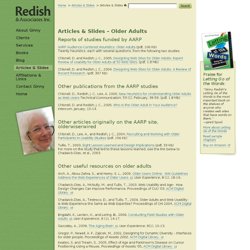 UPA User Experience Magazine: Volume 8, Issue 1, 2009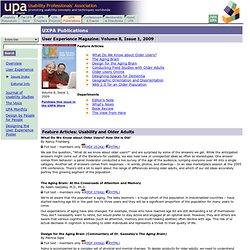 User Experience Magazine: Volume 8, Issue 1, 2009 Feature Articles: Usability and Older Adults What Do We Know about Older Users?
Making Your Website Senior Friendly: Tips from the National Institute on Aging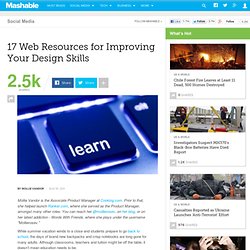 Mollie Vandor is the Associate Product Manager at Cooking.com . Prior to that, she helped launch Ranker.com , where she served as the Product Manager, amongst many other roles. You can reach her @mollierosev , on her blog , or on her latest addiction - Words With Friends, where she plays under the username "Mollierosev."
508 Tutorials, Guidance, Checklists
A Designer's Guide To Accessibility and 508 Compliance | Viget Inspire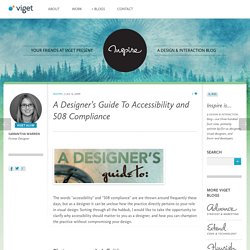 The words "accessibility" and "508 compliance" are are thrown around frequently these days, but as a designer it can be unclear how the practice directly pertains to your role in visual design. Sorting through all the hubbub, I would like to take the opportunity to clarify why accessibility should matter to you as a designer, and how you can champion the practice without compromising your design. First, some rough definitions:
You are here: Home > Articles > WebAIM Section 508 Checklist
WebAIM Section 508 Checklist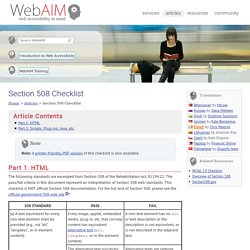 5 Tips for Aspiring Web App Developers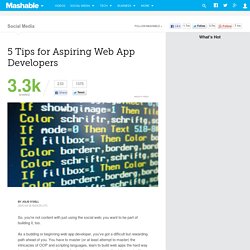 So, you're not content with just using the social web; you want to be part of building it, too. As a budding or beginning web app developer, you've got a difficult but rewarding path ahead of you.
In Defense of Readers
The best readers are obstinate. They possess a nearly inexhaustible persistence that drives them to read, regardless of the circumstances they find themselves in.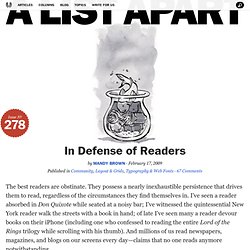 Bronto Software Contact Sales |
How to Best Market Your Web Site Relaunch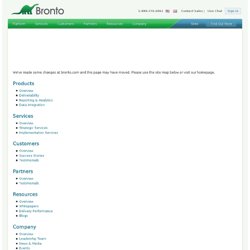 The Freakonomics Guide to Making Boring Content Sexy