Twitter
Onlinemarketing
How Your Company Can Build A Community on Twitter. In this post, Pierre Far (@pierrefar) explains how to kick start a community using Twitter.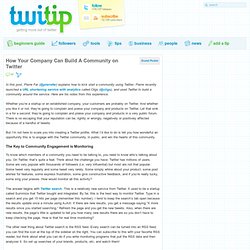 Pierre recently launched a URL shortening service with analytics called Cligs (@cligs), and used Twitter to build a community around the service. Here are his notes from this experience. Whether you're a startup or an established company, your customers are probably on Twitter. And whether you like it or not, they're going to complain and praise your company and products on Twitter. Let that sink in a for a second: they're going to complain and praise your company and products in a very public forum. Twitter for Business. If I Started Today | chrisbrogan.com. Okay, so you've heard from someone that this social media and social networking stuff is great and you should get involved, and it's really going to help you out.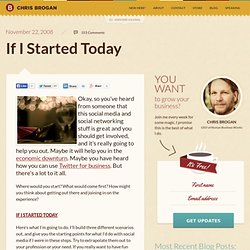 Maybe it will help you in the economic downturn. Maybe you have heard how you can use Twitter for business. But there's a lot to it all. 25+ Incredibly Useful Twitter Tools and Firefox Plugins. Oct 08 2008 Twitter is an amazing service that we all love, everyday we notice a new twitter tool or service that makes using it more easy and fun.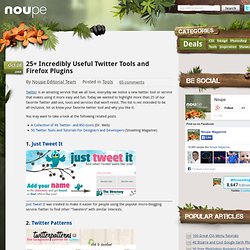 Today we wanted to highlight more than 25 of our favorite Twitter add-ons, tools and services that won't resist. This list is not intended to be all-inclusive, let us know your favorite twitter tool and why you like it. You may want to take a look at the following related posts: HOW TO: Build Community on Twitter. Sarah Evans is the director of communications at Elgin Community College (ECC) in Elgin, Illinois.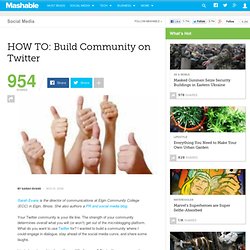 She also authors a PR and social media blog. Your Twitter community is your life line. The strength of your community determines overall what you will (or won't) get out of the microblogging platform. What do you want to use Twitter for? Twitter Collaboration Stories.
---