Psychology
How David Beats Goliath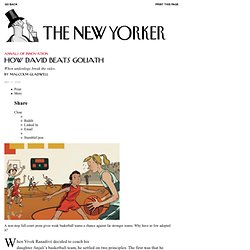 When Vivek Ranadivé decided to coach his daughter Anjali's basketball team, he settled on two principles.
gina trapani is a tech writer and web developer; she is the founding editor of lifehacker.com and authored a book based on the website - upgrade your life: the lifehacker guide to working smarter, faster, better. read more from gina on her new blog, smarterware.
Five Rules For Life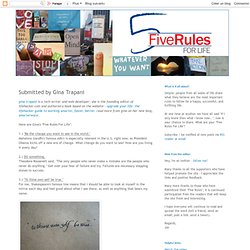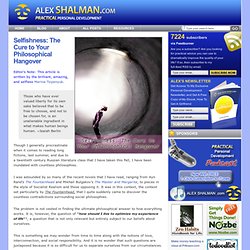 Editor's Note: This article is written by the brilliant, amazing, and selfless Marina Tsipenyuk. Those who have ever valued liberty for its own sake believed that to be free to choose, and not to be chosen for, is an unalienable ingredient in what makes human beings human. ~Isaiah Berlin
Selfishness: The Cure to Your Philosophical Hangover
A friend was walking in the desert when he found the telephone to God. The setting was Burning Man, an electronic arts and music festival for which 50,000 people descend on Black Rock City, Nevada, for eight days of "radical self-expression"—dancing, socializing, meditating, and debauchery.
The Five Big Mistakes That Changed My Life and How I Moved Past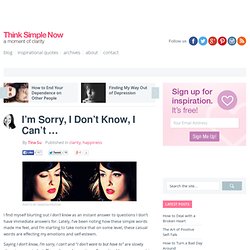 Photo by Vanessa Paxton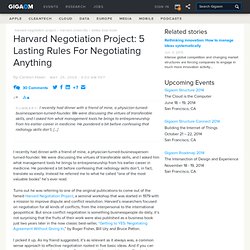 I recently had dinner with a friend of mine, a physician-turned-businessperson-turned-founder. We were discussing the virtues of transferable skills, and I asked him what management tools he brings to entrepreneurship from his earlier career in medicine.
5 lasting rules for negotiating anything
The List of 100 is a powerful technique you can use to generate ideas, clarify your thoughts, uncover hidden problems or get solutions to any specific questions you're interested in.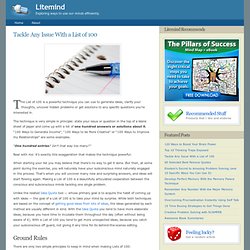 64 Interview answers you need to know
Self confidence is the difference between feeling unstoppable and feeling scared out of your wits.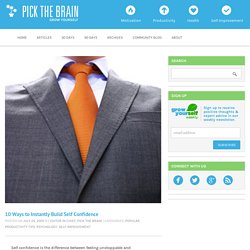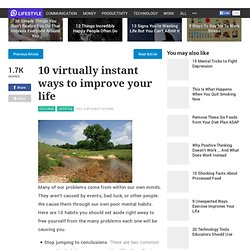 Many of our problems come from within our own minds. They aren't caused by events, bad luck, or other people.
Flow: Get into the Zone at Work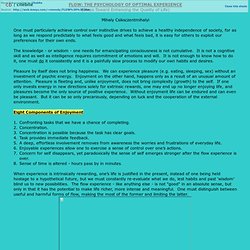 (Steps Toward Enhancing the Quality of Life) One must particularly achieve control over instinctive drives to achieve a healthy independence of society, for as long as we respond predictably to what feels good and what feels bad, it is easy for others to exploit our preferences for their own ends.
FLOW: THE PSYCHOLOGY OF OPTIMAL EXPERIENCE
While I was at the U of O I kept going on about how the core skill of any future creative business person will be 'being interesting'. People will employ and want to work with (and want to be with) interesting people. And since I'd spent quite a lot of time telling them all the things they should stop doing I'd thought I'd try and teach something useful.