Psychology
Help
How David Beats Goliath. When Vivek Ranadivé decided to coach his daughter Anjali's basketball team, he settled on two principles.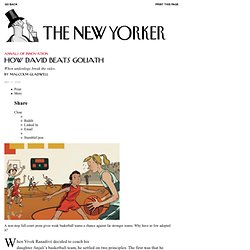 The first was that he would never raise his voice. This was National Junior Basketball—the Little League of basketball. The team was made up mostly of twelve-year-olds, and twelve-year-olds, he knew from experience, did not respond well to shouting. Five Rules For Life. Gina trapani is a tech writer and web developer; she is the founding editor of lifehacker.com and authored a book based on the website - upgrade your life: the lifehacker guide to working smarter, faster, better. read more from gina on her new blog, smarterware.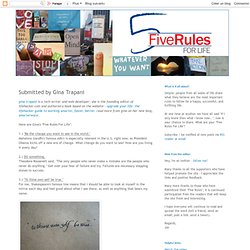 Here are Gina's "Five Rules For Life": 1.) "Be the change you want to see in the world. "Mahatma Gandhi's famous edict is especially relevant in the U.S. right now, as President Obama kicks off a new era of change. Selfishness: The Cure to Your Philosophical Hangover. Editor's Note: This article is written by the brilliant, amazing, and selfless Marina Tsipenyuk.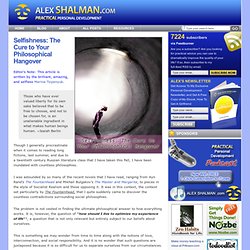 Those who have ever valued liberty for its own sake believed that to be free to choose, and not to be chosen for, is an unalienable ingredient in what makes human beings human. ~Isaiah Berlin. The Art of Now: Six Steps to Living in the Moment - Psychology T. A friend was walking in the desert when he found the telephone to God.
The setting was Burning Man, an electronic arts and music festival for which 50,000 people descend on Black Rock City, Nevada, for eight days of "radical self-expression"—dancing, socializing, meditating, and debauchery. A phone booth in the middle of the desert with a sign that said "Talk to God" was a surreal sight even at Burning Man. The idea was that you picked up the phone, and God—or someone claiming to be God—would be at the other end to ease your pain. So when God came on the line asking how he could help, my friend was ready.
"How can I live more in the moment? " How to think faster, better on your feet. The Five Big Mistakes That Changed My Life and How I Moved Past. Power of Language - I'm Sorry, I Don't Know, I Can't. Photo by Vanessa Paxton I find myself blurting out I don't know as an instant answer to questions I don't have immediate answers for.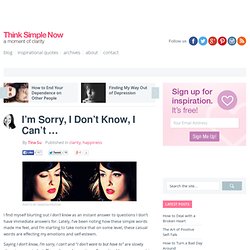 Lately, I've been noting how these simple words made me feel, and I'm starting to take notice that on some level, these casual words are effecting my emotions and self-esteem. Saying I don't know, I'm sorry, I can't and "I don't want to but have to" are slowly changing my mindset. Through my observations, I've noticed how common it is to use these popular phrases without giving them a second thought. 5 lasting rules for negotiating anything. I recently had dinner with a friend of mine, a physician-turned-businessperson-turned-founder.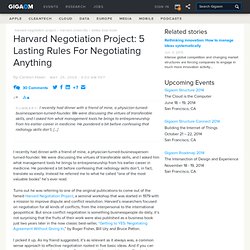 We were discussing the virtues of transferable skills, and I asked him what management tools he brings to entrepreneurship from his earlier career in medicine. He pondered a bit before confessing that radiology skills don't, in fact, translate so easily. Instead he referred me to what he called "one of the most valuable books" he's ever read. Turns out he was referring to one of the original publications to come out of the famed Harvard Negotiation Project, a seminal workshop that was started in 1979 with a mission to improve dispute and conflict resolution.
Harvard's researchers focused on negotiation for all kinds of conflicts, from the interpersonal to the international geopolitical. Tackle Any Issue With a List of 100. The List of 100 is a powerful technique you can use to generate ideas, clarify your thoughts, uncover hidden problems or get solutions to any specific questions you're interested in.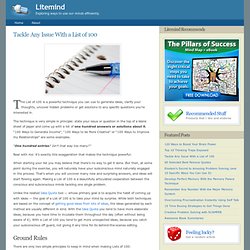 The technique is very simple in principle: state your issue or question in the top of a blank sheet of paper and come up with a list of one hundred answers or solutions about it. "100 Ways to Generate Income", "100 Ways to be More Creative" or "100 Ways to Improve my Relationships" are some examples. "One hundred entries? Isn't that way too many?" Bear with me: it's exactly this exaggeration that makes the technique powerful. 64 Interview answers you need to know.
10 Ways to Instantly Build Self Confidence. Self confidence is the difference between feeling unstoppable and feeling scared out of your wits.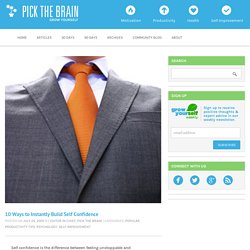 Your perception of yourself has an enormous impact on how others perceive you. Perception is reality — the more self confidence you have, the more likely it is you'll succeed. Although many of the factors affecting self confidence are beyond your control, there are a number of things you can consciously do to build self confidence. By using these 10 strategies you can get the mental edge you need to reach your potential. 10 virtually instant ways to improve your life - lifehack.org.
Many of our problems come from within our own minds.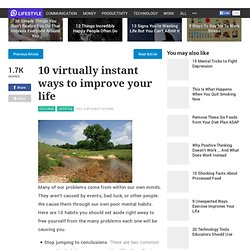 They aren't caused by events, bad luck, or other people. We cause them through our own poor mental habits. Here are 10 habits you should set aside right away to free yourself from the many problems each one will be causing you. Stop jumping to conclusions. There are two common ways this habit increases people's difficulties. Flow: Get into the Zone at Work. FLOW: THE PSYCHOLOGY OF OPTIMAL EXPERIENCE. (Steps Toward Enhancing the Quality of Life) One must particularly achieve control over instinctive drives to achieve a healthy independence of society, for as long as we respond predictably to what feels good and what feels bad, it is easy for others to exploit our preferences for their own ends.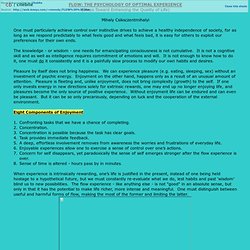 The knowledge - or wisdom - one needs for emancipating consciousness is not cumulative. It is not a cognitive skill and as well as intelligence requires commitment of emotions and will. It is not enough to know how to do it, one must do it consistently and it is a painfully slow process to modify our own habits and desires. Pleasure by itself does not bring happiness. How to be interesting - Russel Davies. While I was at the U of O I kept going on about how the core skill of any future creative business person will be 'being interesting'.
People will employ and want to work with (and want to be with) interesting people. And since I'd spent quite a lot of time telling them all the things they should stop doing I'd thought I'd try and teach something useful.
---