Presentation
The two elements of a great presenter:Seth Godin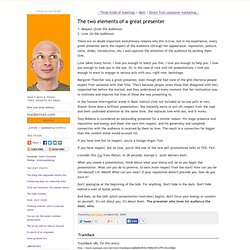 1. Respect (from the audience)2. Love (to the audience)
Quicklinks PowerPoint Design in 2009: Blogpost with quotes PowerPoint Design in 2009: The Experts talk
PowerPoint Design in 2009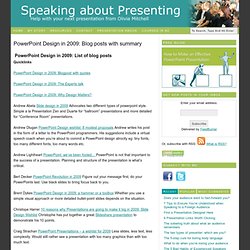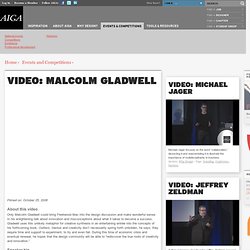 Filmed on: October 25, 2008 About this video Only Malcolm Gladwell could bring Fleetwood Mac into the design discussion and make wonderful sense. In his enlightening talk about innovation and misconceptions about what it takes to become a success, Gladwell uses this unlikely metaphor for creative synthesis in an entertaining entrée into the concepts of his forthcoming book, Outliers .
Malcolm Gladwell at AIGA Business and Design Conference October
How to Deliver Effective Presentations
Edit Article Small Group Events Edited by Kare Anderson, Webster, Chris Hadley, Kene and 29 others "O, it offends me to the soul, to hear a robustious periwig-pated fellow tear a passion to tatters..."William Shakespeare: Hamlet - Act 3, Scene 2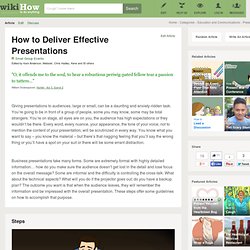 How to Attain Serenity Before Giving a Speech
Home Page for Robert Gaskins
250 Things You Wish You Know That Will Guarantee Your Speaking S
Have you ever wished your early design mockups could come to life, so you could try out the navigation, test an interaction, or see if a button label just feels right when you click on it? Sure, you could invest in a dedicated prototyping tool, but you can create surprisingly quick and effective prototypes with a software program that's probably sitting on your hard drive right now.
Interactive Prototypes with PowerPoint - Boxes and Arrows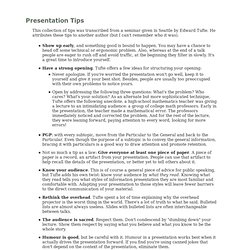 Presentation Tips This collection of tips was transcribed from a seminar given in Seattle by Edward Tufte. He attributes these tips to another author (but I can't remember who it was). Show up early, and something good is bound to happen.
Edward Tufte Presentation Tips
Examples of the Principles of Good Websites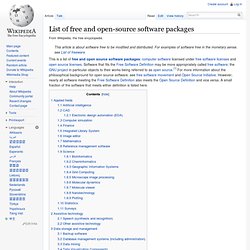 List of open-source software packages - Wikipedia, the free ency
This is a list of : computer software licensed under free software licenses and open source licenses . Software that fits the Free Software Definition may be more appropriately called free software ; the GNU project in particular objects to their works being referred to as open source . [ 1 ] For more information about the philosophical background for open source software, see free software movement and Open Source Initiative . However, nearly all software meeting the Free Software Definition also meets the Open Source Definition and vice versa.