Presentation
The two elements of a great presenter:Seth Godin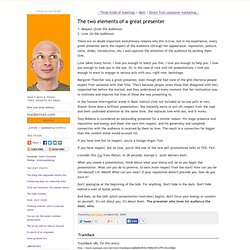 1. Respect (from the audience)2. Love (to the audience)
Quicklinks PowerPoint Design in 2009: Blogpost with quotes PowerPoint Design in 2009: The Experts talk
PowerPoint Design in 2009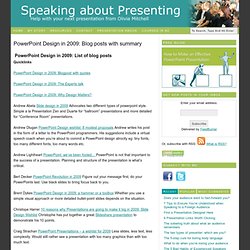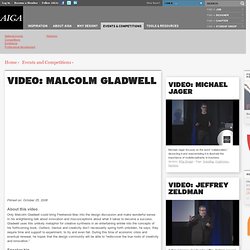 HTML 5 accessible player with share button. This is the player we use on AIGA.org. Filmed on: October 25, 2008 About this video
Malcolm Gladwell at AIGA Business and Design Conference October
How to Deliver Effective Presentations
Edit Article Small Group Events Edited by Kare Anderson, Webster, Chris Hadley, Kene and 30 others "O, it offends me to the soul, to hear a robustious periwig-pated fellow tear a passion to tatters..."William Shakespeare: Hamlet - Act 3, Scene 2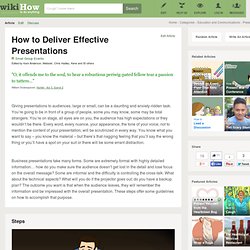 How to Attain Serenity Before Giving a Speech
Soon after I retired, my wife and I moved to London, where we fully restored an 1890 Victorian "mansion flat" in central London close by Buckingham Palace and № 10 Downing Street (pictures). I became interested in the concertina, the only native English musical instrument and the high-tech musical sensation of the Victorian age, and learned how to play antique examples of the Maccann duet concertina, a nearly forgotten late-Victorian refinement. I studied its history, did extensive research at British research libraries and museums, and published research articles. Member of the London Library and the Middlesex County Cricket Club.
Home Page for Robert Gaskins
250 Things You Wish You Know That Will Guarantee Your Speaking S
Have you ever wished your early design mockups could come to life, so you could try out the navigation, test an interaction, or see if a button label just feels right when you click on it? Sure, you could invest in a dedicated prototyping tool, but you can create surprisingly quick and effective prototypes with a software program that's probably sitting on your hard drive right now. It's PowerPoint—and no, I am not kidding. I've met many designers who use PowerPoint for blocking out screens without ever discovering the interactive features for creating hyperlinks, buttons, and dynamic mouseover effects. Yes, PowerPoint can do all that. When I show people an interactive PowerPoint prototype, someone inevitably asks what I created it in.
Interactive Prototypes with PowerPoint - Boxes and Arrows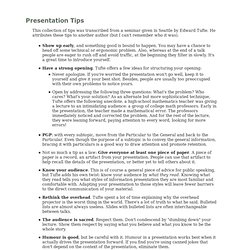 Presentation Tips This collection of tips was transcribed from a seminar given in Seattle by Edward Tufte. He attributes these tips to another author (but I can't remember who it was). Show up early, and something good is bound to happen.
Edward Tufte Presentation Tips
Examples of the Principles of Good Websites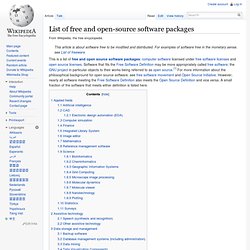 List of open-source software packages - Wikipedia, the free ency
Applied fields[edit] Artificial intelligence[edit] CAD[edit]