Golf
Damon Welsford meets John Daly - Golf
Canberra weather 128 km Radar Loop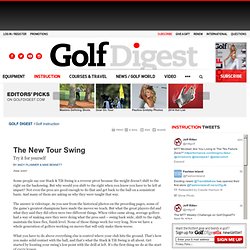 The New Tour Swing: Try it for yourself: Instruction: golfdigest
Some people say our Stack & Tilt Swing is a reverse pivot because the weight doesn't shift to the right on the backswing. But why would you shift to the right when you know you have to be left at impact? Not even the pros are good enough to do that and get back to the ball on a consistent basis.
Stack and Tilt The hips are level, and the left shoulder is slightly higher than the right only because the right hand is lower on the grip. The spine is straight up and down, with the head centered over the ball. This promotes a rotational move going back with no lateral shift. Conventional Swing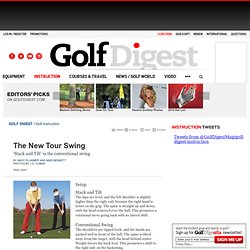 Stack and Tilt: The New Tour Swing: Instruction: golfdigest.com
Stack and Tilt: The New Tour Swing: Instruction: golfdigest.com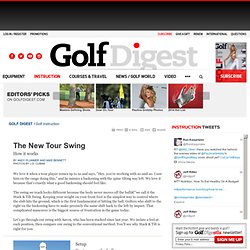 The spine tilts toward the ball at address, and when the player swings back, that tilt moves to the right. So to keep the spine over the ball, which is the goal, the player has to tilt to the left during the backswing. The first move going back is this tilting action. It causes the shoulders and hips to turn on a steep downward angle, the right leg straightening and the left knee flexing forward. As the left shoulder turns down, pointing almost to the ball, the hands move on a circular arc around the body, not up and away, and the arms stay on the rib cage.
How to improve your putting
How to hit more greens
How to get Google to notice you
Chris Winfield is what's known in the industry as a search engine optimizer, or SEO. He helps small to midsize firms with their search-engine visibility. The tricks and tools to get sites to the top on Google and competitors Yahoo and MSN change daily. SEOs promise to do the work, while you run your business. Winfield says most SEOs charge anywhere from $1,000 to $10,000 monthly, doing everything from designing and redesigning sites to writing daily blog posts for clients. For those who can't afford SEO fees, Winfield says, many SEOs will analyze a site and develop a plan of action for the client to follow through on, doing the work themselves.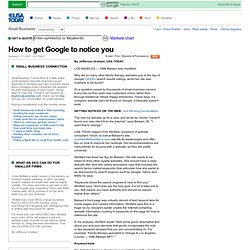 David Leadbetter tip - one foot behind other
Making an Impact
Chipping 101 | Golf School | iseekgolf.com