Drugs cancer therapy
Clinical trial raises hope for cancer treatment - latimes.com
A microscopic image shows two T cells binding to beads, depicted in yellow,… (Dr.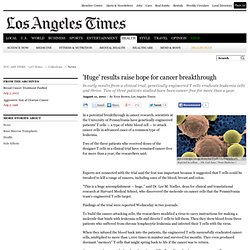 Penn Medicine News: Genetically Modified "Serial Killer" T Cells Obliterate Tumors in Patients with Chronic Lymphocytic Leukemia, Penn Researchers Report
(PHILADELPHIA) -- In a cancer treatment breakthrough 20 years in the making, researchers from the University of Pennsylvania's Abramson Cancer Center and Perelman School of Medicine have shown sustained remissions of up to a year among a small group of advanced chronic lymphocytic leukemia (CLL) patients treated with genetically engineered versions of their own T cells. The protocol, which involves removing patients' cells and modifying them in Penn's vaccine production facility, then infusing the new cells back into the patient's body following chemotherapy, provides a tumor-attack roadmap for the treatment of other cancers including those of the lung and ovaries and myeloma and melanoma.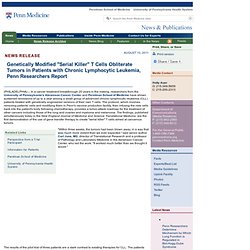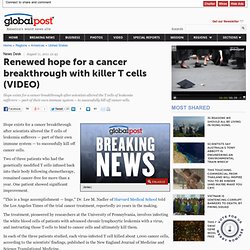 Renewed hope for a cancer breakthrough with killer T cells - GlobalPost
Advertisement Please support our site by enabling javascript to view ads.
+ Author Affiliations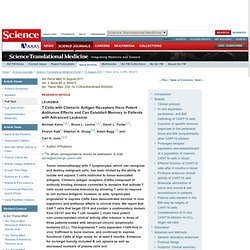 T Cells with Chimeric Antigen Receptors Have Potent Antitumor Effects and Can Establish Memory in Patients with Advanced Leukemia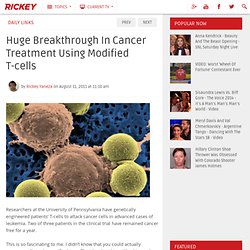 Researchers at the University of Pennsylvania have genetically engineered patients' T-cells to attack cancer cells in advanced cases of leukemia.
Huge breakthrough in Cancer treatment using modified T-cells
As follows, here is a list of new cancer drugs that show especial promise.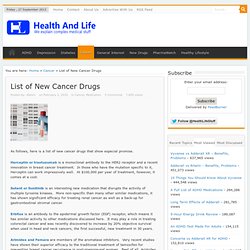 List of New Cancer Drugs - Health and Life