Drugs cancer therapy
Clinical trial raises hope for cancer treatment - latimes.com. A microscopic image shows two T cells binding to beads, depicted in yellow,… (Dr.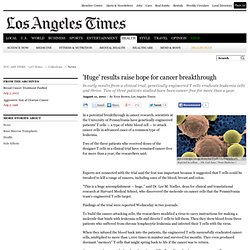 Carl June / Penn Medicine ) In a potential breakthrough in cancer research, scientists at the University of Pennsylvania have genetically engineered patients' T cells — a type of white blood cell — to attack cancer cells in advanced cases of a common type of leukemia. Two of the three patients who received doses of the designer T cells in a clinical trial have remained cancer-free for more than a year, the researchers said. Penn Medicine News: Genetically Modified "Serial Killer" T Cells Obliterate Tumors in Patients with Chronic Lymphocytic Leukemia, Penn Researchers Report. (PHILADELPHIA) -- In a cancer treatment breakthrough 20 years in the making, researchers from the University of Pennsylvania's Abramson Cancer Center and Perelman School of Medicine have shown sustained remissions of up to a year among a small group of advanced chronic lymphocytic leukemia (CLL) patients treated with genetically engineered versions of their own T cells.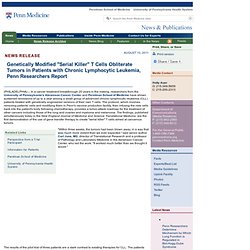 The protocol, which involves removing patients' cells and modifying them in Penn's vaccine production facility, then infusing the new cells back into the patient's body following chemotherapy, provides a tumor-attack roadmap for the treatment of other cancers including those of the lung and ovaries and myeloma and melanoma. The findings, published simultaneously today in the New England Journal of Medicine and Science Translational Medicine, are the first demonstration of the use of gene transfer therapy to create "serial killer" T cells aimed at cancerous tumors.
Renewed hope for a cancer breakthrough with killer T cells - GlobalPost. Please support our site by enabling javascript to view ads.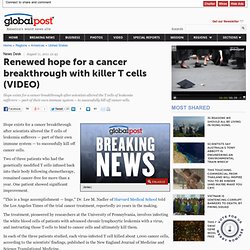 Hope exists for a cancer breakthrough after scientists altered the T cells of leukemia sufferers — part of their own immune system — to successfully kill off cancer cells. Two of three patients who had the genetically modified T cells infused back into their body following chemotherapy, remained cancer-free for more than a year. One patient showed significant improvement. "This is a huge accomplishment — huge," Dr. Lee M. T Cells with Chimeric Antigen Receptors Have Potent Antitumor Effects and Can Establish Memory in Patients with Advanced Leukemia. + Author Affiliations ↵†To whom correspondence should be addressed.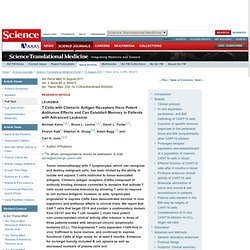 E-mail: cjune@exchange.upenn.edu AbstractBack to Top. Huge breakthrough in Cancer treatment using modified T-cells. Researchers at the University of Pennsylvania have genetically engineered patients' T-cells to attack cancer cells in advanced cases of leukemia.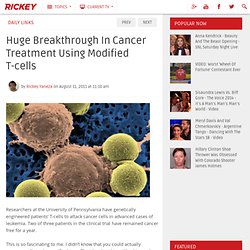 Two of three patients in the clinical trial have remained cancer free for a year. This is so fascinating to me. I didn't know that you could actually program cells to do specific things. The idea that things like this can be done now is so amazing. List of New Cancer Drugs - Health and Life. As follows, here is a list of new cancer drugs that show especial promise.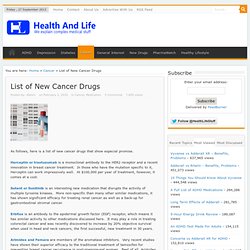 Herceptin or trastuzumab is a monoclonal antibody to the HER2 receptor and a recent innovation in breast cancer treatment. In those who have the mutation specific to it, Herceptin can work impressively well. At $100,000 per year of treatment, however, it comes at a cost.
---