DNA Sequencing
www.watchmouse.com/en/SPI/2010/DAX30_spi.png
Our Brands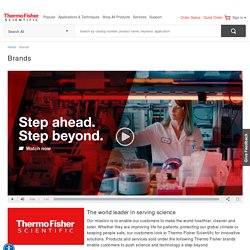 Applied Biosystems®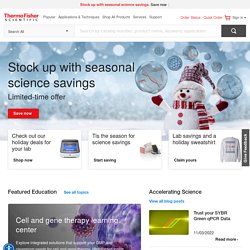 Significant traffic and security restrictions are planned throughout London during the Olympic and Paralympic Games, affecting some product shipments. We're hopeful that delays will be no more than 24 hours.
by Life Technologies
Guides
Ion Torrent
Ion Torrent
A first peek at data from an Ion 316 chip
Ion Torrent has made available an E.coli DH10B fragment dataset for the 316 chi p, which is expected to be generally available early next month. I've theoretically had access to the data since Saturday, but a series of events (computer-free weekend, a crashed home computer, a personal day & a good but unbloggable conference) have meant that ambitious plans to analyze it are still in progress.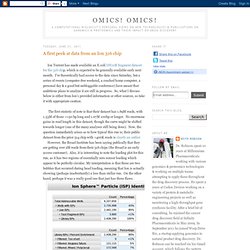 ionjuly11releasefinal.pdf (application/pdf Object)
Ion Community Home: Home
Ion OneTouch
Ion Torrent™ Technology directly translates chemically encoded information (A, C, G, T) into digital information (0, 1) on a semiconductor chip. This approach marries simple chemistry to proprietary semiconductor technology-its Watson meets Moore.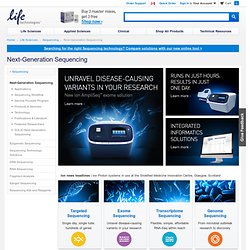 Ion Community Home: Video: Ion Xpress Template Kit - hear what people are saying
Ion Community Home: Video: Ion Torrent Technology:  How is it made?
Ion Community Home: Video: Ion Torrent Technology: How does it work ?
poster30.ashx (application/pdf Object)
Ion Community Home: Video: Ion Torrent Webinar - March 2011
Homopolymer tails homopolymer tails a segment containing several of the same kind of deoxyribonucleotides arranged in tandem at the 3′ end of a DNA strand.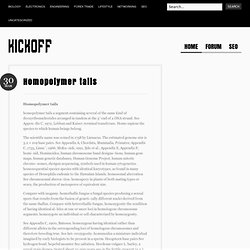 Homopolymer tails | Kickoff
co31580_workflow.pdf (application/pdf Object)
An integrated semiconductor device enabling non-optical genome sequencing : Nature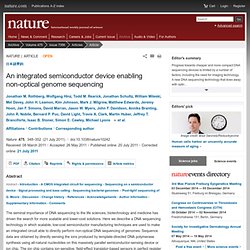 DNA sequencing and, more recently, massively parallel DNA sequencing 1 , 2 , 3 , 4 has had a profound impact on research and medicine.
Applications - Ion Torrent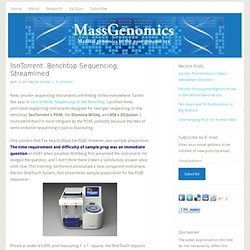 New, smaller sequencing instruments are finding niches everywhere.
IonTorrent: Benchtop Sequencing, Streamlined | MassGenomics
First Look: Data from IonTorrent's 316 Chip | MassGenomics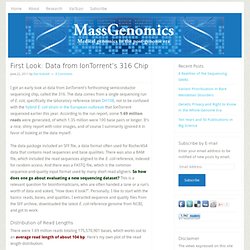 I got an early look at data from IonTorrent's forthcoming semiconductor sequencing chip, called the 316. The data comes from a single sequencing run of E. coli , specifically the laboratory reference strain DH10B , not to be confused with the hybrid E. coli strain in the European outbreak that IonTorrent sequenced earlier this year.
Life Technologies
Job als Account Manager / Sales Rep Ion Torrent Germany » Experteer
speed - Ion Torrent
Escherichia coli O104:H4 str. TY-2482, whole genom... - Nucleotide result
An ongoing outbreak of exceptionally virulent Shiga toxin (Stx)-producing Escherichia coli O104:H4 centered in Germany, has caused over 830 cases of hemolytic uremic syndrome (HUS) and 46 deaths since May 2011.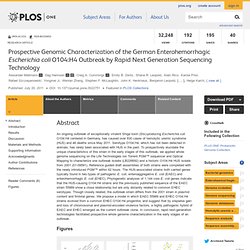 Prospective Genomic Characterization of the German Enterohemorrhagic Escherichia coli O104:H4 Outbreak by Rapid Next Generation Sequencing Technology
Open-Source Genomic Analysis of Shiga-Toxin–Producing E. coli O104:H4
Nutzerprofil: Keith Robison
Education Home