Chemtrails
The internet is filled with claims that "aviation based-contrails and ship tracks are used to geoengineer the sky." The following list, which I have compiled over the last year, is a compilation of referenced quotes of scientists conspiring to use commercial aviation or ship tracks to geoengineer the climate: Scientists saying creepy stuff:
Sulfuric Acid from Aviation and Ship Tracks may be higher today than Geoengineering SRM would require in 2020 - Climate Viewer News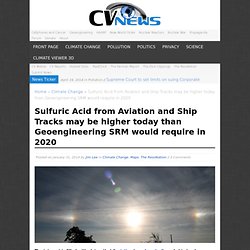 Kristen Meghan speaks out against USAF Chemtrails at Save Long Island Forum - Climate Viewer News
"Affecting Everyone Planet Wide: Blowing The Whistle on Geoengineering with Kristen Meghan" on YouTube Blowing the whistle on geoengineering and weather modification programs with USAF retired Bio Environmentalist Engineer Kristen Meghan. Special thanks to Save Long Island Forum Gigi Bowman, Long Island Skywatchers, Dane Wigington from geoengineeringwatch.org and climateviewer.com. Amanda Williams and of course Kristen Meghan. To all the whistle blowers who know when they see something and say something.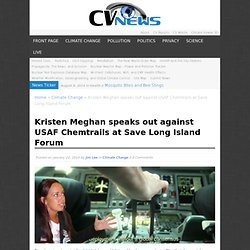 martinhume : Ted Gunderson (R.I.P.)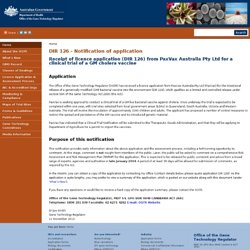 OGTR - DIR 126 - Notification of application
Home Application The Office of the Gene Technology Regulator (OGTR) has received a licence application from PaxVax Australia Pty Ltd (PaxVax) for the intentional release of a genetically modified (GM) bacterial vaccine into the environment (DIR 126), which qualifies as a limited and controlled release under section 50A of the Gene Technology Act 2000 (the Act). PaxVax is seeking approval to conduct a clinical trial of a GM live bacterial vaccine against cholera.
Australia plans release of aerosolized GMO vaccine
AWACS and C-17 Globemaster in formation - What the Hell are they spraying?
» ClimateViewer Reports Submit a Report Share on linkedin Share on facebook Share on twitter Share on email More Sharing Services Home Reports
Reports | ClimateViewer Reports
RFID environmental manipulation - Rodgers, James Neil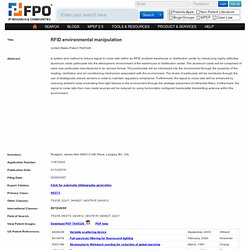 This invention relates to an RFID system and method of decreasing the signal to noise ratio within a warehouse or product distribution center. Pursuant to this method, aluminum oxide is introduced into the atmosphere of the warehouse or product distribution center (hereinafter known as the "environment"). The aluminum oxide is introduced only when the environment is vacant of human employees or management, preferably at nighttime, when radio wave propagation is at its highest rate of efficiency. This method uses aluminum oxide particles, introduced in minute or nano particle form, which act as reflectors of radio frequency transmissions. The reflectors increase the strength of the radio frequency signal within the environment thereby reducing the signal to noise ratio. The reflectors also act to keep the noise of competing environments out.
Air Tansportation Systems - Formationsflug ziviler Verkehrsflugzeuge
Der Formationsflug von zivilen Verkehrsflugzeugen verspricht analog zum natürlichen Vorbild der Zugvögel signifikante Treibstoffeinsparungen und dadurch eine Reduktion der Betriebskosten und des CO2-Ausstoßes. Die Integration dieses Verfahrens in das Lufttransportsystem stellt jedoch sowohl technisch als auch operationell eine große Herausforderung dar. Das Institut für Lufttransportsysteme untersucht die verschiedenen Einflüsse und Abhängigkeiten des Formationsfluges im Lufttransportsystem mit dem Ziel, eine Bewertung des systemweit operationell erreichbaren Potenzials zu ermöglichen. Dabei werden nicht nur die Trajektorien der einzelnen an der Formation teilnehmenden Flugzeuge betrachtet, sondern beispielsweise auch die Routenführung der Gesamtformationen.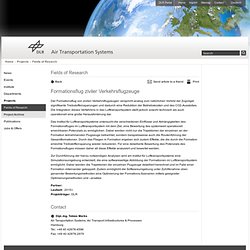 The History of Chemtrails | Interactive Timeline | ClimateViewer DB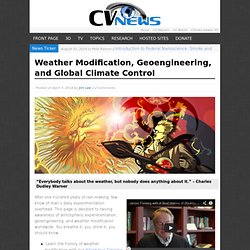 There is increased awareness of aviation-induced environmental impact affecting climate change [1]. Estimates show that aviation is responsible for 13% of transportation-related fossil fuel consumption and 2% of all anthropogenic CO2 emissions [2]. Although emission contributions from aviation are small, a large portion of the emissions takes place at altitudes where the emissions remain longer in the atmosphere than if emitted at the surface. After a small decline over the last few years, air traffic has increased since 2011, and the Federal Aviation Administration (FAA) expects domestic air traffic to grow at an annual rate of 3.5% over the next 20 years [3]. Global air traffic is expected to grow more rapidly than domestic air traffic at an annual rate of 4.8% from 2011 to 2030 [4].
YouTube
This video is currently unavailable. Sorry, this video is not available on this device. by $author Share this playlist Play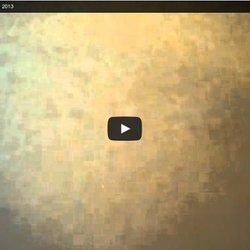 Operation Clarity: The History of Chemtrails
Eco-Skies: The Global Rush for Aviation Biofuel | Common Dreams
WASHINGTON - April 18 - A new report from the Oakland Institute, Eco-Skies: The Global Rush for Aviation Biofuel, cautions against the ambitious goals of the aviation industry to reduce emissions by 2050. The report finds that the pursuit of this goal will bring an unprecedented expansion into biofuel production, more than likely in poorer countries, and will involve the acceleration of land acquisitions already threatening the lives and livelihoods of people in developing countries. On the surface, the idea of a strategy that relies heavily on renewable and ostensibly environmentally-friendly biofuel sounds like a positive step for the airline industry. If only it were based in fact and there was evidence to indicate future success.
Operation Clarity: The End of Chemtrails?
Aviation fuels contain additives with "trade secret" ingredients. Aviation produced contrails' effect on our climate is still not known after 60 years of flights. Dirty fuels produce dirty exhaust, however this is not geoengineering, this is copyright trumping public health concerns. http://climateviewer.com/chemtrails.html I launched Operation Clarity as a campaign to "get to the bottom" of the chemtrail/contrail debate. I began researching pollution for my ClimateViewer 3D online app two years ago when I first read about chemtrails.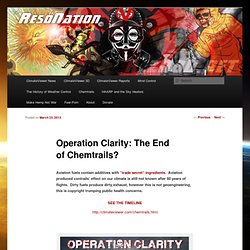 Aviation fuel additives
Yes, 2010​http://link.springer.com/chapter/10.1007/978-3-211-98811-4_65 Nanoparticles causing brain swelling due to transmission through the brain's protective shield. Aluminum and Silver are listed. Wright-Patterson is a member of the Weather Modification Association. Silver Iodide is the preferred cloud-seeding agent in America. Are they testing the safety of inhalation of silver nanoparticles? Yes. http://www.weathermodification.org/corporateroster.php
Operation Clarity: The end of #chemtrails? http://www.terraf
Operation Clarity: The end of chemtrails?
Hole Punch and Canal Clouds | Video Link | 91st American Meteorological Society Annual Meeting
Chemtrails: Planned and Inadvertent Weather Modification | The Radiation Database
- Indicates paper has been withdrawn from meeting - Indicates an Award Winner Thursday, 27 January 2011: 8:30 AM-9:45 AM 605/610 (Washington State Convention Center)
Session: Modification of Marine and Supercooled Stratocumulus (91st American Meteorological Society Annual Meeting)
- Indicates paper has been withdrawn from meeting - Indicates an Award Winner Thursday, 27 January 2011: 9:00 AM (Invited Speaker) Marine stratcumulus cloud decks—Natural laboratories for inadvertent and planned cloud seeding experiments 605/610 (Washington State Convention Center) Bruce Albrecht, Univ. of Miami/RSMAS, Miami, FL
Abstract: (Invited Speaker) Marine stratcumulus cloud decks—Natural laboratories for inadvertent and planned cloud seeding experiments (91st American Meteorological Society Annual Meeting)
Stratocumulus Decks - labs for inadvertent & planned cloud seeding
- Indicates paper has been withdrawn from meeting - Indicates an Award Winner Thursday, 27 January 2011: 8:45 AM
Abstract: Simulation results of unintentional aircraft-induced cloud clearing (91st American Meteorological Society Annual Meeting)
unintentional aircraft-induced cloud clearing
Abstract: Commerical aircraft Inadvertent cloud seeding (91st American Meteorological Society Annual Meeting)
Inadvertent cloud seeding
Program: 18th Conference on Planned and Inadvertent Weather Modification (91st American Meteorological Society Annual Meeting)
Hole-Punch Clouds
NASA-LaRC MSE Chemtrails Study