Urban Gaming/Big Games
What is Tourality?Tourality | Tourality. Tourality, as a location based game (LBG), is a novel kind of game.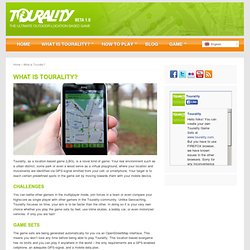 Your real environment such as a urban district, some park or even a wood serve as a virtual playground, where your location and movements are identified via GPS-signal emitted from your cell- or smartphone. Your target is to reach certain predefined spots in the game set by moving towards them with your mobile device. Challenges You can battle other gamers in the multiplayer mode, join forces in a team or even compare your highscore as single player with other gamers in the Tourality-community. Analysis: With Facebook Places, Location Based Social Gaming Mechanics Offer Broad Opportunities. Facebook Places was released two weeks ago, potentially allowing every Facebook user to make location-based check-ins.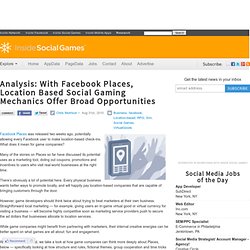 What does it mean for game companies? Many of the stories on Places so far have discussed its potential uses as a marketing tool, doling out coupons, promotions and incentives to users who visit real-world businesses at the right time. SF0 / Gamers turn cities into a battleground - 12 June 2005. Read full article Continue reading page |1|2 Matt has been abandoned on Tower Bridge, London, with nothing except his clothes and a mobile phone.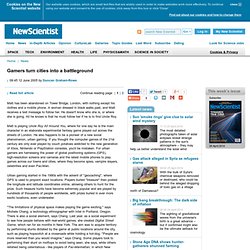 A woman dressed in black walks past, and Matt receives a text message to follow her. Quick, After Him - Pac-Man Went Thataway. By WARREN ST.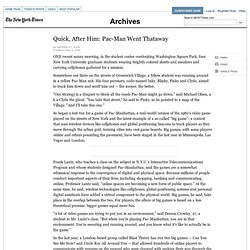 JOHNPublished: May 9, 2004 ONE recent sunny morning, in the student center overlooking Washington Square Park, four New York University graduate students wearing brightly colored sheets and sneakers and carrying cellphones gathered for a mission. Quick, After Him - Pac-Man Went Thataway.
---