Cookies
Get flash to fully experience Pearltrees
A few weeks ago a friend sent me an invite to join Pinterest.
Dear Friend, These days, it's pretty easy to get free recipes on the Internet.
I wanted to focus on baked good today.
Join the Recipe Critic for the latest and greatest!
I love cookies, I think they are my specialty. These cookies have a secret ingredient and you would never know it was in there – except I'm about to reveal the secret: sweet potatoes!
drbabs says: We had 18 inches of snow overnight and I was in the mood to bake and craving oatmeal cookies with chocolate chips. My husband prefers thin crispy oatmeal cookies with no chunks. I don't like raisins or cinnamon in cookies--I prefer the buttery caramel of Toll House cookies.
Oh how I love a treat that can be whipped up in about 15 minutes. My boys and their buddies couldn't get enough of these Chewy Oreo Bars we had as an after school snack this week.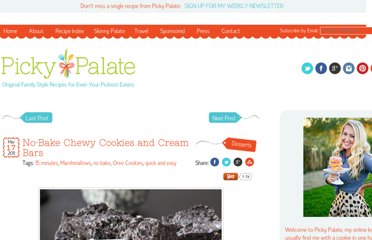 I'm here to praise two things--carrot cake cookies and the CCP team I've been coaching for the last three months.
Chocolate Chip Cookie Dough Truffles I've never liked chocolate chip cookies.
Love brownies.