Cookies
Chicago-is-so2yearsago: bl-whore: pep-o-mint: ... - Cake Apothecary. Rose Neapolitan Spritz Cookies. Let Me Tell You A Story (pep-o-mint: spine-is2spoopy: vvidget: THE...) Cake-Inspirations | delicious-food-porn: pep-o-mint: ... Dedicated Fangirl meets Cake Decorator, nerdache-cakes: Ant's Chewy Chocolate Chip and...
Caramel Stuffed Apple Cider Cookies. In a small bowl whisk together flour, baking soda, baking powder and cinnamon.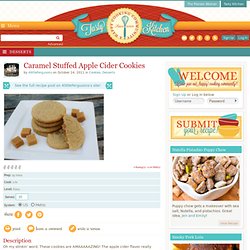 Set aside. With your mixer, cream together butter, sugar, salt and all 10 packages of apple cider drink mix powder, until light and fluffy. Chocolate Caramel Cookies - Stop Motion. Handle the Heat S'mores Stuffed Pizza Cookies. S'mores Stuffed Pizza Cookies are filled with pieces of chocolate bar, marshmallow, and graham cracker and are the ultimate ooey gooey cookie indulgence.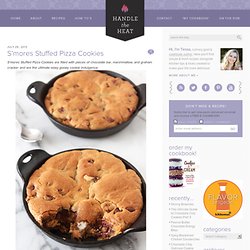 The other day I was at the gym on the elliptical machine. This is something that must be done in order to indulge in something as crazy as s'mores stuffed pizza cookies. However, I saw something almost as amazing as these giant cookies. Two rows ahead on a treadmill was a middle-aged woman speed walking, looking totally normal.
Francuskie ciasteczka z nutellą i truskawkami. Jeśli kochacie nutellę i truskawki, a nie macie czasu na bardziej skomplikowany poczęstunek, jak dobrze, że właśnie zajrzeliście na Moje Wypieki ;-).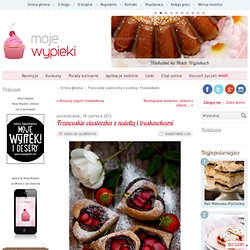 Wszystko tu jest proste, wykonanie jest ekspresowe, ale z jakim rezultatem! Ponadto truskawki naprawdę dobrze komponują się z nutellą. Całość dopełnia smaczne i kruche ciasto francuskie (najlepsze na maśle), i naprawdę nic się nie stanie jeśli poratujecie się w tym przypadku ciastem kupnym. W upały ciasto francuskie jest trudniejsze w przygotowaniu, więc będzie Wam to wybaczone ;-). Caramel Stuffed Apple Cider Cookies. Chewy Chocolate Chip Oatmeal Cookies Recipe. Lofthouse Sugar Cookies Recipe. COOKIE DOUGH DIRECTIONS: In a large bowl combine sour cream, sugar, butter, eggs and vanilla; mix well.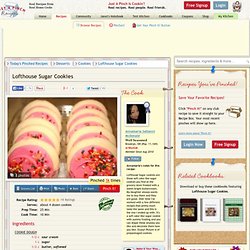 In a smaller bowl combine flour, baking powder, baking soda and salt, then add to wet mixture and mix until everything is just incorporated. With a cookie scoop, scoop out even size scoops of dough and then roll in a ball in your hand and place on a cookie sheet and slightly flatten with your hand so it's in a circular shape. Bake in a pre-heated 350 degree oven until light golden brown, no more than 10 minutes.
Snickerdoodle Cookie Recipe | Tara Stiles Eats. Nutella Filled Sugar Cookies. A few weeks ago a friend sent me an invite to join Pinterest.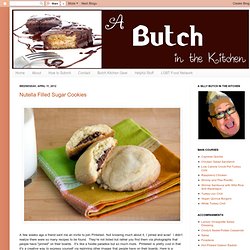 Not knowing much about it, I joined and wow! I didn't realize there were so many recipes to be found. They're not listed but rather you find them via photographs that people have "pinned" on their boards. It's like a foodie paradise but so much more. Jam Sandwiches. Favorite Collections let you organize your favorite ATK content.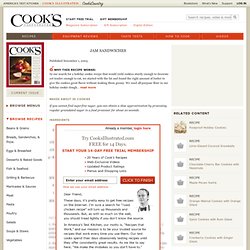 Are you building a menu for an upcoming birthday dinner? You can keep those recipes in a collection called "John's 50th Birthday," for example. The Best Oatmeal Cookies Recipe. Cake-Inspirations | superlolita: sharkiebubbles: cutebronto: ... Crispy Peanut Butter Cookies. I wanted to focus on baked good today.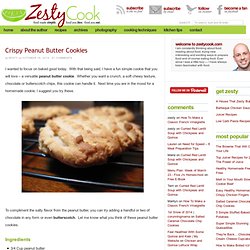 With that being said, I have a fun simple cookie that you will love – a versatile peanut butter cookie. Whether you want a crunch, a soft chewy texture, chocolate or butterscotch chips, this cookie can handle it. Next time you are in the mood for a homemade cookie, I suggest you try these. Secret Double Chocolate Peanut Butter Cookies « greens, eggs & hamstrings.
I love cookies, I think they are my specialty.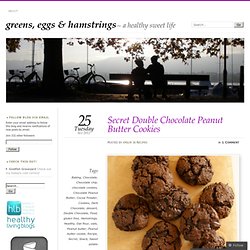 These cookies have a secret ingredient and you would never know it was in there – except I'm about to reveal the secret: sweet potatoes! I used sweet potatoes instead of butter in this recipe, and they turned out delicious. Did you know sweet potatoes are a superfood? Here are the facts. These are soft and chocolatey and surprisingly healthy – check this out:
Crispy Oatmeal Cookies with Pecans and Chocolate Chips recipe from food52. Author Notes: We had 18 inches of snow overnight and I was in the mood to bake and craving oatmeal cookies with chocolate chips.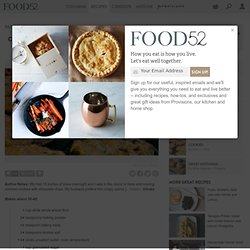 My husband prefers thin crispy oatmeal cookies with no chunks. I don't like raisins or cinnamon in cookies--I prefer the buttery caramel of Toll House cookies. No-Bake Chewy Cookies and Cream Bars. Oh how I love a treat that can be whipped up in about 15 minutes.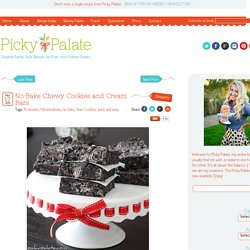 My boys and their buddies couldn't get enough of these Chewy Oreo Bars we had as an after school snack this week. Sometimes my spontaneous recipe creations turn out to be the most fun, lol! Yes you use an entire package of Oreo Cookies, but what you get in return is a marshmallow-y Oreo treat that is worth every bite Surprise the kids (and yourself) with this one, they'll be all smiles, Enjoy! 3 whole ingredients. In Praise of Leftovers - iPol - Carrot Cake Cookies. I'm here to praise two things--carrot cake cookies and the CCP team I've been coaching for the last three months. Delicious, both. If I saw this photo, I'd be wanting to hear about the cookies first.
Exclamations! Chocolate Chip Cookie Dough Truffles. Chocolate Chip Cookie Dough Truffles I've never liked chocolate chip cookies. Go ahead and throw tomatoes at me if you'd like, but I don't like 'em. They're just a plain old cookie, after all, with a few studs of chocolate chips in them. They're nothing special to me, unless you get some cookie dough-action before it meets its fate in the oven. Now you're talkin'. Caramel-Filled Chocolate Cookies Recipe from Pillsbury. A brownie by any other name…
Love brownies. Love their shiny, flaky top that shatters into micro-thin shards that shower onto your fingers as you eat. Love their dark, gooey center. Their "chocolate nirvana" flavor. Fudge Drops: King Arthur Flour.
---